After concluding that your business needs a website, there are three ways to go about it. These are; a WordPress website, a website from a Web builder, or hiring a designer to create a unique one.
The most efficient option is WordPress. Here's why. It may prove costly and time-consuming to hire a designer. In contrast, a website builder may not be able to satisfy your business objectives effectively.
Not familiar with WordPress? You should be. According to statistics published by Kinsta, WordPress powers 34% of all websites on the internet, making it the most popular content management system!
So, you will want to know the cost to develop a WordPress website if you decide to go with WordPress.
First off, when people say WordPress is free, they mean the platform is free to use. However, improving the functionality of a website will also increase the website development cost.
Here are a few questions to help you or your service provider choose a WordPress website development route and the approximate cost.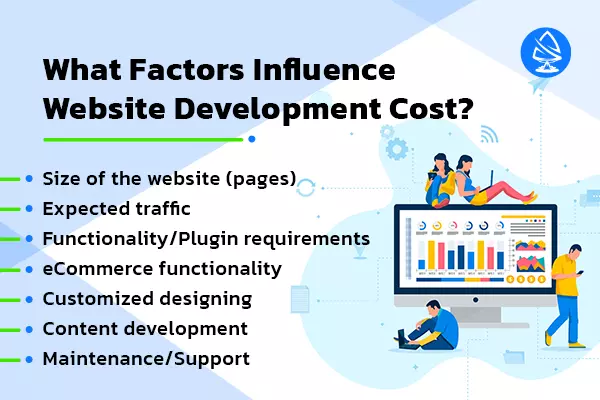 What Factors Influence Website Development Cost?
Size of the website (pages)
Expected traffic
Functionality/Plugins requirements
eCommerce functionality
Customized designing
Content development
Maintenance/Support
A) Labor
After figuring out all the above details, your next thought should be about who will do all the physical work.
A development company will price its services according to four main factors:
1. Hourly rate of developers
2. Duration of project- short-term or long-term project
3. Resources required by the client's project.
Hiring a professional services provider will take care of everything with little to no chances of mistakes.
Time is important, and WordPress website development cost is highly dependent on time! This makes it reasonable to hire someone with the skills to do it.
Cost: Labor to develop WordPress websites will set you back based on hours, period of work, and extra work necessary. Website development reparations depend on an hourly pricing plan that could start from $20 to hundreds per hour.
B) Hosting
Hosting is renting of space on the internet that will house the website. Also, website hosting provides an internet connection that allows seamless access to the website based on its traffic and content.
Several companies specialize in hosting services, WordPress being one of them. Attention needs to be paid to the hosting plan since it dictates the speed at which your website will operate.
There are three main types of hosting depending on your requirement of resources:
Shared hosting: Shared hosting means websites will share one server and internet connection. People who opt for this hosting type have minimal resource demands.
Dedicated hosting: Opting for virtual private hosting will mean you get a dedicated server remotely placed where a seamless internet connection is guaranteed. It costs much more than shared hosting due to the allotment of a dedicated server.
Virtual Private hosting: The VPS hosting option provides a virtual server that has resources privatized so you will not have to share with anyone else.
Cost: You can start estimating your WordPress website development expenses based on these six hosting plans to ensure everyone finds their fit.
1. Free – Minimal features.
2. Personal – $48 per year
3. Premium – $96 per year
4. Business – $300 per year
5. eCommerce – $540 per year
6. VIP – starting at $5000 per month
*These prices are subject to change.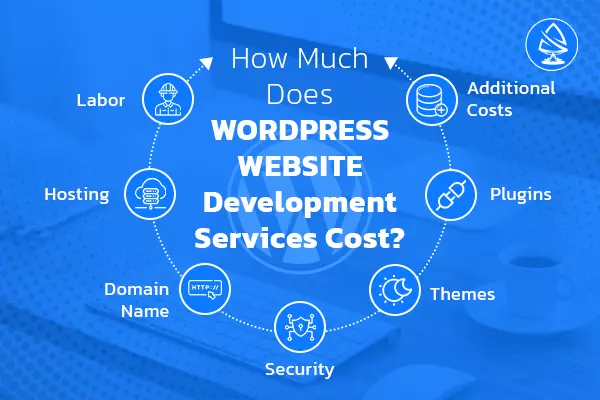 C) Domain Name
Domain names are the web address at which an audience can find you. If you are serious about being found in the vastness of the internet, you need a premium domain name.
Most website development platforms may provide a free WordPress domain name. However, this is unappealing and makes it difficult for your audience to find you among the plethora of other websites!
It will look something like this:
yourwebsitesname.blogspot.com, or yourwebsitesname.wordpress.com
Not very convenient or memorable, is it? Here are a few other types of domains that exist:
Top-Level Domains: Having the right extension can improve the chances of achieving your desired goals. An extension is the end part of a website domain name. The most popular domain name extensions are called top-level domains (TLDs), examples are: .com, .store, .net, etc. Top-level domains come at an extra cost but are well worth the money!
Generic Domains: Generic domains are encountered daily. Most of the websites we use have them. Examples of generic domains are: .net, .com, .org
Country Code Domains: A country-code domain name extension will usually have the initials of a country; examples are: .us, .uk, .in, .nz, etc. Choose this option if you exclusively wish to cater to users in a particular country, as people in this area are most likely to find you.
Second Level Domains: The second level domain comes before the domain extension and is the middle portion of the domain name. Seeing as this is what internet users will find you by, it is advisable to factor this into the cost to develop a WordPress website and spend more on it.

Second-level domains feature the most customizable portion of a domain name. You can effectively choose any name you want so long as someone else hasn't beaten you to it! The more generic the name is, the more likely it is to be taken!

Third-Level Domains: A third-level domain focuses on the first portion of the domain name. The www. part is uniform throughout all domain names around the world. However, an exception can be made when some websites feature a www1. or www2.
Premium Domains: All premium domains refer to domains that have already been purchased. But, the owners of these domain names might decide to sell the domain name later.

WordPress has varying prices for domain names based on the demand, the more generic, the higher the price. So, domain names ending in .com attract a higher rental price.
Cost: Less common domain names cost less than domain names that everyone wants! Expect to pay around $10 to $52 for a generic domain name. However, it can be higher in some cases!
D) Security
Establishing a secure connection protects your website as well as your users. You must keep your website and your information safe from hackers and malware that may result in loss/misuse of data.
If you don't want to be handling lawsuits due to data breaches, here are some crucial elements you need.
SSL Certificate: A Secure-Sockets Layer (SSL) certificate is to establish an encrypted connection between your website and anyone accessing it.

Websites with valid SSL certificates can be distinguished from those without by the green or gray lock symbol that appears before the URL in the address bar. An unprotected domain will alert you with a 'not secure message in the address bar.

Getting an SSL certificate is a priority as it provides users surety of safety while browsing your website. Failure to obtain one may result in a needless traffic loss to your website.

Domain Privacy Protection: By law, all domain name registrars must submit personal details to the Internet Corporation for Assigned Names and Numbers (ICANN). They handle a register of all the domain names and the details of the people who own them. Unfortunately, this register is available to the public.

However, not everyone would like these details to be made public. This is when domain privacy protection is desirable.

Basically, domain privacy protection will display other information instead of your own. Anonymity will cost a price!
Cost: Security is a sign of good faith to your users. We suggest you add this to your website development cost. Depending on where you get your domain name from, an SSL certificate could be free for a year. Thereafter you may need to pay anywhere between $9 and $100.
E) Themes
A theme can best be described as the visual representation of your business's digital presence. This theme will be prominent throughout your website, and if correctly chosen, users will identify your website easily.
Cost: WordPress ranks high in this area, with thousands of free themes! But if this proves inefficient, there are premium themes that will cost you anywhere between $20 and $100. Premium themes mostly carry a one-time payment.
F) Plugins
Plugins are what make a website function, hence are crucial! These functions may be what your website will depend on to generate revenue.
WordPress offers thousands of plugins for free. But others you may need are available for a one-time payment or a recurring yearly subscription.
Examples of some important WordPress website plugins are:
WooCommerce extension- starts at $199.00 for one website
Yoast SEO- $89 yearly per website
Ninja Forms- $99 yearly per website
Elementor- $59 yearly
*These are tentative prices that may be higher depending on your exact requirements.
Also, not all plugins are compatible with all the themes, and this is something you will have to be aware of before choosing your theme.
G) Additional Costs
In some circumstances, WordPress website development gathers extra costs. These costs may arise due to a certain requirement that the regular development packages cannot satisfy. The most common ones are storage and customization.
The estimated website development cost increases with the demand for more resources. Examples of these are:
Extra storage
Design Customization
Technical support
WordPress Website Development- The Final Cost
As you can see, the cost to develop a WordPress website varies greatly depending on the exact requirements of your business.
Simple WordPress website development will certainly cost less than developing a complex enterprise-level WordPress website. However, these simple websites will also have less functionality and may not be able to handle high volumes of traffic.
No two websites are the same, and it is vital that you build a website according to your requisites rather than gauge it on website development cost. Accordingly, it may cost less than $1000 or over $10,000.
Do you have all the requirements for your website at hand? Provide us, Artoon Solutions, a proficient WordPress website development company well-versed in WordPress development with the details to get a closer idea of the cost to develop a WordPress website.
Move one step closer to developing that WordPress website you have always dreamed of.