Retro Bowl is commonly popular as an American Football video game. New Star Games develop it for iOS as well as Android OS. It is also available in browser mode on some websites. In 2021, Retro Bowl surged huge success as it became the No.1 downloaded app on Apple's app store. So as the trend goes, games like Retro Bowl are gaining popularity each day.
Here are the Top 7 Alternatives to Games like Retro Bowl.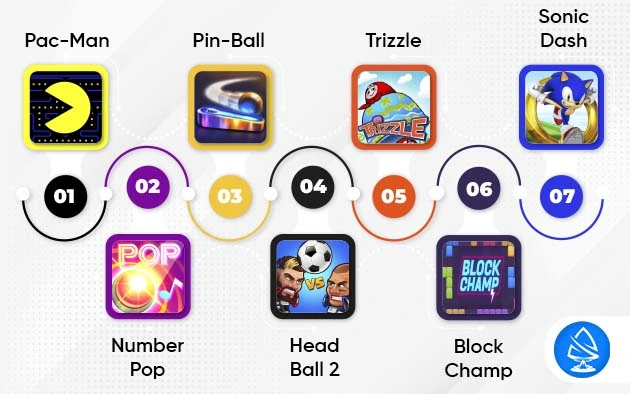 1. Pac-Man
Pac-Man falls in the video game category of Arcade game. It is an exciting video game packed with action maze chase. The objective is to eat all the dots placed in the maze by avoiding the colored ghosts, red, pink, cyan, and orange. When the Pac-Man eats all the dots, it moves to the next level. If the Pac-Man eats/contacts a ghost, he will lose a life. The game ends when all the lives are lost. It clearly defines how exciting and amazing Pac-Man is. It is a perfect alternative to games like Retro Bowl.
2. Pin-Ball
The Pin Ball game is an action-packed arcade game where the objective is to keep the ball on the playing board as long as possible. The longer you survive, the more points you will get. Some Pin-Ball games contains time barriers, whereas some contain other obstacles. Clearing obstacles advances to the next levels. It makes Pin-Ball a good alternative to games like Retro Bowl.
3. Trizzle
Trizzle is a game where the player needs to match Russian nesting dolls. Each match grows the dolls bigger and boosts their score. It can be a great option to spend some leisure time with players and an alternative to Retro Bowl.
4. Sonic Dash
Sonic Dash is a game designed for players who play endless running games by battling out obstacles and challenges in the process to proceed towards higher levels. It comes with amazing abilities, astonishing graphics, multiple characters, and outstanding powerups that enhance the quality of the game. So, Sonic Dash turned out to be an alternative to games like Retro Bowl.
5. Number Pop
Number Pop can be called Math Pop/Math game as well. The game's objective is to pop the balloons so that the numbers add up to the number shown on the side screen. If you are fast and accurate, you will be able to score higher. Number Pop can replace games like Retro Bowl for its math-like gameplay.
6. Head Ball 2
Head Ball 2 is a fun-packed football game designed with cartoon-like characters to make the game more enjoyable, entertaining, and user-friendly. It offers an online multiplayer mode of play that is fast-paced. The competitive soccer leagues available in this game creates a different aura for gamers. With in-game elements like upgrading your character, improving the ability of superpowers, and unlocking new stadiums, Head ball 2 is one of the top games that can replace the Retro Bowl.
7. Block Champ
The Block Champ game fills the rows and columns with blocks and clears them. It is very simple and relaxing. When it comes to relaxing and having some fun time out of mobile games, Block Champ can be a good alternative to games like Retro Bowl.
In Short!
Arcade games have been on the rise currently. Games like Retro Bowl always offer an exciting and fun-game environment that keeps users in the loop.
Artoon Solutions provides customized mobile game development services in a broad category, and Arcade games are among those. Our in-house expert team is determined to provide excellent work to our clients.
Let's connect to explore more innovative ideas in the Arcade games category.