Wait a minute; don't rush to finalize a Web app development company and get frustrated with ROI. Picking the right web app development company is not a cakewalk. There are many aspects that you need to keep in mind to outsource your web app development project. There are many website development companies; however, small and mid-sized businesses always look for genuine companies. You need to always look for a company that offers a plethora of web application development services. The company should be able to cater to your business needs just 'right as needed.'
Check these experts' suggested things before you pick a Website Development Company
Review the portfolio of the company
The experience of the company in the Web application domain
The company should have experience in different types of web application domains like fitness, e-commerce, chatting system, and much more.
Find out the latest technologies that the company uses
Check the previous proven experience of the Web app development company and testimonials
The expected timeline to deliver the project
Take feedback from their previous clients
Let's delve deep into the topic and understand these expert tips to find a web app development company.
Tips to select the web app development company
1. Know Goals
Before you start searching for a web app development firm, you need to understand the needs and goals. It is necessary to opt for a company that perfectly suits your company's requirements. You should have a fine idea about the expectations from web app development.
a. Plan
You need to have the responses to the queries like-
Who are you as a company?
And, what do you need for your business?
After getting the answer to these queries, it's become easy for you to select the company.
b. Budget Planning
You need to have a defined budget. It means that you need to have pre-budgeting planning before taking the solutions. Also, you need to be clear about the vendors' budget so that you can plan to avail of the services accordingly.
c. Making a digital Roadmap
Planning of the project needs to do before the development of an app. A professional company always plans a roadmap before starting a project. It reduces the further possibilities of error.
Before entering the development phase, you should have a proper wireframe. Wireframing a Web app is an essential step in the development process. This will help you to quickly determine the structure and hierarchy. It will also save you time and money, but you can also share your ideas with the developers.
Most importantly, you need to have a clear understanding of how you can get your project done, i.e., In-house vs. Outsourced.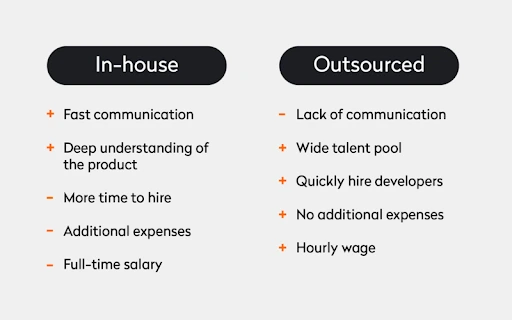 Image Source:
https://yalantis.com/blog/5-ways-find-hire-best-mobile-app-developers/
In-house development means getting it done within your company. On the other hand, Outsourcing means hiring a company or specific expertise to work on your project's requirements. The benefits of in-house are many as compared to Outsourced, so in-house is a preferable choice. Some of the benefits are reasonable cost, end-product testing, a dedicated team, and much more.
2. Think of Running the Cost
There is an endless number of things that you need to see after the live website. It might be possible that some sort of modification is necessary to the website. Also, graphic designing expenses and hosting charges should be taken into account as counts in the smoothly running cost for the web app.
3. Custom Web Design Firm
The very next step is to search for a custom web design company. For this, you can check the company's portfolio. You will come to know the projects on which they have worked. Also, you will understand their approach and ideology for any project. There are multiple things that you need to consider before finalizing a firm. It will be a great idea to talk to the designers to understand the design process.
Development Technologies
Three types of development methodologies are Agile, Waterfall, and Hybrid which can be hand-picked for your web app development project.
(a) Agile
Website developers use Agile methodology for their projects. Agile methodology is considered an iterative method to manage the project. The engagement of the customers throughout the project permits them to monitor the process of the project.

(b) Waterfall
Waterfall technology follows a sequence of steps and never moves ahead until the previous phase is completed. The particular structure goes well for smaller projects. There is no concept of overlapping or turning back to the previous stages.

(c) Hybrid
The primary goal of the hybrid method is to focus on the Waterfall approach, i.e., budgeting, planning, and many more. After this, the particular technology uses to work on the agile approach when designing, developing, and testing.

Image Source:
https://jdelosangeles.medium.com/project-framework-comparisons-agile-vs-waterfall-vs-hybrid-vs-lean-dc6801d217e4
5. Turnkey Solution
Always go for a web app development company that offers a turnkey solution. A turnkey solution gives 360-degree services to the development pipeline. The company should offer things like SSL certificates, hosting, planning, branding, SEO, UI/UX, development, design, user testing, copywriting, maintenance, and much more.
Final words:
You need to take out your time to decide on the right company for web app development services. However, you don't have to go anywhere to find a reliable company as Artoon Solutions is ready to offer tailored-made solutions. Artoon Solutions is the one-stop destination for web developers, and designers (front-end and back-end).
We have almost 14+ years of experience in the industry. Also, the company's designers are highly experienced in their work. The company has 200+ IT professionals. Varieties of Websites/ Web apps designed & developed by us: Booking/events, eCommerce, Medical, Fitness, Learning/ Coaching, Informative, Classified, On-demand, Brand websites & much more. Our team uses front-end technologies like Php, Laravel, React.js, Vue.js, Shopify, WordPress, Angular.js, and CodeIgniter. Besides, back-end technologies include Laravel, Node.js, Angular.js, and CodeIgniter.