The mobile gaming market is in rapid fast progress and getting bigger every year, and that's brilliant if you are already in the gaming business. According to reports, the global gaming market worth in 2020 was more than $200 billion. What's more interesting is that more than $160 billion were from a mobile game app. That's really huge!
The mobile gaming industry is booming and it's no wonder why many entrepreneurs are planning on embracing the gaming ecosystem. Considering the fierce competition you need to design a stunning game app for iOS and Android if you want to be successful in this market. So, how to design a successful mobile game app?
Let's dive in.
Why is Designing So Important?
When it comes to mobile game apps, proper design is highly important. It's not that your mobile game app design should be 100% perfect, but at least it should have a design that gains the user's positive impression.
Take a moment and think, if you were to install an app, how would you go about it? Yes, you are right! You would most probably look at the screenshots of the game to check out its design, the overall game plot, characters, and then the game story. It is typically critical as users who don't like the model may opt to not install the app. So, if you have a game idea, you will want to plot or draft the game as it emerges, and this is the design.
Top Grossing Mobile Gaming Apps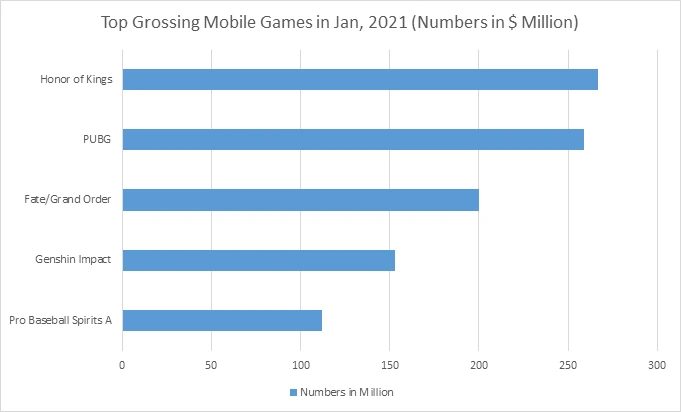 (Top-grossing mobile games in Jan 2021. Source – Google)
Design & Development of a Gaming App
Develop an Idea
A good idea is the core part of the game. Ideation is the most important step to being a successful gaming app. You can brainstorm with your team and come up with an outstanding idea that will keep your users engaged and enticed for hours at a stretch.
The good part is a well-planned app can be an instant hit, and you can argue the app with some latest technologies like Augmented Reality (AR) and Virtual Reality (VR). The equation is quite simple, you first work towards the creation of a great idea and then work towards delivering the perfect gameplay to gaming enthusiasts.
Read More: Top 5 Methods to Make Mobile Gaming Apps Scalable
Create a Story
A successful game needs a brilliant story. If you create a storyline for your game with a whole world of characters, victory parameters, surprises, fun elements, and rewards then gamers will laud the experience. Once your players get wrapped up in the story, it will only drive them to further levels, keep them inspired and attract new users.
Winning Design
Creating a winning game design could be very complex. The designing team would need to pay more attention to the detail and breathe life into the character, art, and overall look and feel of the game. It is critical to blend a good user experience with the graphics and logic of the gameplay. It's better to take time to work around the design, a bad design for an app could spell disaster for your company. On the other hand, an exceptionally fantastic design that dons a simple style could be a differentiating factor for your game.
Money-Making Strategy
If you have invested in resources like skill, talent, and hosting. Logically, you would want to earn more from your app. You may consider choosing the premium way or model to make money from the app. Some popular ways to earn from a gaming app is:
Ads – You can add a cost-per-click revenue model to monetize your game. So, whenever a player clicks (Intentionally or not) on an Ad link or a video, revenue is generated. You can also allow the user to opt for an Ad-free version.
In-App Purchases – In other words, the meaning of In-App purchase is 'Selling Digital Content'. You can add features like premium versions, level upgrades, and even an option to make the game background music a ringtone.
Technology-Stack
Once you have the mobile game development idea in place and the platform identified, you would need to plan the design tools and set up the development processes. Unity 3D development is a popular choice if you are looking for the performance and usability of your game in the future. Unity 3D is cross-platform so you can develop a code for any OS. You would also find that game development uses web technologies such as JavaScript, CSS3, HTML5.
Testing, Support, and Maintenance
Testing is an integral part of mobile gaming. You can choose to hire QA and beta testers and test your app to fix bugs and solve errors. Testing at every stage, whether as a prototype or final product will ensure a smooth gameplay experience.
Once you launch the mobile game, you can plan on support and maintenance for a better experience. Keep updating your game, this will keep gamers inspired for new features, new rewards, and new surprises.
Read More: Top 7 ways to Increase Live Traffic In Mobile Gaming Apps
Conclusion
Games are taking a lot of market space and attention today. It is a high revenue-generating idea. Games are trending and therefore launching your own game app can get you lots of monetary benefits. We can help you build mobile game apps.
Artoon Solutions is always ready to take ideas and turn them into real apps. With 14+ years of experience and 250+ in-house expert game developers, we pass every challenge we face and provide you the best game app by implementing the latest technology. Contact us. Share your idea with us and let us help you develop an efficient game app. Also, you can drop an email at [email protected].