Mobile gaming has generated a whopping $77.2 billion in revenue in the year 2020. Since then the demand for mobile games is just increasing. So, mobile gaming is currently the best business model to invest money, isn't it? How can you grow your mobile gaming business, then? Here is a quick guide game owners must take a look at.
What is Mobile Gaming Business?
In earlier years, mobile gaming is supposed to be playing some fun games and relaxing your mind after a busy day. But currently, the perception of mobile gaming has changed. Nowadays, users play mobile games not only for entertainment but also for money-earning purposes.
Since the day online mobile games came into the market, the gaming industries never looked back. So, what is the mobile gaming business? Let's take a quick look at it.
A game owner invests money to build a mobile game app. Once the game is developed completely by the vendor, it is launched in the online gaming market. If the game app is compelling enough, it will attract a large user base. By increasing in user base, the overall revenue of the game also increases. With subsequent changes in the game app, the user base grows. The in-app ads and outstanding features are the key parcels leading to game owners' staggering revenues. This is all about how the mobile gaming business functions in brief.
There are a lot of factors like targeting the right genre of players, paid marketing methods, engaging players, monetizing your mobile game, and rewarded gameplay experience that plays a vital role in earning revenue for game owners. In this article, we will be looking at these factors in detail.
Methods to Grow Mobile Gaming Business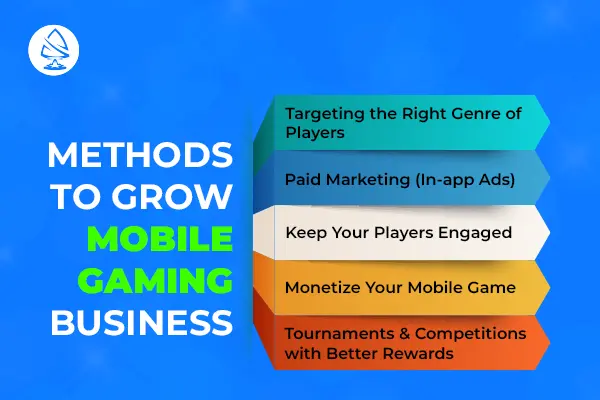 1. Targeting the Right Genre of Players
If the game app is built with top-notch features acquiring users will be easy, but targeting the right genre of players is a whole different concept. Suppose you are developing a Rummy card game. In this case, the targeted players shouldn't be youngsters, as card games have been played mostly by veterans in the past years. In India, Rummy is a highly popular game. So, if the game app is launched in India and the target audience should be people beyond 30 years of age, then the success rate of the game will be higher. In this way, the user engagement will increase, and so will the revenue count.
Proper SEO & ASO is a necessity for reaching a large number of users. Search engine optimization (SEO) is the most valuable and long-term solution to marketing in the digital marketing world. It is probably the best marketing channel for small businesses to compete with leading industries.
The best thing about App Store Optimization (ASO) is that by using the right titles, catchy keywords, and images in the description, the game can be more discoverable within an app store that contains millions of apps.
2. Paid Marketing (In-app Ads)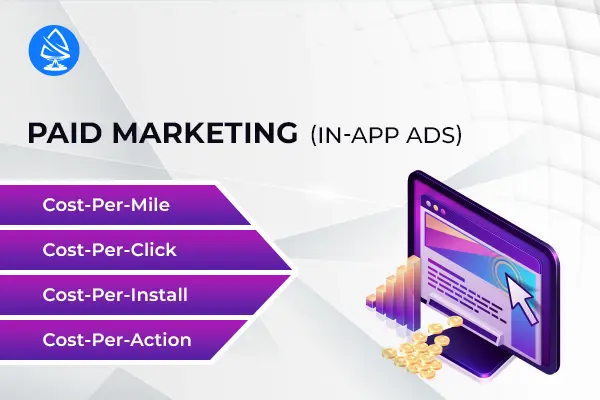 Mobile gaming is consistently the most downloaded type of app. So, by advertising within the game app, reaching a larger audience interested in games will be easier. It is a great way to reach a target audience.
Players tend to be happy seeing ads if it provides something rewarding. For example, a video ad will give one extra life after watching it for 30 seconds. Such ads it is beneficial to users. They earn one extra life and can continue the game. It works very well because users want rewards, so they are not upset by watching an ad.
There are different pricing models and strategies available for in-app ads. Here are some of the most common pricing models as follows.
Cost-Per-Mile (CPM): Cost-Per-Mile is also known as cost per thousand. As the name suggests, it is the price you pay to have your ad shown on a website or app 1000 times, regardless of whether the user clicks on the ad or not.There are both advantages and disadvantages of CPM. You will get 1000 impressions for sure and can acquire a compelling user base at a small price. However, it is also possible that you could pay for your 1000 impressions and have no one click or visit the app.

Cost-Per-Click (CPC): It is the price you pay every time someone clicks on your ad. It does not matter how many times it is shown or not, but you have to pay for every click. It is an effective approach as you only have to pay when someone clicks on it and therefore visits your app/website.

Cost-Per-Install (CPI): For a game owner, this is the best pricing model. Cost per install is the price you pay every time someone installs your app. This is exactly what a game owner wants, isn't it? It is beneficial as you only have to pay when someone installs the app.But wait a minute, users installing the app, is that all you want as a game owner? It is just the beginning of the process. You should look forward to keeping them engaged so that more users can come. If someone installs your app and uninstalls it the next day, the money you spent on the ad will be worthless. It may not be as profitable as you think in the long term. So, keeping users engaged is necessary for a better CPI outcome.

Cost-Per-Action (CPA): Cost per action is the price you would pay once someone completes an action inside your game app. It can be watching a tutorial or purchasing a certain item. This pricing model lets you optimize for completing actions that you consider valuable inside your game app.
3. Keep Your Players Engaged
Are you lacking in keeping your players engaged? Here is what you can do.
From research, it is found that the first 10 minutes are the most crucial time for the game's success. Suppose a user visits your app and spends 10 minutes playing the game or browsing the features or anything, then there is a good possibility for the game's success. If your game app isn't capable of keeping users engaged, then the app's success rate will go downwards. Here are some questions you need to ask yourself as a game owner.
Does your game require downloading additional files to start the game? It can turn off players in the first place.

Does your game provide tutorial videos game readable files to understand the gameplay? Is there any practice mode for beginners?

Does your game take a longer time to load? New players usually don't like to wait for a long time.

Does your game offer a continuous help guide for beginners until they turn it off in the settings?

Does your game provide discounts and bonuses on the first day? This approach can be effective, and a small amount of revenue can be generated.
As a game owner, you need to ask yourself the questions mentioned above and should resolve the issues (if any) to keep users engaged.
4. Monetize Your Mobile Game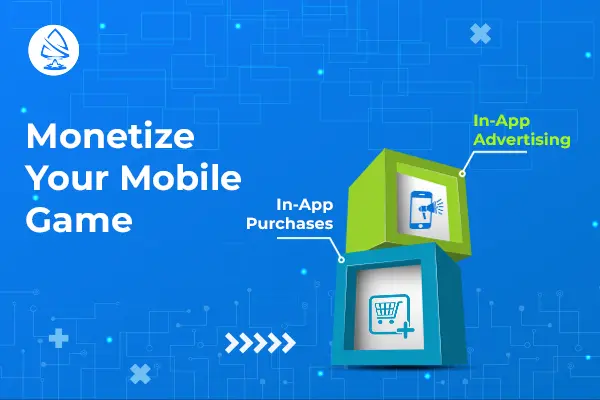 Creating a compelling mobile game and acquiring users is just the half part. Suppose you want to be successful as a game owner; you need to start making strategies about how you can generate large revenues from the game app. Here, the most important thing to keep in mind is that players' gaming experience must not degrade.
So how will you monetize your game? Here are the top 2 methods.
In-app Advertising

In-app Purchases
In-app Advertising
Game publishers make the most out of in-app advertising. They have control of which game should be shown on your game. Game publishers can create different ad placements within your game (like between the levels, header, footer, when the game first loads, when the user loses a match, etc.).
You can use different advertising modules like banner ads, header ads, footer ads, interstitial ads, etc. Use rewarded ads (videos that offer some rewards to users if they watch them for 15 seconds or 30 seconds) which is the most effective type of advertising module.
In-app Purchases
In-app purchases allow you to offer your players additional content and features, like extra lives, digital goods, and virtual currency, directly within your app.
There are two main types of in-app purchases.
Consumable – An example of a consumable in-app purchase can be 'extra life.' You have consumed the extra life once and now want more. So, in this case, you need to purchase one. That's why it is consumable
Non-consumable – The examples of non-consumable in-app purchases can be removing ads and unlocking levels. These are not consumed by the user before.
5. Tournaments & Competitions with Better Rewards
The game owner must organize special tournaments in smaller intervals to keep users in the loop. Tournaments can be of various types. The game owner can customize the tournament in both entry fees and winnings. More than one winner or the winner can be rewarded per their ranks. Also, the owner should keep adding new rewards with every new tournament so that the excitement level won't degrade.
The mobile game owners generate revenues regularly with these predefined competitions. It is one of the most common, effective, and long-term earning structures for a game owner. Still, there are things where the game owner can improve, like arranging one vs. one competition that is more exciting. Also, the game owner can include multiple competitions and tables for an outstanding user experience. Here the entry fee to play competition is much smaller than in tournaments, but winning prizes also differ. So, owners can offer exciting winnings like gifts, coupons, and a 2x Bonus (in particular criteria) to keep users engaged.
With user engagement on the rise, the game will start touching new heights in the online mobile gaming market.
Wrapping Up!
The mobile gaming business is booming in the gaming industry currently. The availability of highly engaging UI/UX, Graphics, and technological advancement has ensured that online mobile gaming will be the next big thing in this tech-prior digital world. However, digital marketing and in-app advertising methods also play a key role to grow your mobile gaming business.
You can grow your mobile gaming business with Artoon Solutions. We have been providing game development services to our clients for the last 14+ years. Our skilled technical teams make sure we cater to every challenge and develop the best game to compete with the current trends.
Let's connect now to discuss the game development methods and how to grow your gaming business.