There are a lot of mobile games in this world growing effectively since the emergence of online platforms and the superfast internet. Mobile gaming is currently one of the most profitable businesses, and the rise of mobile game industries in 2023 is remarkable.
As the number of smartphone users increases, it indirectly increases the demand for mobile games to higher levels.
According to research, mobile games are the most used applications worldwide on mobile phones. Therefore, if you are looking forward to mobile game development, it would be a big decision to cash in on.
This blog will look at the top 100 good mobile game ideas for Android and iOS platforms in 2023. You will be able to choose in which game you should invest money for a successful mobile game app.
Here are the top 100 games grouped category-wise that give a clear idea of the game type and genre. You can also merge multiple games into one platform, i.e., a Multigaming Platform App for a compelling user base.
Card Mobile Game Ideas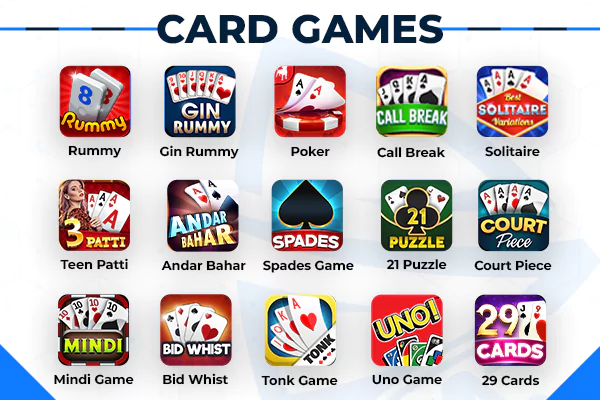 Rummy card game is the biggest trend and is very popular. It is an old card game that engages every generation of players. It provides a world-class gaming experience with simple and intuitive gameplay. Add different variations to a card game to outsmart the competitors in the gaming field.
Poker is a world-famous card game. Add features like inviting friends to the table, one-tap sign-in, and daily rewards, and integrate popular ads to acquire a wide range of audiences.
Call Break is a card game that is more entertaining with its multiplayer feature. Callbreak is a card variation game that is gaining fame at a rapid speed. With the multiplayer component, the players can play this game with their friends and family to get the most fun out of the game. Use various in-app elements like table skins, card skins, backgrounds, etc., to increase the fun & excitement of your game.
The solitaire card game can be played by oneself (i.e., individually), usually with cards and dominoes. The term "solitaire" is generally used for single-player games of concentration and skill using a set of layouts of tiles or stones. Integrate different variations of Solitaire to acquire a large user base.
Teen Patti is a luck-based game where you need a bit of luck even if you have the skills to win. It originated in subcontinent countries and is very popular in Asia. In foreign countries, Teen Patti is known as Three-card Brag. Include some popular variations of Teen Patti like Muflis, One Burst, Lowest Card Joker, One Joker, 999, Highest Card Joker, etc., to increase the user engagement of your game.
Andar Bahar is more of a prediction game where the user has to predict before playing the game. Here the main objective is to predict correctly whether the card will come at the layer 'Andar' or 'Bahar'. The player with correct predictions wins the game, which clearly defines it as a game of luck. It is a game of fun as well, where there is no risk factor.
Spades is a trick-taking card game. It can be played as a partnership or solo/"cutthroat" game. The object is to take the number of tricks that were bid before the play of the hand began. Here a player is declared the winner if they reach 500 points first or force the opponent to go beyond -200 points. There are plenty of variations available in spades. Include some of those to increase the fun & excitement of the game.
The 21 Puzzle is a skill-based card game that features some basic math calculations to win. 21 Puzzle card game is one of the easiest games to play. As the name suggests, the objective is to get a score of 21 by adding the points of the cards in hand. The 21 Puzzle card game is played on a column-based board by using a deck of 52 cards.
Court Piece is commonly known as a trick-taking card game. It is played with a full standard deck of 52 cards by four players in fixed partnerships, sitting crosswise. Cards are dealt in batches of 5–3–3–2 or 5–4–2–2. Court Piece is largely played in Asian countries like India. Include some variations of Court Pieces like Single Sar, Double Sar, Dummy Rang, and Dab Rang for thrilling gameplay.
Mindi is a traditional Indian card game played by more than Millions of users worldwide. It is easy to learn and offers a unique game experience every time you play it. This thrilling card game is played in leisure time most often for users' entertainment. Mindi is also known as MindiKot, Mendhi Coat, Mindi Multiplayer, and Dehla Pakad ("Collect the Tens").
Bid Whist is a classic trick-taking card game. As the name suggests, it adds a bidding element to the game that is not present in the classic whist. The general play of Bid Whist is four players who should play the game. Here, the trump suit for a given hand is determined by the outcome of the bidding process.
Tonk, or tunk, is a matching card game that combines knock rummy and conquian features. Tonk is a relatively fast-paced game that 2-4 players can play. It can be played for just points or money wagered. Add valuable in-app elements to increase the levels.
13. Uno
Uno is an entertaining card game. The exciting part of the Uno game is you need to empty your hand before the end of the play. It comes with basically two modes: a tournament mode and the other is a classic mode. Game enthusiasts play these games in their leisure time. A game owner can develop Uno games and add some advanced features.
14. 29 Cards
29 Cards is a strategy-based card game and becomes addictive once the user starts winning. It is played by four players in fixed partnerships where the players facing each other are partners. Here 32 cards from the standard 52-card pack are used for the game. Here the objective is to play your tricks where you have the highest-valued cards.
Gin Rummy is a two-player card game variant of the Rummy game. The objective in gin rummy is to be the first to reach an agreed-upon score, usually 100 points. There are multiple variations of Gin Rummy, like Straight Gin, Mahjong Gin, Oklahoma Gin, Hollywood Gin, Tedesco Gin, etc., that take the gameplay for Gin Rummy to the next level.
Board Mobile Game Ideas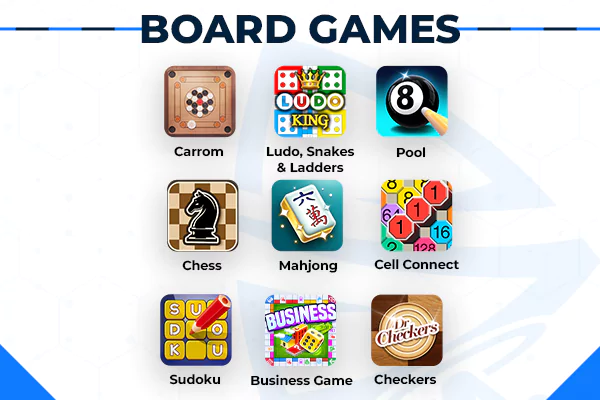 The Ludo game is widely popular in India, and it is the most-played game of the year in 2020. This is a classic board game that can be played with two players or even more. It is one of the games a user can play within the family as it has easy game rules. Likewise, Snakes & Ladders is more of a fun-making game where four players will try to reach the destination score of 100. The player who gets first wins the game. Create attractive layers in the "Ludo, Snakes & Ladders" game to acquire a large audience.
Carrom is a board game that can be played with 2-4 players. It has different playing modes, whereas the classic 'Point Carrom' remains at the top. Points Carrom is largely played compared to all the other carrom modes and making an online carrom game can be highly beneficial for game owners.
18. Pool
The table game had taken the world by storm when it was introduced as a mobile game. 8 Ball Pool has a strong market presence and a strong fanbase, and with the right graphics, animations, and sticks, your 8 Ball Pool game can be a very popular one.
19. Chess
The chess game is a classic board game that tests the players' strategic skills. This board game has a great following, and with the multiplayer feature, you will bag a lot of game players. Use fascinating graphics, epic sounds, and engaging gameplay to make a hit chess game.
20. Mahjong
Mahjong is a traditional board game that uses illustrated tiles, and gameplay similar to rummy. It is a popular gambling game, but wagering real stakes is by no means necessary to have fun playing.
21. Cell Connect
Cell Connect is a board game where the objective is to click at least four cells of the same number to create a bigger number. With more successive levels, more difficulty modes would come, making the game more interesting. Include game elements and various playing modes to keep users engaged.
22. Sudoku
A mathematical brain game is one of the most renowned games we all have played in the newspaper. This is the perfect game for maths geeks and educational game players. Add multiple levels with different difficulties to make an interesting and engaging Sudoku game.
23. Business Game
Just like Monopoly, business is a classic board game. The game can be played with 2-4 players. The players can buy, lease, rent, and upgrade the property to earn money, and the player with the most money, in the end, will be the winner.
24. Checkers
Checkers is an exciting board game. It requires good strategy and logical thinking to win a match. Offer different playing modes to create a compelling user base. The availability of a multiplayer playing mode can be a huge bonus for the game's success.
Hyper-casual Mobile Game Ideas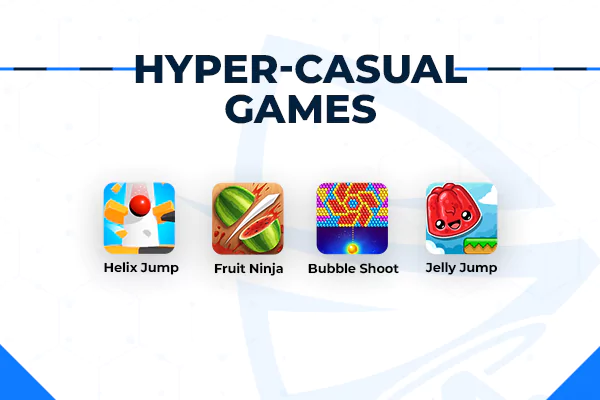 25. Helix Jump
Helix Jump is a fun-addicting 3D game that users in their leisure time can play. The user has to smash through the helix maze to reach the bottom of each level safely. Add fun game elements to increase the audience's reach.
26. Fruit Ninja
Fruit Ninja is a classic hyper-casual game. Here the objective is to collect points by tapping on fruits and must avoid bombs. By tapping on explosions, the game will end. Include exciting variations to increase the game's reach.
27. Bubble Shoot
It is a fun game used to play for entertainment purposes only. Here the user needs to match at least three bubbles of the same color to pop them and clear them off the board. Mind your moves as you bounce bubbles off the wall to hit the hard-to-reach spots. With different background animations, the Bubble Shoot game can be improved.
28. Jelly Jump
Jelly Jump is also a fun game. Here the objective is to collect little jelly blobs and craft new jellies. Add new variations and game levels for a user base that can help generate large revenues.
Racing Mobile Game Ideas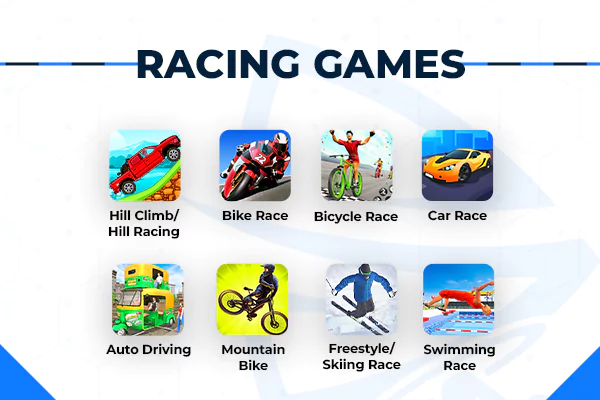 29. Hill Climb/ Hill Racing
Racing games like Hill Climb Racing has huge popularity. The objective of Hill Climb is to drive as far as possible by collecting coins. However, the longer you play, the more difficult modes will come.
30. Car Race Game
Car race games are highly attractive, attracting a young generation of gamers. Implementing advanced tech and highly intuitive UI/UX designs can help acquire a large user base.
31. Bike Race Game
Bike race games are also the same as car race games. In bike race games, the owner can create different modes like solo and fugitive to increase the excitement of the game.
32. Bicycle Race Game
Bike race games are normal. It doesn't cost much in the development process, and if it targets the correct genre, a subsequent number of users can be generated.
33. Auto Driving
Auto-driving or Rickshaw racing games are new and innovative. These are one of those rare & interesting games many users often think of it but couldn't get to play. However, developing such games has a good chance of game success.
34. Mountain Bike
These games are more like mountain racing. Here the concept will differ from normal bike racing. Here the type of bikes will also differ from the regular models. A game owner can organize special tours & tournaments in different places to increase the fun of the game.
35. Freestyle/Skiing Race
The freestyle/Skiing race is one of the rare games many users wish to play. A game app with better logic and graphics can outsmart competitors.
36. Swimming Race
Swimming is a great idea to create a racing game. With attractive graphics, an innovative environment, and a classic story, the game can become an instant hit with all casual game players.
Puzzle Mobile Game Ideas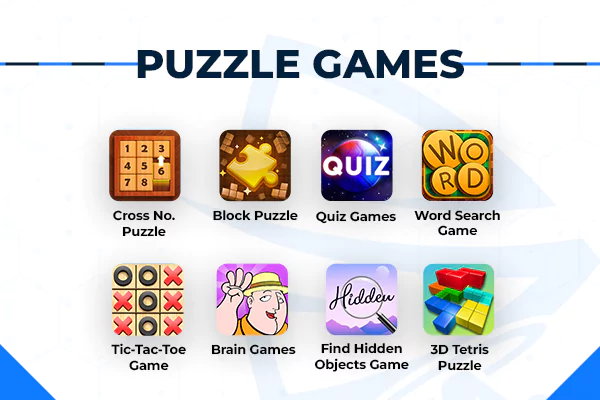 37. Cross Number Puzzle
These puzzle games require basic math skills to solve a crossword-type puzzle. It replaces the word in a crossword with numeric digits and math equations.
38. Block Puzzle
Block Puzzle is a widely popular puzzle game. Here the objective is to drop blocks around the screen to fit them into the shaded area in the middle of the screen. This looks simple at first, with just a few blocks and a few different possible arrangements. But as the game move on and the number of blocks increases, it becomes a challenging game.
39. Quiz Games
Quiz Games are a combination of small quizzes all around the world. It can be of sports, culture, history, music, entertainment, maths & brain, etc. A game owner can add quiz games for surgical growth in the user base!
40. Word Search Games
Word search games are one of the best puzzle games that exercise the brain in a short time. The user has to find the correct word in a cluster of misplaced words. The game owner can choose different playing modes for the game's success.
41. Tic-Tac-Toe Game
Tic Tac Toe is a game of Noughts and Crosses played between two players. Here the objective is to take turns and mark the correct spaces in a 3×3 (or larger) grid. Plan your moves, but be careful, as the first player who places three of their marks in a horizontal, vertical, or diagonal row wins the game.
42. Brain Games
These are the fun games that train your mind while playing. These are more like Puzzle games that users tend to play often in their leisure time.
43. Find Hidden Object
These are puzzle games where the user has to find hidden objects. When all the bonus chips and remaining time come to play, this becomes interesting.
44. 3D Tetris Puzzle
3D Tetris Puzzle is a part of brain games. Here the user has to showcase some 3D talent to win games. A mathematical part is also added here, which increases the game's fun.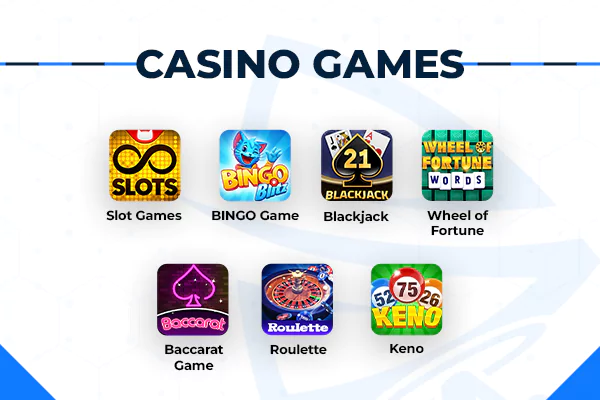 45. Slot Games
A slot machine game with unique concepts, incredible graphics, and great animation is the key to developing a game that ranks. Add fun rewards, skins, and multiple features to make your game the perfect slot game.
46. BINGO Game
A multiplayer casino game where players have to use their skills and luck to win the game. The users can use in-game coins, or if the game is a real money game, then real money to participate in the game and win the prize.
47. Blackjack
Blackjack is a casino banking game. The most widely played casino banking game globally, it uses decks of 52 cards and descends from a global family of casino banking games known as Twenty-One. Add different playing modes to increase the fun of the game.
48. Wheel of Fortune
The Wheel of Fortune game can be used as a real money game, or you can add various rewards and in-game assets to make the game more interesting. Use everyday login rewards to attract users to use your mobile game daily.
49. Baccarat
Baccarat is an amazing casino game. It compares a card game played between two hands, the "player" and the "banker". Each Baccarat round has three possible outcomes: Player, Banker, and Tie.
50. Roulette
Roulette is one of the best casino card games of all time—the action centers around a numbered spinning wheel and a tiny ball. A game owner can opt to develop a Roulette game for the ultimate growth of the user base.
51. Keno
Keno is a gambling casino game online that offers an option to earn money if played properly. In Keno, players wager by choosing numbers ranging from 1 to 80. Including small in-app mini-games can take the audience reach of Keno to the next level.
Arcade Mobile Game Ideas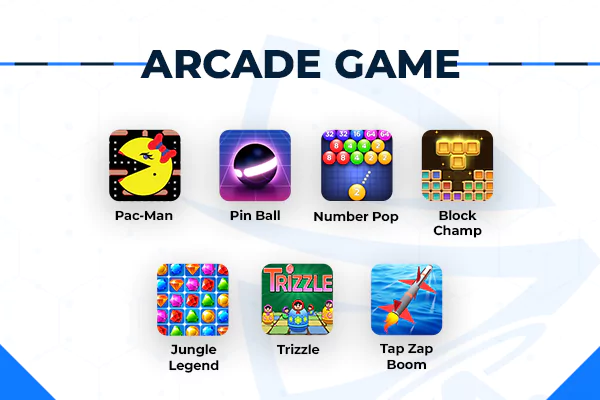 52. Pac Man
Pac-Man falls in the video game category of Arcade game. It is an amazing game packed with action maze chases. The objective is to eat all the dots placed in the maze by avoiding the colored ghosts, red, pink, cyan, and orange. By adding different layers, the game can be improved more.
53. Pin Ball
The Pin Ball game is an action-packed arcade game where the objective is to keep the ball on the playing board as long as possible. The longer you survive, the more points you will get. Add exciting game elements to increase the user experience.
54. Number Pop
Number Pop can be called Math Pop as well. The game's object is to pop the balloons so that the numbers add up to the number shown on the side screen. If you are fast and accurate, you will be able to score higher. Add background images to increase the fun of the game.
55. Block Champ
Block Champ game is about filling the rows and columns with blocks and clearing them. It is very simple and relaxing. Include various types of game logic to make the game more interesting.
56. Jungle Legend
Jungle Legend is a Bubble Shooting game where the objective is to eliminate the bubbles by connecting three in a row, and they disappear, which gives points. It is a fun game. Add difficulty levels in the game to engage users.
57. Trizzle
Trizzle is a game where the player needs to match Russian nesting dolls. Each match grows the dolls bigger and boosts their score. It can be a great option to spend some leisure time with players.
58. Tap Zap Boom
As the name suggests, Tap means tap anywhere, Zap means to tap the target, and Boom means it explodes. Proceed to the next levels by exploding targets, but must not hit the barriers.
Fantasy Mobile Game Ideas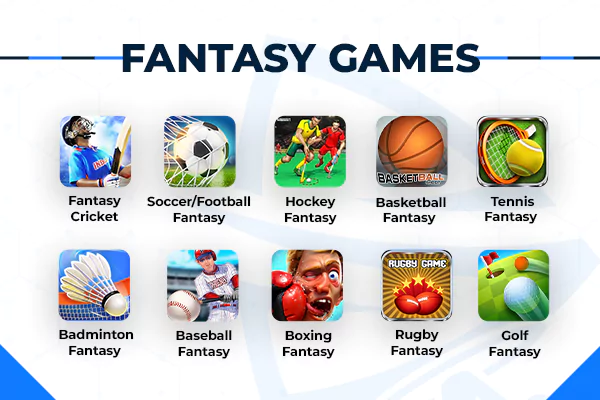 59. Fantasy Cricket
Fantasy Cricket is an online, strategy-based sports game. It involves selecting a virtual team of real players from two real teams and scoring points based on the performance of these players in real-world matches. The captain and vice-captain you choose in your fantasy team play vital roles in winning as they carry 2x & 1.5x points, respectively. If your captain and vice-captain show poor performance in the real matches, then there is a large possibility that you may not win real cash.
60. Soccer/ Football Fantasy
Fantasy Football is an online gaming genre that involves putting 11 top players on a virtual team and getting rewarded for their performance in a real-life game. Choose your captain and vice-captain Wisley, where there will be 2x points for the captain and 1.5x points for the vice-captain whenever they score.
61. Hockey Fantasy
Hockey Fantasy leagues also are the same as all other sports leagues. You need to create a strong team followed by a captain and vice-captain. The captain carries 2x points, whereas the vice-captain has 1.5x points.
62. Basketball Fantasy
You need to check for the best fantasy tips and tricks on basketball if you are new. It follows the same procedure of picking captain and vice-captain that follows 2x and 1.5x points, respectively.
63. Tennis Fantasy
Fantasy Tennis differs from all other fantasy sports playing strategies and rules. Here the user has to pick five players from the 5 Tiers, and based on that; points will be distributed. The player with the most points wins the game. Here if the picked player loses any set, points are reduced.
64. Badminton Fantasy
A dedicated Fantasy app for Badminton fans. The players can choose their teams, and then the points will be allocated based on the performance of the real players. This is the best app for badminton fans to enjoy and earn with Badminton sports.
65. Baseball Fantasy
Fantasy Baseball also works on a similar concept of creating your team on the fantasy app, and when your team does well in the real match, you get a chance to win real cash.
66. Boxing Fantasy
The players just have to select the best players of the tournament in their team, and now the live performance and scores of the Boxing players will decide which user was able to choose the best player and bag the best prices.
67. Rugby Fantasy
A hardcore sport that is full of unpredictable events. The players will have to create a team for the match, and the score will also be impacted by the injured players or fouls committed during the live game.
68. Golf
A highly competitive sport played by millions of players from around the world. Golf Fantasy Game is a golden opportunity for this sport's fans to use their golf knowledge and prediction skills to earn real money.
Action Mobile Game Ideas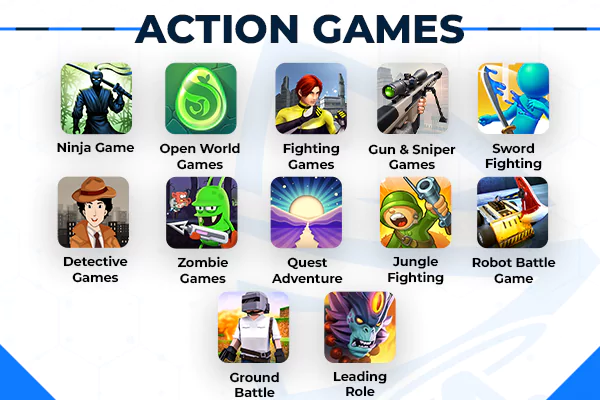 69. Ninja Game
Ninja games include a variety of modes like it can be action, adventure, fighting, or stealth. Use in-app game elements for a successful outcome from Ninja games.
70. Open World Games
Open-world games are highly engaging. With the use of the latest UI, Graphics, and Tools, the user experience can be enhanced. Available world games also feature avatars, and including 3D Avatars will be a huge bonus.
71. Fighting Games
Fighting games are fun. It can be of various types. Looking at the user base, fighting games can be developed with high-end graphics and advanced technologies or with average graphics and basic functionalities.
72. Gun & Sniper Games
Gun & Sniper games are highly interesting and exciting to play. Each level is packed with new objectives and missions. Gun & Sniper games have better chances of succeeding in this current era by looking at the success rate of games like PUBG, Call of Duty, etc.
73. Sword Fighting Games
Fighting games are always exciting, and ancient sword fighting games may work like magic for the old genre of players. Include some historical stories in the game to reach the audience easily.
74. Detective Games
Detective games are more like cop games. Here cop has to find all kinds of criminal activities, threats, robberies, etc. Add different tours and game elements like changing the background, hat, car, etc., to increase the fun.
75. Zombie Games
Zombie games are also a very popular type of game. Here the user kills zombies to save him/ save their town. With each successive level, the difficulty modes of the game will increase.
76. Quest Adventure
Adventure games include snow falling, skiing, ice skating, etc. Here the game owner can add popular places in the world to play the game.
77. Jungle Fighting
Jungle Fighting games are nothing but stealth games where the user has to save himself and kill predators for food. These games are highly engaging.
78. Robot Battle Game
Giant robots, cool gadgets, awesome mechanics, and controls are the features that can make the number one Robot game. Make it a robot boxing game or a robot war game; the choice is yours.
79. Ground Battle Game
Ground Battle Games are very popular where 25-100 players will participate in collecting the supplies and surviving till the end. The user or the team that endures till the future is considered the winner of the game.
80. Leading Role Games
Leading role games are fun. Exciting and sometimes adventurous as well. Some of the all-time best role-playing games are Loot River, Anuchard, Ninja Wars, Coromon, Weird West, Crystar, etc. Adding exciting game elements to the game may result in growth in the user base.
Kids' Mobile Game Ideas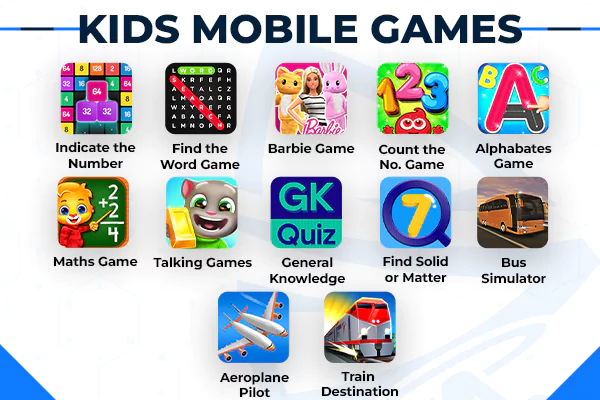 81. Indicate the Number
Games for kids on an educational level always have the upper hand in succeeding. Nowadays, even kids are more into smartphones. Developing games like indicating the hidden number can outsmart your competitors as a game owner.
82. Find the Word
This game is more like finding words hidden in a list of uneven numbers and misspelled words. It will help in increasing the concentration of kids. It is a great option for game owners.
83. Barbie Game
Barbie games are fun games for kids. There can be many modes like beautification and wearables (clothes, sunglasses, hats, shoes, etc.). So it goes without saying that these games will make a difference in the gaming market.
84. Count the Number
It is another game that can be developed for kids. Here the idea should include various outstanding background images and include numbers in hidden places. The user has to find and count how many numbers are there in a particular image.
85. Alphabets Game
In this game, the idea should be to find the alphabet and, later, name the user needs to find out a word starting from the discovered alphabet. For example, if the user founds the 'G' alphabet, the corresponding word should be 'Game' or 'Ground', etc.
86. Maths Game
Maths games can help kids by following the basic mathematical functions like addition, subtraction, multiplication, division, percentage, etc., given in the app with pictures, graphics, and cartoon characters.
87. Talking Game
A great example of a talking game is 'Talking Tom'. Here the user can interact with the game through the smartphone.
88. General Knowledge
General Knowledge games can be fun as well as exciting and competitive. The owner can categorize questions like sports, history, politics, outside the world, etc.
89. Find Solid or Matter
It is a game of chemistry where the user has to find out whether the game is solid or matters by recognizing the options shown on the screen.
90. Bus Simulator
Bus simulator games are highly engaging and need strong concentration to excel in the next levels. The user has to drive through certain objectives by collecting points. It is a good option for any game owner.
91. Aeroplane Pilot
Again, these are the same concept as bus simulators, but the implementation of design, work, and coding differ. Here the user has to reach the destination without crashing the Plane. Also needs to keep an eye on fuel consumption.
92. Train Destination Games
Train Destination Games concept is also the same as the Bus simulator and Plane, but the user has to take passengers and make them reach their destination without any trouble and on time. Game owners can use these simulators and destination games for a successful outcome.
Strategy-based Mobile Game Ideas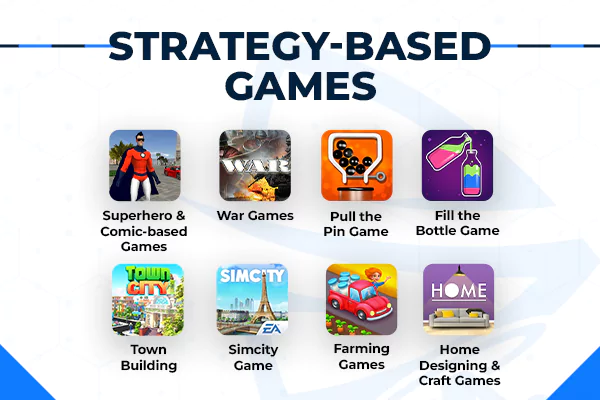 93. Superhero and Comic Games
Add characters that have superpowers and let the users save the world by playing a superhero. Add various villains and sidekicks to keep the story interesting and the users engaged. Use your creativity to craft a great storyline for the game.
94. War Games
In the strategic war game, the users will have to arrange their army and the number of different troops to increase their military's power and defeat the other armies. The formation of the army and the number of additional troops will greatly impact the war's outcome.
95. Pull the Pin Game
Various pins will hold different objects and elements that the users will need to solve the levels. The users either have to pull the pins in the right order, or they have to pull only one to pass the level, or they will lose.
96. Fill the Bottle
Here the concept is to fill the bottles with the specified colored water bottles. There will be a bottle full of water containing Green, Blue, Red, Orange, and Pink color water layers. The user has to fill red in a red bottle and orange in the orange bottle so that no layers should be there.
97. Town Building
Town-building games are fun as well. Here the objective is to create a town based on the collectives like gold and elixir and improve the base with a defense like a canon, archer tower, mortar, wizard tower, etc. A perfect example of a town-building game can be Clash of Clans.
98. Simcity
Simplicity is a game where the user has to build their own house, buy cars and spend money on daily expenditures. Build, craft, and control. A game owner can go with this option as well.
99. Farming Games
Farming games are also as engaging as other mobile games. With feature-rich technologies, the game can reach a large audience.
100. Home Designing & Craft Games
The owner can provide games based on home designing & craft where the user has to improve the walls, and ground, solve the water leakage issues, etc., by keeping an eye on chips/coins.
Are you looking for Mobile Game Development Services?
Artoon is a leading mobile game development company in India. We provide all kinds of mobile game apps or web app services starting from scratch to top-tier advancement tools. Also, Artoon is prominent in delivering high-end mobile games where Card & Casino games, Board games, Puzzle games, Hyper-casual games, Arcade games, etc.
Wrapping Up!
Mobile Games have been the top trend in the last few years and currently hold a major market share of the mobile game app market and the entire gaming industry. Mobile games are a great investment and will provide long-term profits for you. Those mentioned 100 good mobile game ideas will help you decide on your next game. Merge your gaming ideas to make an entirely new game that can outsmart the competitors.