What is Rummy?
Rummy is one of the fastest-growing gaming industries in India. It is a skill-based and strategy-based game that is played with cards. It is one of the oldest and most played card games globally. To win consistently, the player needs to practice a lot as it involves high-level skills to win the game.
Card games create a different aura. People want to play card games on mobiles these days as technology has grown in such a fast-paced way in recent years. Rummy is a card game that provides the best options and is available on the internet.
History & Region of rummy
Two different types of the rummy game originated in the 19th century from two countries, Mexico and China. The rummy principle of drawing and discarding with a view to melding appears in Chinese card games. Rummy variations like Canasta and Gin Rummy became very popular in the 20th century. With the rummy game on the rise, it became very popular in India as an extension of Gin Rummy known as Indian Rummy.
Some play rummy for fun with friends & family. Some play to earn real money. An important factor associated with rummy that attracts gamers is you can profit real money by winning games. Implementation of skills brings the best out of players. Rummy is a combination of simple to learn, strategic skills, memory enhancement, and logical thinking.
Growth of Rummy (Year-wise in USD)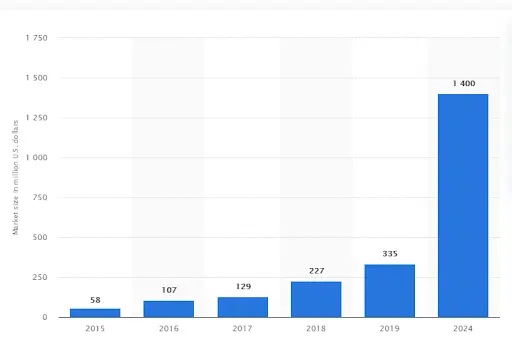 (Year-wise growth of the rummy market in USD with an estimate for 2024)
If you are going to play rummy games and want to earn real money, you must look at the pros and cons associated with it. Here are those
Pros
Play with Friends, Family, and others
Rummy is a game that has been played between friends & families for a long time and as the digital world is growing the new modern way is playing rummy with friends & family on a mobile. It is a game that involves many players and develops a sense of community between players. Rummy can be played for both fun & earning purposes.
Make new friends via online
While playing any multiplayer mobile game like Indian Rummy we came across hundreds of players every day. Apart from winning and losing, the game development companies have become very smart and have implemented so many feature-rich tools like video chat, chatting with emojis, and sharing chips & coins that help make new friends right from the online game mode. Strangers become friends in a very small time.
Tournaments – Top rewards & cash prizes
The online rummy game brings its own thrill and excitement to the tables. When a skill-based game like rummy is played for real money it creates a heightened sense of competition among players of all measures. The game owners tend to offer top rewards and cash prizes if the player wins a tournament. This sense of competition is coated with huge bonuses & rewards such as cash prizes, expensive vehicles, smartphones, watches, etc for winners and top finishers. So, every player wants to play rummy and earn huge rewards that result in a long-lasting user base.
Decision-making skills
While playing rummy, you need to think twice, thrice before dropping a card as you have to rethink if the card would be picked up by opponents who may build a sequence and/ or a set with it. Your decision matters a lot here as a small error in judgment could bring about a huge setback or you may lose.
Patience & Focus
Patience is one of the important parts to be successful, in rummy patience plays a crucial role. Rummy is a game of patience as you need enough time to make your melds. While playing you will experience how patience plays a part and it will surely develop patience in your daily life as well.
Playing rummy online improves your focus too. The rummy game requires complete attention, concentration, and focus while playing. Any slip on this aspect would cause your downfall in the game. It develops a focus and concentration factor that is very necessary to a person. Undivided attention towards the card game is necessary to win the game. Likewise, undivided attention is necessary to get success while doing any work in our daily life.
More money
With time every market and stuff is changing, the value of money is increasing day by day. People realize they deserve more money as much as anyone else. More money is the new mantra in this modern world and there is nothing wrong with that. You will need more money to make dreams a reality. Playing real money games like rummy regularly will make you an expert in earning real money.
Cons
Chasing losses
Players who are on the losing spree more often try to chase losses without thinking for a second time. To recover the monetary losses, rummy players keep playing the game and lose more money which can be saved for the next games. A player must avoid chasing the losses once he/she realizes they are on the losing spree and start saving for the next game.
Addiction
Games are meant to be a good way of spending leisure time. When the game is exciting and earning real money is possible games like rummy become addictive. A player must balance professional life as well as personal life.
Conclusion
So, got some ideas about Rummy and its pros, cons? Rummy is one of the best card games that is skill-based and strategy-based. Would you like to develop a rummy card game?
Artoon Solutions Pvt. Ltd. with 250+ in-house strengths and has more than 14+ years of experience in developing real money/ virtual money mobile games. Games belonging to category viz. Card and Casinos, Puzzles, Board, Sports, Arcade, Hyper-casual, etc. We've dedicated and experienced teams to handle multiple projects simultaneously with perfection. We're here to make your dreams a reality. Let's get in touch.