Types of Virtual Money Games
A large number of virtual money games are downloaded in the mobile devices of users around the globe. Virtual money games can be categorized into several segments including board games (carrom, Ludo, etc), Sports Games (Football, Cricket, NBA, etc), Car Racing Games, War Games (PubG, Call of Duty, Warcraft), skill-based games, etc. Since the smartphone has invented, the rise in virtual games is incredible. Today, virtual money games are more than 50% of all games available on the internet. Get your own virtual money app on the play & app store and start getting revenue with Artoon Solutions.
How many types of Virtual Money Game Famous in the Market
Board Games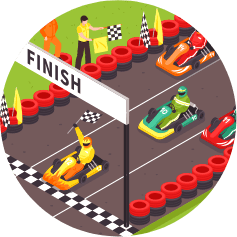 Car Racing
war Games
Our Umbrella of Virtual Game Development Services
Play Free
Multi-Language
In-App Purchases
Interstitial Ads
3D Graphics Touch
Technology Stack We Use To development
FCM
Fabric iOS
Android Studio
AWS
Android
Geo-fence
Mantis BT
MEAN Stack
Google API
Google Webmasters
Google Analytics

Sass
ZOHO
swift iOS
Xcode
stripe

Sketch

sendinblue
Fabulous Features of Virtual Money Games
3D Touch
Each game app with the 3D touch to deliver the amazing user experience to the gaming users.
Multiple Screen Slots
Offer multiple screenshots to deliver an entertaining experience while playing the game.

In-built Ads
Include in-built ads slots with lucrative design as it's the main source of income in virtual games
Cost of Virtual Money Game Development
Game Features
Play As Guest / User Account
Private Table
More Variation
Multi-Language
In-App Purchase
Daily Bonus
Control Panel
DashBoard
Player (User) Management
Agent Management
Game Management
Financial Management
Chip Management
Various Deployment
Web Version is based on html5 and is playbel via internet on any browser without Download
Mobile Version Is Base On Unity Platform And Is Either Negative Android app Negative IOS App Windows Mobile App Or In HTML5 Application
Why Choose Artoon Solutions for Develop Virtual Money Game?
Creating something awesome from a rough idea is an art, we excel at. When it's a matter of developing world-class solutions that meet clients' expectations, we are master at it. Artoon Solutions is a top-notch creative and excellent virtual money game development solutions provider with 14+ years of experience in the field. When you choose to Artoon Solutions as your game development partner, you are actually choosing a team of talented brains, the expertise of skills and a trustworthy partner for your upcoming project. Let's be a development partner and empower the digital space.
Believe in Quality-Oriented Work Processes
A Pool of brilliant brains and creative souls
In-Depth Knowledge of technology and frameworks
Close attention to UI/UX
Highest utilization of resources
A deep understanding of customers' needs
Successfully delivered performance-oriented & reliable virtual money game apps
Keep updating our clients about project progress
FAQs
What kind of virtual money games do you build?
We develop all types of virtual money games in 2D & 3D technologies. Our portfolio includes board games, sports fantasy apps, quiz games, skill-based games, learning games for kids, multiplayer games, etc. We deliver personalized game solutions that meet with your gaming users' requirements.
How does it cost to build a personalized virtual money game?
Well, the cost of developing a virtual money game varies depending on various factors including "how complex your requirements are", development framework, game features, the experience of developers, the country of the development team and many more… So, without getting sufficient information about the project, quoting a game app project is quite difficult. It's better to discuss project requirements with us. We would love to hear your interesting ideas and deliver cost estimates with proper breakdown.
Is My Game Idea and Data Secured With You?
We follow the strict NDA (Non-Disclosure Agreement) rules & sign it to keep the game data and idea secure. We use the secured data storage facilities where data can be stored in a structured manner and also get to access them smoothly. We do not share any project information with anyone without your consent.
Will you provide post-production maintenance and technical support?
Yes, we do. Believe in a long-term relationship with our clients, we always there to deliver technical support. We do offer maintenance services to keep the app run smoothly without any bug. However, we do charge for it.
Copyright 2009- Artoon Solutions Pvt. Ltd.