Looking to develop a Rummy game and want to know what to expect? Take a look at the MPL Rummy game Development or YOOZOO Games Rummy game with Sunny Leone. We have developed both of these Rummy games. 
Over the past two years, developing a mobile application has risen in terms of being an ideal way to be part of a growing industry. The mobile game industry has already reached the $300 billion mark, making it extremely alluring to investors who may not even be from the digital stream. A Rummy game development company is all you need to help you along this path!
Why Rummy? This game is one that sees high popularity across the world. Rummy is a skill-based game, although a minute amount of luck is necessary to win! Now, it can be made into an app through mobile app development. 
More Resources
The best part of hiring an expert Rummy game development company is the fact that it is an abundant source of resources. This will not be available when hiring freelance Rummy game developers. Having all the resources necessary is important as it can lead to a better mobile game. 
Failure to have all the right resources can be a reason why your app is lacking in the graphics area. The availability of more resources can help to meet deadlines or prevent an issue instead of having to fix it later.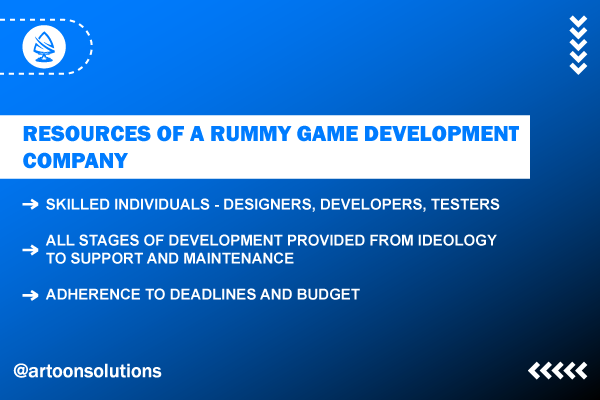 Resources of a Rummy Game Development Company
Skilled Individuals – designers, developers, testers

All stages of development provided from ideology to support and maintenance 

Adherence to deadlines and budget 
Expert Skills and Knowledge
If you are going to be a novel Rummy game owner, I doubt you would want a novel Rummy game development company to spearhead your project!
An experienced company developing your Rummy game can put you ahead of competitors with their experience. From previous projects, they will know what mandatory features are and which are unnecessary. 
An expert Rummy development company can help you fill in the blanks of where and what to do next. It can also guide you on what features or design elements to implement in your Rummy application. 
Specialized Graphics 
Most Rummy games follow a certain pattern in terms of design. This pattern is usually arrived at by understanding what is ideal and pleasing to Rummy game users. The game design should be easy enough to understand and users should be able to master it within a few days. 
Graphics is essential to attract users, and failure to ensure optimal graphics can cost your app dearly. An app's visual appearance tempts users to try a new app. Besides, most Rummy apps may have a similar appearance or logo, and you need to be different to be noticed! 
Sporting a different appearance can make all the difference if your features are similar to other Rummy game apps. 
Also Read: Is it legal to play rummy game in India
Effective Dashboards- for user insights 
As an app owner, you need insight into your app's performance. By creating an effective admin login, you can get the information you need to better your application. 
If not done properly, you could lose out on priceless data. Bugs can even cause these background statistics to be faulty! This, in turn, can lead to a misunderstanding of how the app functions. 
Quality Tested Code 
Coding is not a simple thing to correct when you are halfway through the process. Plus, the entire process of fixing code could be very expensive, especially if you have not taken the time to find specialized Rummy software providers. 
Bugs cannot be fixed immediately and may require a developer to look at the entire code to pinpoint them. This again takes time and money, which may not be necessary in the first place if you hire an expert Rummy game development company. 
Deployment 
During Rummy software development, prospective app owners must consider what software they want, a web app or a mobile app. Furthermore, a mobile app could mean an Android, iOS, or cross-platform application. 
Before signing any paperwork with a Rummy app development company, you must decide what platform your app will cater to. Based on this decision, the app must comply with developer requirements before being accepted on the play store. 
Also, the application must be made accordingly to ensure that it is delivered within the specified deadline. Failing to meet a deadline or constantly pushing it back can signal you are not partnering with good Rummy software providers. 
Uncompromised Rummy Game Security
The Rummy Game can also be a real-money game, so there is a mandatory requirement for security. Security flaws are one case that will make users leave an app in a heartbeat!
Security is needed for the following reasons: 
To make sure transactions are safe and completed but also to ensure that user data is secure. 

In times when there have been several data breaches from apps, users' data will always be at risk.  

You need to pick the best Rummy game development company to prioritize security efforts and make your app secure to avoid internal hacking. Certain users may gain access to ways to cheat, which is very unfair to other players.  
Security may come at an extra cost when hiring freelancers. However, it is one you need to accept. Slighter lower prices are not worth you compromising your app and users. 
Maintenance and Support 
Although all efforts may be made to ensure that apps are completely polished and ready for launch, it may not be enough. Many apps may release an update shortly after launch to fix an error. 
Later on, the app owners may want to release an update to introduce new features. Either way, both instances highlight the importance of maintenance and updates. 
Another post-launch activity vital to your app is app support. Through app support, app owners get insights into what issues users are struggling with in their application and how to make the user experience more enjoyable. 
Conclusion 
Picking the right Rummy software providers can be enough to put you in a desirable spot. But, again, this depends on you picking the right company to develop your application. Besides this, you must clearly know what you want your application to look like. 
If you need a suggestion for a Rummy game app development company, you should consider Artoon Solutions. They have 14+ years of experience in Rummy software development. The company has vast experience in catering to user preferences.