We have been on the technology trend for a long time now. Playing card games is not only a fun element but it provides an option to earn real money by playing with skills, strategies, and logic. So, what are the top 10 card games that play a large role in the growth of a multigaming platform?
Let's dig deeper into the details.
What is a Multigaming Platform?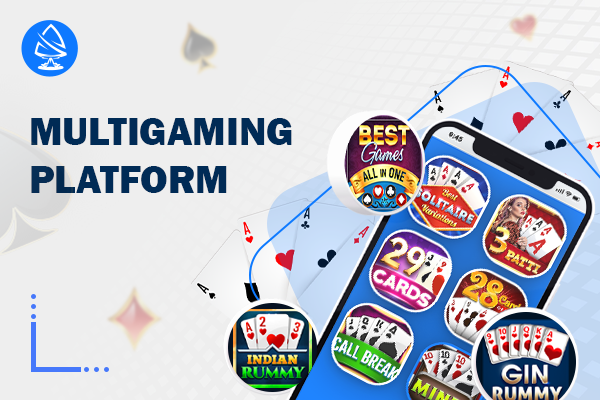 A multigaming platform is a single platform where multiple types of games are available in a single app, the games can be either real money games or virtual money games i.e. skill-based games or luck-based games. It is an all-in-one game app where you will be able to play a number of games, can earn, and compete with your friends/strangers. Some examples of multi-gaming apps can be MPL, Skillz, Paytm First, Winzo, Hago, etc. Users can play these games on their smartphones/laptops. If the user wins, he/she will earn real money which becomes a key factor in multi-gaming platforms.
How to Build a Multigaming Platform App Like MPL,Hago & WinZO?
Various types of games like Card and Casino, Board, Sports, Hyper casual, Arcade, puzzles are available under a single platform. Some of the best examples are Rummy, Poker, Callbreak, Solitaire, Spades, Uno, Court Piece, Teen Patti, Andar Bahar, Mindi, 29 cards, 21 Cards, Ludo, Carrom, Pool, Hill Climb Racing, Mahjong, Bingo, Fruit Ninja and many more. Fantasy sports is also one of the major parts and parcels of a multigaming platform.
So, what are real money games and virtual money games then? Here is a quick look at it.
Real money games are nothing but skill-based games where each coin available in the game app has a monetary value. These are the games that require a proper skillset to win specific games. Players earn huge sums of real money by playing real money games with skills, strategies, and logic.
Virtual money games are both skill/luck-based games where chips/coins don't have any monetary value. In luck-based games, the major focus is to enhance gaming skills. Each player can play various gaming modes and practice modes. With skills and strategies, luck plays a large role to win in virtual money games. In these games, the winner can earn chips/coins, gift vouchers, rewards & bonuses but not real money.
RMG & VMG in a Multi Game App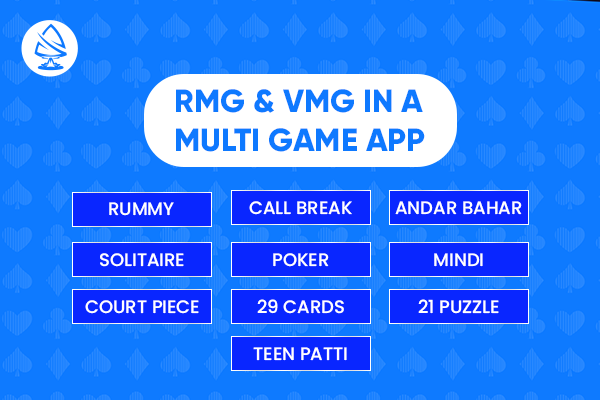 Real money games i.e., Games of skills, and Virtual money games i.e., Games of luck are available in this format. The reason why it is so popular and called multi-gaming is that it offers multiple games to play on one single platform.
Here is a quick example: A user can play a card game that can be either real money-based or virtual money-based. It depends on the user what he/she chooses to play. So, it gives a wide range of options to play for a fun purpose or earning purpose.
The top 10 card games that can take the growth of multi-gaming platforms sky-high can be
1. Rummy
2. Poker
3. Call Break
4. Solitaire
5. 21 Puzzle
6. Mindi
7. Court Piece
8. 29 Cards
9. Teen Patti
10. Andar Bahar
Let's discuss it one by one.
1. Rummy
The Rummy card game is a skill and strategy-based game that is largely famous in India with the benefits of having the highest number of online mobile gaming players across the country. The online rummy platform is entirely safe and ensures a seamless experience for every rummy player. You can enjoy the card game at any time and play against thousands of players around the world. Just pick the rummy game of your choice and experience the thrill of an online multiplayer game. Rummy can be a highly beneficial addition to mobile gaming industries for the multi game platform.
Here are the most popular variations of the Rummy card game:
Points Rummy, Deals Rummy, Pool Rummy.
2. Poker
Poker is a game of skill and logical thinking. There is no doubt about that. Poker is also a very popular card game in India. If we see from a brighter perspective when someone plays a game for a short period, mostly it depends on luck and when someone plays a game for a longer period as professional players do, it's more of skill implementation rather than luck. Also, many reasons prove poker is a game of skill, for example, it is a game of math & odds. Any game that involves math calculation, odds aren't luck-based anymore.
Types of Poker and its popular variations:
Texas Hold'em, Omaha High, Seven Card Stud, Five Card Draw, Razz, etc.
3. Call Break
Call Break is also a card game that is becoming so popular in India. It is an online strategic card game that involves tricks, bidding, and trumps. This is ideally a 4-player game in which each player plays to reach a set target of 300. The game is played in multiple sets. For each set players score some points to help them move toward the target. The score can be positive or negative for each player. To reach that target of 300 the player has to stay focused and use unique strategies. The game becomes interesting because of the fact that you can force others to play a certain way so that they might not secure their call and get a negative score by pushing you ahead in the game.
Adding Call Break card games to a multigaming platform can be highly beneficial for game owners.
4. Solitaire
The solitaire card game can be played by oneself (i.e., individually), usually with cards, but also with dominoes. The term "solitaire" is generally used for single-player games of concentration and skill using a set of layouts of tiles or stones. The solitaire game comes under skill-based games, i.e., Games of skill, and can be added to multi-gaming platforms where the real money is involved.
Normally Solitaire comes with six different gaming modes i.e.,
Klondike, Spider, FreeCell, Tripeaks, Pyramid, Yukon.
Some solitaire variations are as follows:
Spite & Malice, Solitaire Pyramid, Speed Card Game, Ace Solitaire, Classic Spider Solitaire, etc.
5. 21 Puzzle
The 21 Puzzle is a skill-based card game that features some basic math calculations to win. 21 Puzzle card game is one of the easiest games to play. As the name suggests, the objective is to get your score to 21 by adding the points of the cards in hand. The 21 Puzzle card game is played on a column-based board by using a deck of 52 cards.
6. Mindi
Mindi is a traditional Indian card game played by more than Millions of users around the world. It is easy to learn and offers a unique game experience every time you play it. This thrilling card game is played in leisure time most often for users' entertainment. Mindi is also known as MindiKot, Mendhi Coat, Mindi Multiplayer, and Dehla Pakad (Which means "Collect the Tens").
7. Court Piece
Court Piece is commonly known as a trick-taking card game. It is played with a full standard deck of 52 cards by four players in fixed partnerships, sitting crosswise. Cards are dealt in batches of 5-3-3-2 or 5-4-2-2. Court Piece is largely played in Asian countries like India.
Here are some variations of Court Piece as follows:
Single Sar, Double Sar, Dummy Rang, Dab Rang.
8. 29 Cards
29 Cards is a strategy-based card game and becomes addictive once the user starts winning. It is played by four players in fixed partnerships where the players facing each other are partners. Here 32 cards from the standard 52-card pack are used for the game. Here the objective is to play your tricks where you have the highest-valued cards.
Teen Patti is a luck-based game where even if you have skills, you need a bit of luck to win. It originated in subcontinent countries and is very popular in Asia. In foreign countries, Teen Patti is known as Three-card Brag.
Some popular variations of Teen Patti are as follows:
Muflis, One Joker One Burst, 999, Lowest Card Joker, Highest Card Joker, etc.
Andar Bahar is more of a prediction game where the user has to predict before playing the game. Here the main objective is to predict correctly whether the card will come at the layer 'Andar' or 'Bahar'. The player with the most correct predictions wins the game which clearly defines it as a game of luck.
More Card Games
Apart from the above card games, there are many more exciting and feature-rich card games available that can make a huge difference in multi game apps.
Popular card games like Spades, Bid Whist, Tonk, Uno, Gin Rummy, etc can also be an invaluable asset to the mobile game business while looking at the multigaming platforms.
Wrapping Up!
The popularity of Multigaming platform apps in the gaming world has increased rapidly, and it is expected to reach the greatest heights in the coming years!
Artoon Solutions has been a leading game development company over the years and has developed 100+ games for top gaming clients like MPL, Flipkart, Winzo, Dangal Games, Zupee, and that's just naming a few.
We're Mentioned in MPL's Blog in the Forbes India

So what are you waiting for? Let's connect and build a feature-rich multigaming platform to enhance your gaming business NOW!