Before your next project starts, you'll have an essential task at hand! Making sure you choose the right custom WordPress development company will be paramount to your success! Failure to get the right company could lead to a lengthy correction process or a complete reinvestment! 
Why Choose WordPress Development Services? 
WordPress has been making waves for all the right reasons! It is modern, simple, and effective. However, only some can invest much time and effort into developing their WordPress website. This is the most likely time for custom WordPress development services.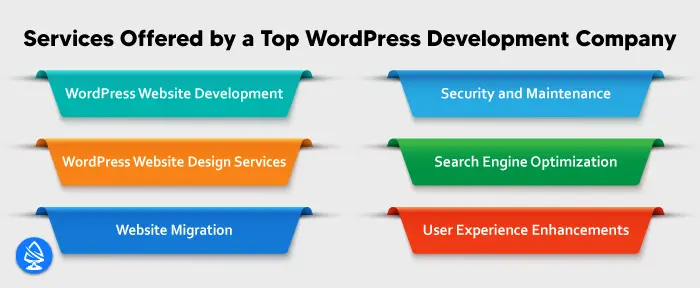 A custom WordPress development company is likely to focus its resources on WordPress website security, maintenance, user experience, UI & UX. All of these matter greatly when you want a successful website and business.  
Proficiency in WordPress 
WordPress commonly comes under the non-coding website development services list. However, your project may occasionally need coding; hiring a custom WordPress development services company that knows coding languages is advisable if the need arises. 

Additionally, the developers employed by the company will have to know how to develop WordPress APIs and Plugins to offer complete WordPress websites.  
Reviews and Feedback 
After understanding the company's services, you will have to get some extra information about the company's reputation. This includes what other people and companies say about that particular custom WordPress development services company.
Finding feedback and reviews for any WordPress development company shouldn't be that hard, as there are several places to find them. Some places you can look are Google Reviews, Clutch, and GoodFirms. 
The best part about using these information sources is that they are accurate and reliable. It could be a sign if you can't find any reviews on these websites! But if you want feedback, you can check the company's website.
Company Reputability 
I doubt you would want to work with a company that claims to be a custom WordPress development company even though they were established just two years ago! 
That's because it is doubtful whether a company two years old has experienced enough to be able to tackle difficult problems and a multitude of client requirements. 
You can usually find out how long a company has been established on its website. The About Us page or Home Page usually mentions the establishment date. Suppose the company has been operating for an impressive amount of time. In that case, it may even feature on the company's website several times. 
WordPress Portfolio 
Would you ever buy a product without seeing it first? Probably not, so why hire services without seeing their services live? A WordPress Portfolio shows the company's completed projects, which will make you mindful of what the company is capable of. 
Failing to view the portfolio before hiring a WordPress development agency could result in discrepancies between expectations and reality! Also, extra costs would be incurred when correcting mistakes made the first time in development. 
A portfolio will show the best capabilities of the WordPress development company and give you a perfect idea of the company's abilities. 
Team Size & Experience 
After ironing out the company's abilities comes the task of taking a closer look at the team. As these will be the people who are going to be developing your website and a lack of an experienced team can be a red flag when choosing a custom WordPress development services company in India or abroad. 
You can inquire about the size of the company and the experience of each team member. Team size is important as it gives insight into how long development may take and what hierarchy or development model will be adopted by the company.  
Team experience is also vital as it wouldn't be ideal for the development to have just a year or two of experience! Evaluating the team and even setting up a meeting helps to establish how experienced and capability of the team is.
Availability & Timelines 
Availability refers to how easy it is to communicate with the company. Ideally, it would be best to set up a video call or, at the least, a phone call. 
You must solidify a point of contact as soon as you communicate with the company and establish your interest. A sure means of communicating with the company and, if possible, communicating with the same person to avoid any confusion or loss of time to reiterate requirements is a must!  
Secondly, you will need some timelines to work with if you have strict deadlines. It would be best if you enquired as to whether or not you will be able to meet your deadlines even with the timelines provided by the company. 

Draw Out Responsibilities
Projects usually encounter problems when the development company and client are unaware of their responsibilities. Usually, the blame comes down to a misunderstanding during communication.
Drawing out of responsibilities about the content, photographs, and SEO services should essentially be done from the start. A simple misunderstanding could leave your website without any content or images! 
A document with each party's obligations is essential for the planned website to be developed. Both parties can then stick to this document for any requirements, current or future. Plus, the document can be used for future reference if doubt were to arise about obligations. 
Evaluate Cost Against Value 
Going by cost rather than experience and portfolio strength can lead to poor results. For example, a company that is half the price of another may look appealing. However, the quality is also half of what the other company offers. 
Cost estimation of a WordPress website is important but should not be the sole factor on which you decide to hire WordPress website design services. It can be one of the factors but not the main one! Remember that quality costs, and if you want a relatively good website, you must spend a reasonable amount of money. 
But this doesn't mean cost equals quality, as many companies overcharge for their services! Take it with a pinch of salt, and derive a conclusion from your findings about whether the company's services are worth the cost attached to it. 
Post-Development Services 
All post-custom WordPress development services are related to maintenance and support activities. This ensures that your website is running smoothly, functionally, and securely. If not, your customers will experience quite a difficult time enjoying your website. In turn, this can negatively affect your business as well as even negatively your company's reputation. 
Also, as time passes, you could find that you require an essential feature or service, and integrating it into your website could mean you need updates. Thus, post-development services are essential in maintaining a high-quality WordPress website.  
These WordPress development services will also prove vital if your website were to suffer security problems and if this leads to errors and bugs that affect your customers' user experience.   
Custom WordPress Development Company Hiring Mistakes to Avoid
Most small businesses that don't already have a website or mobile application are unaware of certain problems or loopholes in hiring WordPress development services. This new process may seem confusing for anyone doing it for the first time! 
Don't agree or sign papers without checking the company's reputability and legitimacy. 

Check just how expert the company is in WordPress. 

Do not agree to pay the full amount beforehand and make sure to research the market for current developer rates before settling. 

Create clear-cut documentation detailing what the WordPress development company will deliver for the amount payable. 

Confirm whether the company will include free post-development services. If not, find out what is the hourly price of the service.  
What should I keep in mind when hiring a WordPress developer?
Before hiring a WordPress developer, you should check their knowledge of WordPress (both theory and practical), technical skills, ability to adhere to deadlines, learning capability, and communication skills. These will be the parameters based on which you will understand whether a developer is suitable for you.  
Will WordPress still be popular in 2023?
Yes, WordPress is slated to still be in high demand in 2023. So many small businesses and even individuals use WordPress development services to develop their digital face on the internet. People are also looking to become more efficient, independent, and in control of their websites, and WordPress answers this call. 

Conclusion 
Choosing a WordPress development company for your next project is not a day's work! It takes some vetting to ensure you choose a company that will provide a quality solution worth the cost and effectively fulfill the intended purpose. 
Suppose you want a hassle-free partnership with a WordPress development company in India. You can consider Artoon Solutions, an expert in website development, and WordPress website design services for development services you can rely upon.