WordPress Development Agency – WordPress is one of the most popular CMS (Content Management Systems) broadly used by many leading organizations worldwide. It is mainly used for publishing blog content and developing a visually appealing website that can grab visitors' attention in seconds. 
Most developers rely on this CMS platform because it allows them to develop websites easily and quickly. Choose from hundreds of plugins, themes, and templates and modify them to your liking. Hiring a WordPress development company can create a responsive and excellent business website.
In this blog, we will look at the benefits of hiring a WordPress development agency that helps you take your business goals to the next level.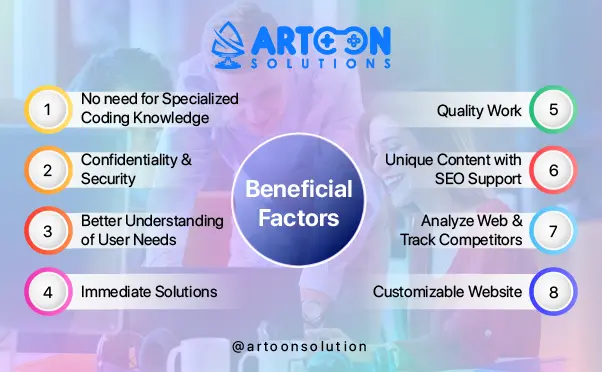 No need for specialized coding knowledge
WordPress makes it easy to develop appealing websites without prior coding knowledge. How good is that? It is a huge advantage for business owners who want to create a website for their business but, due to the need for coding language, they must avoid it. WordPress has eased modern website development, allowing even small companies to develop their website. Also, optimizing a WordPress website is easy, and the benefits are as follows. 
Faster Processing Speed

Smoother Customization
Read More: Laravel VS WordPress- Which is Best For Your Web Development?
Confidentiality & Security
Business-related data is susceptible and shouldn't be in the wrong hands. Hiring a WordPress developer ensures data security as they handle and protect all your information. Also, any agency employing a WordPress developer will have dedicated developers to help secure your company's critical information. Therefore, there is no compelling reason to worry about data confidentiality and security.
Better Understanding of User Needs
Visitors, users, and customers can boost your website ranking or push the website to lower ranks. So, how should you plan your website? 
Here is a pro tip. Try to understand the user's needs. Suppose you are a product-based company, and your website is not providing enough information about your product and how it solves user needs; it would never be successful in the market. Your website should be capable of engaging new visitors and helping you get leads and traffic for your business; else, a website is useless. Nowadays, web developers work on user expectations and deliver the exact needs based on that. Hiring a qualified WordPress development agency can provide complete WordPress development services, benefiting the business. 

Immediate Solutions
An efficient WordPress development agency handles clients perfectly and resolves their queries and issues immediately without wasting any time. They handle all aspects of creative website development, from idea to implementation to maintenance. You can also create stunning and engaging websites that help maximize traffic and increase conversion rates.
Quality Work 
A certified WordPress development agency will introduce quality methods to benefit the website. This leads to more efficient, scalable, and robust website development using the latest tools and technologies. Thus, the website provides the required services and achieves rapid results using agile methodologies and web development elements. You can have a high-end website with rich functionalities and a user-friendly UI.
Read More: 14 WordPress Security Tips to keep Your Website Safe and Secure
Unique Content with SEO Support
The WordPress CMS is SEO-friendly and offers SEO support and exclusive themes to ease the creation of websites. WordPress plugins help you manually improve the quality of your materials. It also has some built-in programs that assist you in adding rich snippets to improve overall search engine ratings. WordPress helps businesses develop websites with a solid online presence and effectively reach target audiences. 
Analyze Web & Track Competitors
Web analytics allows you to track all actions and progress identified with the website. Top WordPress developers help you analyze what content you must focus on to improve performance, accelerate ROI, and deliver a great user experience. Also, developers can solve various problems while bridging the gap between you and your competition. Web analytics helps you gather the information that can be used to streamline your business process, operational process, and deliverables based on market demand.
Customizable Website
When you hire a WordPress development agency for website development, customization becomes a lot easier—no need to go through the lengthy process of looking for each file in detail. Gather the requirements for the website, discuss your ideas with the WordPress development agency, and customize the website as per your preference. When it comes to design and development, you can easily optimize and personalize your website manually.

Summing Up! 
Hiring a WordPress development agency is a critical factor in modern-day website development. Technology has evolved over the years, and with all the UI/UX, it is necessary to optimize the website. The number of websites is growing, and to make it available on the web for everyone, SEO metrics must be followed. The fact that WordPress has an SEO-friendly environment makes it stand out among competitors. 
Read More: How Much Does it Cost to Develop a WordPress Website?
So, how about making a WordPress website for your business and ranking among the top sites on the internet now!? 
Let's get in touch!