The competition to have an app stand out against competitor apps is more challenging than ever. If you want an Android app that can stand the test of time, you need an Android application development company with a powerful strategy! 
A mobile app development services provider will be on top of all new approaches and methods of keeping abreast in an ever-changing market. But if you would also like to be one step ahead, here are some of the active trends that lend a way to increase your upper hand in Android app development.
Did you know that Android apps have the highest number of distribution channels compared to any other mobile platform?  
Know Your Target Audience and Their Preferences
It is no longer good enough to make an app you like and remain hopeful everyone else likes it too! You must create an app solely based on who your audience is and their preferences. Android app development that obeys this customization logic offers your app the best chance of directly connecting with your ideal users. 
But, before carrying out this step, you need to know who your target audience is and what they want from your app. Only when your app and its features resonate with users are you likely to experience success.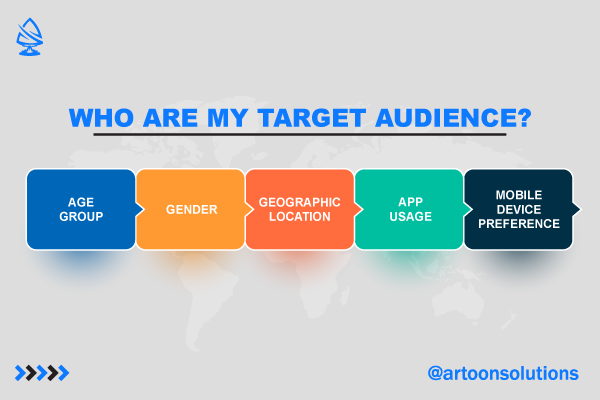 Competitor Analysis 
During development, find an app that is your competitor and assess the app's drawbacks. This is another aspect of how Android application development can be most successful. Finding a flaw and perfecting that area in your app will significantly improve the chances of your app capturing the market.
Unless your app is better than your competitors, it won't be doing well at all. Only when you have done enough competitor analysis will you get to know the various weaknesses of your competitors. 
Do Market Research to Choose a Mobile Platform 
Over the years, there has been great competition between various mobile platforms. Today, two platforms have stood the test of time, Android and iOS. Although Android wins by global numbers, the controlling platform varies from country to country. 
For example, the USA is a major iOS country, while India is an Android-first country. If you intend on launching an application in one specific country, it is worthwhile to do your research. 
The popularity of specific mobile devices influences the ratio of iOS to Android in that geographic location.
UI and UX Matters!
It may not count for everything, but it does count for a lot! Users are highly judgemental when it comes to app design. If there is something they don't like, they will make their thoughts heard. Sadly most times, this means uninstalling the application. 
If you are lucky enough to get feedback, you must seriously consider making changes to the app's UI. Likewise, adjusting the UX can make your Android application more user-friendly. An easy-to-use app is a big advantage over other complex apps that aren't very usable or efficient.   

Free vs. Paid Android Applications 
It is not surprising that Android applications are wildly popular. It probably has to do with the fact that most of these apps on the Google Play Store are free! Trying to get users to download a new app is complex, more so when the app is a paid one. 
For this reason, it is best to start with a free app. Once you have a large user base, you can attempt to start a paid subscription or offer a separate paid app that offers more features. 
Crucial Features and Functionality First 
As appealing as your Android app's logo and UI will appear, this isn't the reason why users in developing markets will keep using your app. You must provide a set of valuable features accompanied by optimal functionality. 
Only then will your application be worthy of taking the place of another app that is not performing up to its ability.  
Prioritize Security Efforts 
We live in a world with the constant threat of hackers and malware. So, it only makes sense to develop an application that is prepared for such misfortunes. Doing so will automatically make users feel that much safer. 
There is a great need to ensure the safety of users' data. There has been much debate and outrage about the lack of security in previous apps. Gearing up for enhanced security will ensure you are in line with modern security requirements.  
Whichever Android app development services provider you hire will take care of testing for security. 
5G Ready 
The world is quickly preparing for the release of 5G technology. Making this compatibility choice during Android application development is a significant step and one you won't regret as 5G's reign is imminent! 
Becoming 5G ready will require you to test your app's ability to function on a high-speed internet connection. Before the network arrives, it is best to adapt to the changes. Because if you don't, you can easily find yourself left behind. 
Carefully Select an Android App Development Company 
You will have to approach an Android application development company to develop an Android app. This is yet another factor crucial to your powerful strategy for Android app development. Choosing a company with lower experience can easily affect the final outcome.
Perhaps the app won't be as functional and appealing if you don't choose the best development company to partner with. This is where knowing How to Choose a Mobile App Development Company matters the most!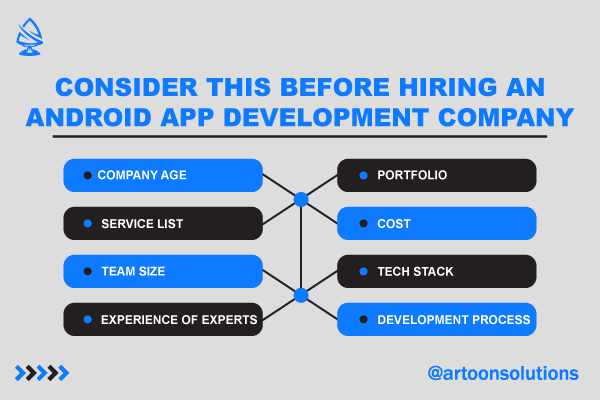 After assessing the company's profile and team experience, you can identify which of the companies best suits your requirements.
Conclusion
To stand out from the crowd, you have to be different and pioneer a new approach to developing your Android app. To help you accomplish this goal, choosing the right Android app development company is crucial!
If you are looking for an Android app development company in India that won't let you down, try Artoon Solutions. With 14+ years of developing Android and iOS apps, our experience is exactly what you need to make an app that is market ready and customized to audience preferences.

Related Posts: