Owning a mobile app has been identified as one of the few ways to turn an investment into an amazing opportunity to earn unbelievably from something as small as this non-tangible item. But, before you get there, you have to choose an android app development company for the platform you choose. 
Immediately you are faced with the challenging decision of which platform to choose for app development.  
So, this prompts the question of what is the difference between iOS and Android app development. There is more than one difference between the two, and it is up to you as the investor to make the final decision. Based on your choice, you will have to find an Android app development company or an iOS app development company.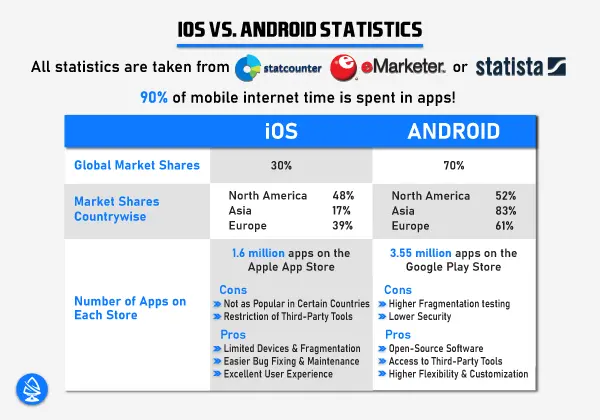 Top 5 Differences Between iOS and Android Development
iOS was launched first in 2007, while Android made its debut in 2008. Together these mobile operating systems have been at war with each other to control the market. The fight is usually close in some cases, but there is a definite winner in others! Take a look at the differences and who appears to have the slight edge! 
1. Programming Language
A programming language is a notation that is used to create programs. These programming languages are especially useful in the development stage when coding is undertaken. The high efficiency of a programming language can mean that fewer lines of code are necessary.  
iOS – Swift and Objective C are the primary programming languages applicable in iOS app development. Swift is Apple's native programming language and exclusively applies to iOS application development for iPhones and iPads. 
Android – Meanwhile, Android app development makes use of Java and Kotlin. Neither is a native Android programming language, as they aren't restricted to just Android app development services. 

2. Design
By looking at the mockups of an iOS and Android app side by side, distinct differences are evident! Certain design elements give them away since each platform possesses its trademarks. 
iOS – iOS uses a hierarchical approach to exit a screen. Menus are available at the bottom of the screen. The navigation bar is situated at the top of the screen and is either blue or grey.  
Android – Has a dedicated back button to exit the screen. Access menus by a left-side pull-out or sliding function. The navigation bar is on the screen's left side and is often colored to match the theme. 
3. App Development Complexity
The number of features, more coding, and a wider device list contributes to app development complexity.     
iOS – The development complexity of developing iOS is not that difficult as there are fewer devices to cater to, most of which feature similar screen sizes. Also, the Swift programming language makes it much easier to code, requiring less code and less time. 
Android – Developing Android applications is more time-consuming, given that this platform has to cater to many more devices than iOS. This increases the time and complexity of the ios application development process. Plus, not to forget Android offers more capabilities and doesn't have a dedicated programming language. 
4. Testing Intensity and Duration
Testing is a mandatory stage in mobile app development. It is carried out to ensure your mobile app is bug-free and has no errors that could compromise app performance or functionality.   
iOS – iOS app testing is not such a strenuous process as there are fewer devices to make the app compatible with. This is especially so since only Apple manufactures devices that are   
Android – The testing phase of Android application development is long! There is a seemingly endless list of devices to ensure your application is compatible with. It means more device testing, a longer testing period, and generally a higher development time.    

5. Monetization and Revenue Generation  
Of course, it's understandable that investors want to find out how their investment will return to them after developing an iOS or Android app. Details of this can be retrieved by studying each platform's revenue generation models and demographics. 
iOS – Despite having a smaller global user share, iOS still manages to rake in more money than Android. This is possible because iOS users are more willing to spend on apps and more open to spending double what Android users spend.   
Android – The majority of iOS apps are available for free. This could be a leading contributing factor as to why Android users are reluctant to spend money to buy an app. It's not just buying an app; users are also unwilling to spend on in-app purchases. 
What Operating System Choice Says About Users  
Ever thought about what the mobile device you use says about you? Turns out there are certain tags attached to using certain devices! 
iOS device owners are usually more prone to spending on apps, whether buying them or buying something within the app. 
Android users are usually not willing to spend on apps; if so, it is usually half the amount that iOS app users would spend!  

Which Should You Choose: Android or iOS Application Development  
Just because iOS users pay more doesn't mean your Android app development investment has gone to waste! Remember that there are more Android users than there are iOS users, meaning that your app has a larger audience to target.
On the other hand, iOS app users are more spend-thrift and are likely to part with their money to access more features on an app. Also, if you target certain developed countries like the USA, iOS has a larger market share.  
The demographics of your target audience also matter. This can be deduced by taking a look at your app and its capabilities. A social or entertainment app would be highly popular among the younger generation, who will probably resonate with iOS devices.
Meanwhile, a utility app will probably attract the attention of adults, and thus, Android users are more likely to find it of use, given that the majority of global users are Android.
Mind you, the type of app you intend on making does to some extent influence which mobile platform you should choose to develop your app for. 
FAQs
Which apps are easier to make?
Based on advice from both beginner and experienced mobile app developers, iOS app development appears to be the easier of the two. Developing a native application for an iOS device can easily be done in a short amount of time. Less code equates to less time as well, and this lowers overall costs.   
How much does a mobile application cost to develop?   
The cost of developing a mobile application depends on a variety of factors. The complexity of the app, the number of features, the mobile platform, and the time taken to develop the app will all play a role in influencing the cost of developing your application.  
Which app has fewer guidelines and regulations for publishing?
The Android app store has fewer regulations for publishing. Also, they are known to take less time to review the app before acceptance or rejection. But, going with iOS makes your app much more secure since the security requirements for publishing on the App store are high.  
Should I develop an Android and iOS app simultaneously?  
No, it is not advisable to develop both apps simultaneously. The reason is that this could be costly, and you do not know yet if the app will be a success or a failure. Plus, there will be an immediate requirement for support and resources, which you may not have yet. 

Conclusion
There are stark differences between iOS and Android app development, and this is only just as the results it yields are also very different. The target audience of both these apps differs greatly, and margins will slide but only slightly, and it has taken Android a long time to make up the ground it has over the years. 
But, there will always be loyal support for iOS, which has earned its spot in the market. Either one you choose to develop an app for, if you do it right, you are bound to succeed! For more help, you can partner with Artoon Solutions to develop your application, as we are both an Android and iOS app development company.