iOS application development is currently buzzing in the mobile market. The incredible and unique changes every year and the ever-impactful designs make iOS easier to access and user-friendly. The current version of iOS called iOS 16 took the mobile OS as high as possible making it the fastest and best-optimized OS of all time. 
iPhone apps are known to be high-quality and revenue-generating. iOS has established a brand and is investing in iOS application development more closely to meet business needs and make a quick return on investment. 
Let's take a look at the benefits associated with iOS Application Development.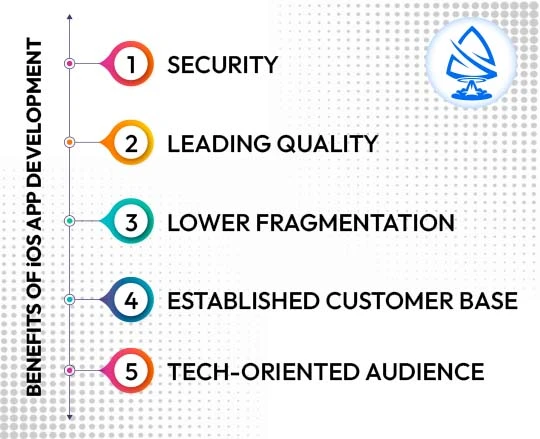 Benefits of iOS App Development
Built-in Security; The best
When we talk about iOS, we talk about privacy and security. It is a never-ending story. iOS always has the upper hand when it comes to security amongst all other competitors. With the high-end security layer provided by iOS Apps, users easily trust and protect their sensitive information. 
iOS propitiously safeguard against malware, virus, and other threats that regularly try to horn in daily business operations. With the help of the built-in security and privacy protections of iPhone, iOS applications can secure your business from data duplication, encryption, and theft.
Also Read: iOS App Development to Dominate Mobile Consumer Market
Quality at Its Peak! 
iOS application development is incomplete until the apps are built to pass the high-quality standards of Apple's App Store before they are made available to the market. When a user starts using iOS in a day to day life, the smooth performance and amazing experience take iOS to the next level. 
When comparing iOS to Android, one feature that differentiates these two leading OS brands is the open-source library. Android OS follows an open-source approach that is not standardized. As a result of this, some devices perform extremely well and some devices perform less than average. In iOS, that is not the case. It provides the same user experience across all iOS platforms which makes iOS App development high-quality.
Ease of Testing & Lower Fragmentation
The records say, Apple typically develops one OS version every year that is supreme to the previous ones. This makes iOS app development more simplified as the developers just have to meet the testing criteria of the previous iOS versions. The iOS app testing process includes parameters like app performance, security, compliance, UI experience, privacy, battery & memory consumption, scalability, and stability. 
Comparing iOS to other OS platforms, iOS app fragmentation is significantly low. It indicates that iOS users are always updated with the latest version of the OS. Lower fragmentation in iOS also results in more scalable apps. The newly introduced features keep on upscaling existing apps.
Established Customer Base
The established user base is the one Apple USP which is also one of the prime benefits of iOS application development. Apple is a pioneer in technology and applications. Although 75% of app users are Android users, Apple has a well-established niche of clients that swear by Apple's quality and performance. It is said that once smartphone user experiences iOS, they will never be satisfied with any other OS. Android apps have to battle stiff competition as there are too many apps crowding this segment.
Tech-oriented Audience
iPhone users are found to be tech-savvy and open-minded toward innovation. This presents businesses with numerous opportunities to craft challenging applications that can disrupt markets. Businesses that opt for iPhone business apps can become market leaders and stride ahead of competitors. 
Let's look at the iOS App Development Process and understand how developers always provide the best-optimized apps. 
Also Read: Benefits Associated with Hiring an iOS App Development Company
Step-by-step iOS App Development Process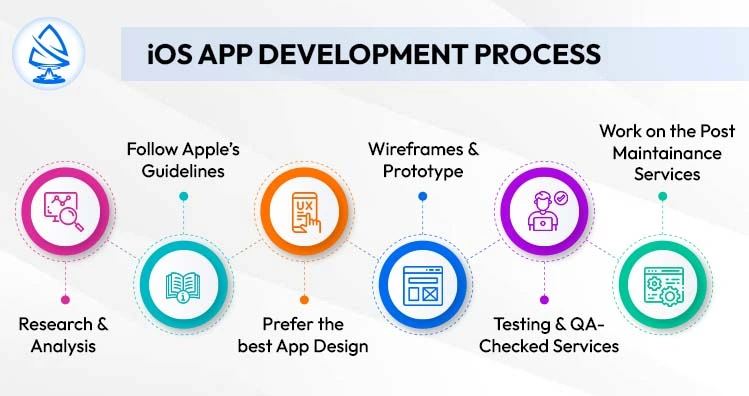 Research & Analysis
Mobile app development teams of any kind always need to prepare a proper strategy for developing your idea into a successful app and when it comes to iOS, the task becomes a bit larger. The app owner must come up with an innovative and strong vision to enhance and organize the overall enterprise mobility strategy. In this step, developers must analyze the app users with their goals and objectives closely. 
All the necessary details related to the app, like UI, features, and functions, clearly indicate your business app developers. Developers need to put 100% effort to grab the target audience's attention by providing next-to-none features to the app.
Following up with Apple's Guidelines
First, developers must promote their app through social networks on the Apple App Store to make it available to target users before designing the iOS App. Users can download the app, and post their feedback and reviews. While promoting your app on the App store, it is essential to keep yourself updated as per Apple's App Store guidelines.
Apple's policies make developers aware of all safety standards that must be followed in the whole iOS app development process. It saves developers time by preventing them from doing app modifications. It simplifies the process iOS store can accept the app right from the beginning.
Prefer The Best App Design
The app designing process is extremely critical by the standards iOS has set. User's should be able to access all the information and functions easily. The more easy-to-use apps, the more growth in the user base. 
iOS Developers ensure that the app they are working on is optimized properly and offers easy navigation and controls to users. To acquire app users significantly, developers should choose to use an intuitive and engaging UI/UX design for an outstanding leap in design prototypes.
Wireframes & Prototypes
The iOS App Development process needs to kick-start using standard methods like designing processes with sketches on paper. Wireframes are the digital form of sketches that an iOS app development company must use to design conceptual layouts for the app's functional requirements. Though it is a cost-effective approach, with this the designs will be picture-perfect and ready to go for designing app layouts. 
Prototype development is quite a time-consuming process. It requires early-stage testing of your app's design and functionality to check & correct modifications as per the app's functionality.
Testing & QA-checked Services
It is extremely necessary to test the application at every stage before submitting it to the Apple App Store. The app testing team must ensure that the mobile app is bug-free and delivers fast performance. The iOS app development team goes thoroughly into the app and collects the details of each error after completing the app development process.
Post Maintenance Services of The App
Once you complete the app development and submission process on the iOS store, updating the app regularly becomes critical. If the application is not updated and trending technologies are not included then the app may downfall in its ratings. iOS App Developers need to update the app regularly, even after releasing it on the iOS store for download. Make sure the iOS App development company supports regular maintenance as per iOS updates.
Also Read: A Complete Guide To Get Started With iOS App Development
Routine maintenance helps in minimizing the frequent bugs & issues that users might face while using your app. 

Wrapping Up! 
Some things need to be changed; for that, iOS seems to be the best OS platform. In this blog, we took a detailed look at the larger benefits associated with iOS App development and a sneak-peek overview of the development process. 
So, are you planning on developing an iOS app for your business? 
Tell us ideas and let us build an iOS app, that is fast, feature-rich, and trendy in design. 
Contact us now!!
Related Posts: