iOS App Development Company – According to surveys and reports, there are more than 3 million mobile app users in the year 2021. So how would you hire iOS developers and what are the benefits associated with it? 
Currently, there are two major mobile Operating System platforms Android and iOS. Android offers flexibility in every feature and third-party application support whereas iOS doesn't allow either of those. iOS is a different ecosystem where everything is unique, quality-oriented, and best-in-class. 
In this blog, we will discuss the advantages of hiring iOS developers.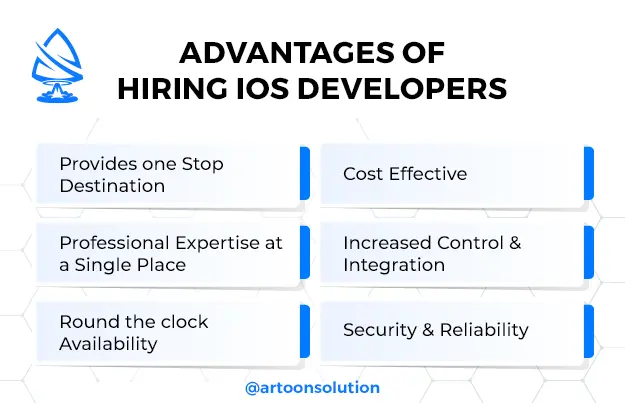 Provides one-stop destination
For Entrepreneurs, SMEs, or a large organizations, a mobile app would grant you privileges that no other thing can. With mobile app development, industries are traversing to different technologies and verticals. So, it becomes necessary to have a company that can support you with everything you plan, should guide you when required, and must include it as a part of the mobile app development means. 
These include unavoidable aspects like business consulting and interpretation, idea evaluation, development and testing, and last but not least long-lasting support and assistance. In case of need, you can take their help to decide on the most desirable monetization strategy even when you launch your app. 
Read More: 6 Major Differences Between Android and iOS App Development
Cost Effective
Do you agree that developing an in-house iOS app development team is a more cost-effective option than employing a professional iOS app development team? If you agree, then it's time to change the thought process. The majority of individuals believe the same thing, which is not true at all. It is the reverse. From a budget-friendly prospect, hiring a dedicated mobile application development team is more cost-effective.
While assembling an in-house team, it's mandatory to consider all of the administrative processes associated with recruiting skilled mobile app developers. Afterward, when you employ a mobile app development team, you don't have to worry about any of the resources or requirements as the professionals you've hired possess all of them.
Certain application development firms provide custom-made packages based on your business's requirements, ensuring that you only pay for what you receive.

Professional Expertise at a Single Place
With freelance mobile app developers, you won't be 100% aware of which type of tools are being utilized. Also, receiving the package of iOS app development in one place is close to impossible, but that's not the case with iOS app development companies.
When you are looking for iOS app development, be it eCommerce, education, travel & service, or any other vertical, you can find the specialist in-house team under one roof. Mobile app development companies follow a pattern of services that require them to keep up-to-the-minute tools, permissions, documents, test reports, and software. As a result, it saves you from falling into contractual issues. However, if the user base is large, the mobile app development company understands what could be the worst-case scenario and it acts accordingly, ensuring scalability & reliability. 
Also Read: iOS App Development to Dominate Mobile Consumer Market
Increased Control & Integration
By having a specialized mobile application development team, you will have total control over who is working on which area of the project. It also provides access to a pool of specialists who are experts in their respective fields. With this, you have access to all the project resources and infrastructure, which has a larger possibility of making the mobile app project even more successful.
If your project needs frequent changes, having a dedicated mobile app development team can be a huge advantage. They excel at rapid integration and deliver improvements continuously through an iterative or agile application development methodology. It normalizes the load on application developers by making comparable code modifications far easier. Not only that, it simplifies testing by making fault isolation easier. So, in this way, the time required to resolve a problem is reduced.
Round the clock Availability
Hiring freelance mobile app developers can be a hazardous task. There may be occasions when they won't be available to work on your project at a critical time due to personal issues or health concerns. So it raises the chances of failing your project or not successfully developing a project which will be a disaster.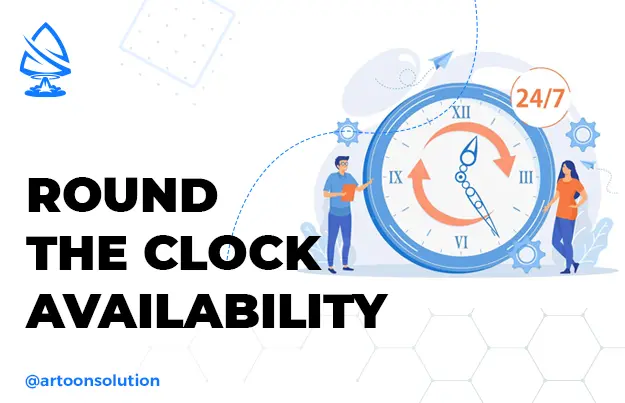 That's, however, not the problem with mobile app development companies. In case, one of the developers is unavailable from the assigned work; there will be someone to substitute and take over the work. So the development of your project never stops. 
Also Read: A Complete Guide To Get Started With iOS App Development
Security & Reliability
While freelancers can do their work from any place, that's not the case with mobile app development companies. In a company environment, meetings can be arranged and new plans, strategies, and downsides of the app can be discussed at the time with the client. Thus, assisting the client with the perk of security.
Continuing with the advantages of hiring an iOS app development company, companies are very mindful of their security measures. Thus, they assure that the client's data and application are extremely safe, preserved, and secured, unlike freelancers. 
In Short! 
The benefits of hiring an iOS App development company are many. Currently, due to apple's immersive cutting-edge technology people are moving towards the iOS ecosystem. So, it is high time for owners to decide the best iOS app development company to succeed in this ever-changing tech-prior app market. 
Are you looking for an iOS app development company? Artoon Solutions is one of the leading mobile app development companies in India. Share your valuable thoughts with our team and let's plan your iOS app now!
Related Article: