As nice as it sounds, you cannot wake up one morning and decide you want an iOS app and have it developed the same day! An iOS app development company usually needs a well-defined description of your requirements before progressing to start the process. 
How can you even begin to start finding an iOS application development company? Of course, starting early and narrowing down the search based on specific parameters! Continue reading to find out what those parameters are! 
1. Cost
Are you looking to develop an iOS application and enter the mobile app market? If you are, you will need to partner with an iOS app development company. Before you do so, you need a cost estimate!
Without a cost estimate, you wouldn't be able to budget. Budgeting is crucial to get your application developed within a budget. When choosing an iOS app development company based on cost, don't choose the cheapest or the most expensive service, or provider.
You are best off staying in the middle and picking an intermediate between cheap and expensive. 

2. Experience
You definitely wouldn't want your iOS app to be the first ever made by a company. So, to avoid this, you will have to start by checking the company's experience. A company having a minimum of 10 years should be your aim. 
The more experience a company has, the more skills and practicality it is likely to have, especially when dealing with clients. This level of professionalism and work ethic is necessary when dealing with a company as technical as an iOS application development company.  
Read Also: Benefits Associated with Hiring an iOS App Development Company
3. Service List
When opting to hire an ios app development company, you are not guaranteed that they offer iOS app development services. Hence, you will have to ensure they provide the service you want. 
Usually, a company has its service list displayed on its website. However, this is sometimes vague as their exact part in that service may not be mentioned. You will probably have to contact the company to know why they do this and how deep into that service they will go. 
You cannot assume that a company will provide all the necessary development requirements. Clearing this up can be done by either sharing your requirements with the company or calling and asking them directly. 
4. Process
Perhaps the biggest prerequisite is the process or what methodology they use. Will the company's methodology process match up against yours? There will be several timing issues if you pick a company that cannot counter the time zone difference very well. 
Every company usually uses the same ios app development process. But, this shouldn't be taken for granted and must be confirmed from the get-go.

If the company you are thinking about dealing with is offering a different process, it may compromise the quality of your application. So, it is best to stick with a company offering this same layout for developing the application. 
5. Documentation
Every company carries out some documentation process to ensure no legal matters are involved when the final product is delivered. Also, some clients may decide they want something else when the product is complete. 
This makes for an issue that is problematic in app development companies worldwide. Documentation is necessary to ensure the client and the iOS application development company provide what was agreed upon at the start of the partnership. Thus, a final agreement is necessary. 
Also, an agreement will specify what services or, rather, extra services are billable or not.
Also Read: Points Guiding Which iOS App Development Company to Hire
6. IT Taskforce
Is your iOS application development project going to be complex? If so, you will probably need a bigger team as well. In that case, a startup or small company is no match for your project. 
Ideally, an esteemed iOS app development company in India can have between 200 and 300 professionals working throughout all their offices. This ensures more than enough skilled experts are working on your application development project. 
Traditionally, every iOS app development company in India has ample developers, designers, testers (QA), and project/team leaders and managers that ensure projects are completed according to an exact requirement in the stipulated time frame. 
7. Quality of Applications 
It's no use getting an application developed fast for a low price if you are not happy with the final product! Applications do not always look how they are described, so you can only find out by looking at some old apps of that specific iOS app development company.  
You must look at their portfolio to get an idea of the possible outcomes of the iOS applications. Download and use them if you have to, as this provides a better understanding of the application over the superficial one. 
Doing so can give you a preview of what to expect when dealing with the company. This is one step you shouldn't miss before hiring a partner.  
8. Design UI & Navigation
Second after quality is UI design and navigation. These two elements are crucial to success, as users consider them very important. If users cannot identify how to use your app or if it is just unappealing to them, they may choose to avoid using it altogether. 
Thus, you must be willing to spend a lot of time and get insightful advice regarding your iOS application. 
Functionality describes how well the iOS application will work. The app is bound to be very functional if all aspects of the application, like development, designing, and testing, are done correctly with adequate time. 
The first time is not always a charm, and you may feel that your app needs a more user-friendly design. In this case, you will have to speak with the team leader or manager about getting some design tweaks made to your app.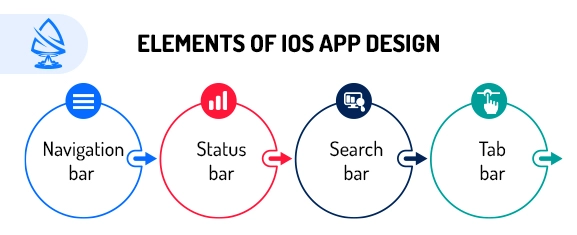 The above design elements are prevalent throughout all iOS mobile apps, and your app should have such elements if they are to get any traction among your iOS app users. If you have chosen the right iOS application development company, they will know what design to use. 
Also Read: A Complete Guide To Get Started With iOS App Development
9. Ethics and Values
Before entering a legal agreement with any company, you must ensure that they are ethically sound! This also means that they should have standards and values. A company that is not ethically sound is bound to be slightly untrustable as they maintain questionable practices!
Be sure to avoid such unethical company practices and stay aware by spotting the early red flags! You will be grateful for not dealing with such a company as it could lead to significant conflict! 

Conclusion
Before developing an iOS application, you must take care of a few things. This primarily involves choosing the right company for your project. Initially, agreeing to deal with the wrong mobile app development company can be a mistake that costs you dearly! 
So, to help you choose the right iOS app development company that can provide transparent and error-free iOS app development services, we have stated and explained a few conditions or prerequisites to help you pick.