With the current technological development, building a website is easy-peasy. But when it comes to a good website, the UX and UI designs comes into play. Creating a good, attractive, intuitive and fully-functional website is not that easy. Everyone wants an efficient, quick, aesthetically appealing website. Here, you may require a professional UX and UI design Services Company that can let you stay ahead of your competitors. Hiring freelancers may not get you a satisfactory work as you wanted. So beware of something that gets your online reputation under stake.
Before getting any further on your decision to hire a UX and UI designs Service Company, it is crucial to understand the definition of UI and UX and its difference. This would help you in understanding the importance of UI and UX and UI design for your company. So let's get started.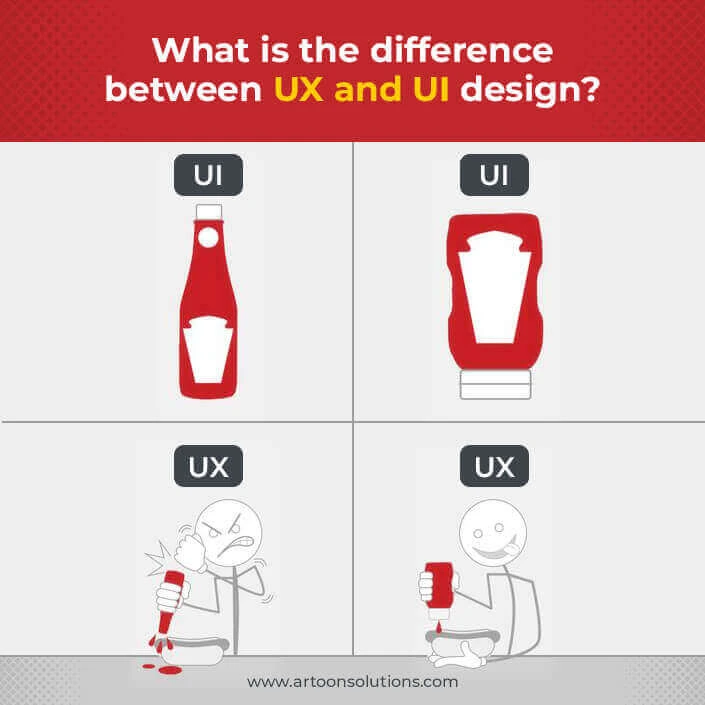 What is UX design?

User experience or UX development is a process of focusing on the interactive side of the product and its behavior. The architecture of the content and its site map comes under focus in UX. The exact structure, layout, and navigation of the page come under UX design. A good UX design delivers a greater user experience and higher customer satisfaction. As a UX design works on improving user behavior and recognizes the elements and trends that influence the users.

UI design services aim in bettering the interaction of a company and its customers. A UI designer will think from the user perspective and look for innovative and creative ideas in creating a design that meets the user's needs at its best.

What is UI design?

User Interface is the visual appearance of a product. It gives the idea of how the product will be laid out and how the user will see it from his perspective. UI designer's job is to beautify the page and make it appealing to the user. Not just beautify and add colors but also to align each and element you see on the page. How the user interacts with the product basically depends on the UI design. UI design services will ensure you a satisfying user experience by providing an impressive first impression.

To sum up, if you have ever visited a website and have thought about how marvelous and visually appealing it is, then that's due to a UI designer. A good UI designer must effectively think about every single micro transition.
How is UX different from UI?
UI design services focus on the visual aspects of an app, whereas UX focuses more on the conceptual view of the user.
Though both of them work collaboratively, UX design is always followed by UI design.
Works of UI designers are usually standardized or they go as per the book yet there is plenty of room for creativity. UX, on the other hand, has to do intensive research and analysis.
Favorite tools used by UX designers include optimized, Apptentive, UXPin, and Wireframe.cc, Appsee's User Recordings, etc. Popular tools used by UI designers include Balsamiq, Sketch, Zeplin, and Appsee's Touch Heatmaps
UX designers basically work with 3 colors namely black, white and gray. UI designers will utilize the whole color pallet making it as real as possible for the users.
UI works on the product. UX works on the user's journey through the product
Any improvements done in the UI will directly affect the UX.
If UI is the input then UX becomes the output.
Know UI/UX Design service can help you create a Great Website
How do they work together?

In layman's language, UX design is a cake and UI is the icing and decorations on top of it. A Good design makes your website highly functional whereas a great UI design makes your website visually appealing. UI and UX work collaboratively and cooperatively. Suppose you are wanted to create an app, then a UX designer will help you with the main features, how each button navigates and how each interface elements look when they appear on the screen.

For an eminent website that stands out of the crowd, it is needed to utilize the UI and UX design in the most efficient and effective way possible. UI will fit in the UX design to fit in an attractive layout. For great website design, there must be a perfect collaboration between the UI and UX designers. While the design and layout are decided by the UX designers, the visual communication that seizes the user attraction is worked out by the UI designer.
Why should you hire a good UX and UI design services company?
Now that you have understood the vitality of UI and UX design services, you may have a clear idea of how important it is for your business to hire a good UX and UI designs Service Company. A great UI/UX design means a great website. By giving importance to UI and UX designs, businesses gain better and increased brand awareness. When it comes to customer retention, a great UI/UX design can enhance good customer engagement with the website. The advantage it provides to the users is plenty. A great UI and UX design services increase accessibility and readability and enhance performance and loading time.
With so many perks, it is widely evident that hiring UI/UX design services for your business will give you a good-looking app, enhance your conversion rates, and help you in better customer retention.
Looking for the best UI and UX development company?
Being delivering the best quality UI/UX design services, we follow the latest technology trends that are sure to give your website the power of good user experience. We create user-centric and responsive websites with impressive designs that are implemented using the latest technological trends. We are the best IT service company in India, which deliver the best mobile, and web app development services across 15 + countries.