You will find many Callbreak games on the Google Play Store with millions of users, but, even more, popular than this are real-money Callbreak games that have tens of millions of users at a time. Artoon Solutions, a top-rated Callbreak card game development company in India has several of its clients featured in this list such as MPL, Junglee Games, and Dangal Games.       
1. Callbreak – MPL
For many mobile gamers familiar with real-money games, Callbreak by MPL is already on their favorite Callbreak games list. There is much to like about the games on the MPL platform, and Callbreak is no exception. 
MPL's Callbreak is a real-money game that features several weekly and weekend competitions. Players even get a lucky chance of winning between 0.5 grams and 2 grams of gold! 
If this isn't the best online money-earning game in India, we are not sure what would be better!  
The most exciting part is that Artoon Solutions is the Callbreak card game development company behind MPL's Callbreak game. That's not all, as we have also developed Rummy, Ludo, Bingo, 21 Cards, Hill Racing, Golden Boot, Mahjong, and Solitaire.
Also Read: Top 10 Alternative Apps like MPL to Earn Money
2. Callbreak- Junglee Games
Callbreak from Junglee Games was a hit as it came out before the widespread attraction of card and casino games became so evident. Junglee Games has several other related games on its platform, such as Solitaire and Carrom. 
With their widespread reach, they could foray into developing other card games or board games. That said, Junglee Games is a force to be reckoned with in the gaming industry. The name Junglee Games is infamously associated with Rummy. Still, we must say that Junglee Games Callbreak is another game from the company that will be worthwhile! 
The best part is that Artoon Solutions has developed the Callbreak Game for Junglee Games! 
3. Callbreak – Dangal Games 
Dangal Games offers a unique multiplayer and single-player Callbreak game that is again a real-money game. A few exciting features you get are the ability to play with your Facebook friends. You can do the same with your Whatsapp contacts list. 
Another reason to get Dangal Games Callbreak is that it will operate even without an internet connection. Without an internet connection, it will function as a single-player game, making it an almost perfect game! 
Being an expert Callbreak game development company in India, Artoon Solutions has been a critical player in developing Callbreak games for some high-profile clients. This was the case when we developed a Callbreak game for Dangal Games. 
4. Callbreak Card Game – Artoon Games
Being an expert game development company also means developing games under your own name and publishing them. That is exactly what Artoon Solutions has chosen to do. The company hosts several games from several niches on both the Google App Store and Apple App Store. 
The Callbreak game developed by Artoon Solutions offers users plenty of exciting and unique features that not every Callbreak game offers its players. 
Features you will find in this Callbreak game are:
Choose game difficulty – easy, medium, or hard 

Game speed 

Customise game tables, and card designs 

Compete in tournaments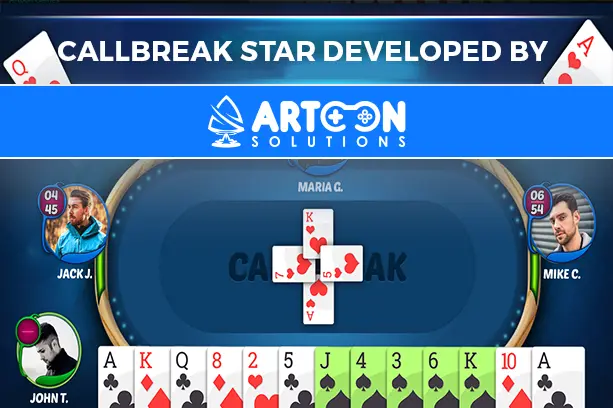 5. Playerzpot 
If you haven't played Playerzpot yet, their Callbreak game gives you a good reason to do so! The Playerzpot platform hosts not only games but fantasy sports games. This provides more than enough options for mobile gamers who want to have multiple game options.    
There are several ways to get into Callbreak on the Playerzpot platform if you are a new joiner to the game itself. A video tutorial will be available to you to learn how to play Callbreak for the first time. 
They have even taken the liberty of including a few tips and tricks on how to win games when playing Callbreak exclusively on this platform. The best part is that when wanting to take a break and users can play other games on the platform. But this won't last long until their hunger for Callbreak returns!   
6. Callbreak Master Card Game – Hippo Labs 
If you are using an Android mobile and love playing Callbreak, you have probably heard of the Callbreak Master card game Hippo Lab offers. The game was launched in 2019 and is still thriving even in 2022. 
To date, the game has garnered a massive number of 10 million downloads which is no small feat! The game allows three matchmaking options, play against the computer, play against strangers, or connect your Facebook account to play against friends. 
A few standout features of the game are: 
An autoplay option that gives you chances of winning while absent 

Select fast or slow to play the game or your own speed 

Choose a different card design from multiple options
7. Callbreak, Ludo & 29 Card Game – Yarsa Games 
The Callbreak game offered by Yarsa Games is wildly popular. Still, adding several other card games in a single app has something to do with it. 
Some very other popular games share an app with Callbreak. This includes Ludo, Rummy, 29 Cards, and Solitaire, to mention a few. 
Callbreak is a game you play with a 52-card deck and usually a maximum of four players, with each player getting 13 cards. Callbreak players can do the rounds with other games and play Callbreak. 

8. Callbreak SuperStar – Blacklight Studio Games 
Callbreak SuperStar was developed by Blacklight Studio Games and is a top-rated Callbreak game on the Google Play Store with over 10 million downloads and 61,000 reviews, leading to a rating of 4.3. 
Players get four modes when it comes to Callbreak Superstar:
Private

Multiplayer

VIP

Offline 
The company also has a wide range of other card and board games that are top-rated in their respective categories—ranging from Solitaire to Ludo and a few in-between as well.     
9. Paytm – Free Money Earning Games
Paytm's very own gaming platform, Paytm First Games solidifies itself as a real money earning game in India.    
With the tagline of "a quick game to win big", Paytm's Callbreak promises to reward Callbreak enthusiasts generously! Like every Callbreak setup, there is a table with four players where each player gets enough time to select their bids- the total number of games they will win. 
After which each player has selected their bids, the game will start. One player plays a card, and the rest of the players will play a card, ensuring it is higher than the first. The player who plays the highest card or highest spade card will automatically win the bid (hand).
Also Read: 0 investment Paytm Cash Earning Games 2023
10. Callbreak++ – Neoclassic Tech Pvt. Ltd.
If you are tired of the traditional Callbreak games and how they are designed, give Callbreak++ a chance! The app has a more basic design than your traditional Callbreak app, and you may like it more than the fancier alternative. 
Despite its simplified design, it holds all essence of what Callbreak is and doesn't skip out on any features that make a Callbreak game addictive, engaging, and an adrenaline-pumping experience!  
11. Callbreak Online: Tash Game – Seclife Games
We will now move on to some options for iOS device users. Rated #49 in Cards Games on the Apple App Store, the Callbreak Online: Tash Game is a virtual currency game. It is a suitable option for people interested in playing Callbreak from the comfort of their iPhones. 
This iOS Callbreak game isn't short of fun, with several modes to choose from, such as Private, VIP, Multiplayer, Classic, and Offline. The game carries a lighter design and is accompanied by a storyline.
Plus, there are other ways to earn more of the in-game currencies, like logging in every day and completing a set of fixed tasks for rewards.
12. Call Ridge – Dynamite Games Limited
Don't be fooled by the name of this game. Under the exterior, it is just a traditional Callbreak game. But developers have gotten inspired by the name! This Callbreak is identical to most Callbreak game options available to Android users. 
Featuring a simple design and optional in-built hints and help, this Callbreak game boasts of being suitable for all level games players, and that suits people who are not very familiar with Callbreak and how to play it to win! 
Also Read: Top 5 Alternative Money Earning Apps Like Winzo
13. Poker Baazi – Money Earning Games
Many people may associate PokerBaazi with one game; Poker. However, this is not the case as the platform also deals in other games; Callbreak is one of them. The platform has been operating for the last eight years, and that's long enough to have identified the custom requirements of Callbreak players. 
The company has hired some experienced Callbreak game developers to develop their version of the popular Callbreak game. If you are looking for the best earning application involving playing Callbreak and having fun simultaneously, Poker Baazi is your destination!  
14. Callbreak – AIO Games
If you haven't already heard about AIO Games, now you have! The platform offers an exciting game of Callbreak with an impressively detailed tutorial about downloading the Callbreak game and playing Callbreak. 
The platform has another nine games, including Rummy and Poker, to keep players entertained, with a standout game being Fantasy Cricket. 
Callbreak by AIO Games is an excellent option for a Callbreak enthusiast who enjoys having several Callbreak apps on their device.    

15. Card Baazi – Money Earning Games
Another name that needs no introduction is Card Baazi, and their Callbreak game sits among the best options for Callbreak games. The platform was launched in 2014 and has been a prominent figure in India's gaming market and among India's top apps to earn money. 
The platform is simple enough to access, and if you are new to Callbreak, you can learn how to play it in your language, Hindi or English. After that, you can proceed to download the game app apk.     
16. Callbreak Empire
You have heard of several exclusive Rummy platforms and even Poker platforms, but exclusive Callbreak platforms are more challenging to come by. Thanks to Fabzen Technologies, you can access an app that solely caters to the Callbreak requirements of all players. 
The platform even offers a free table where you can play a game of Callbreak for absolutely 'free.' Other features on the platform include private tables, cash tables, and an instant payout through your desired mode.  
17. Callbreak Rush App – Free Money Earning Games
Holding a total of ten games, the Callbreak Rush App is great for getting started with the Callbreak game. It may not be as popular as MPL, but that doesn't mean it is of lower quality. This combined app is the best way to start for anyone wanting to start off playing Callbreak. 
The app boasts 2+ crore users, a massive accomplishment for a mobile application.        
Conclusion 
There is no shortage of Callbreak games in India. You can easily find your preference, whether it is real-money Callbreak games that serve as real money-earning apps in India or Android/iOS that help you improve your skills. Whether you're a new gamer or a pro game player, there are options for both in this list of top apps to earn money or have fun. 
If this has inspired you to invest your money into an application, you contact Artoon Solutions, a top Callbreak card game development company in India.