Are you looking for Alternatives Apps like MPL to Earn Money By Playing Online?
Multigaming apps have been successfully growing since the COVID-19 pandemic time. Alternative Apps like MPL allow earning money by playing games available in the game app. So, how does all of this work? And what are the top 10 multi gaming apps like MPL to earn money?
Let's dig deeper to have a better understanding!
List of Top 10 Apps like MPL Alternatives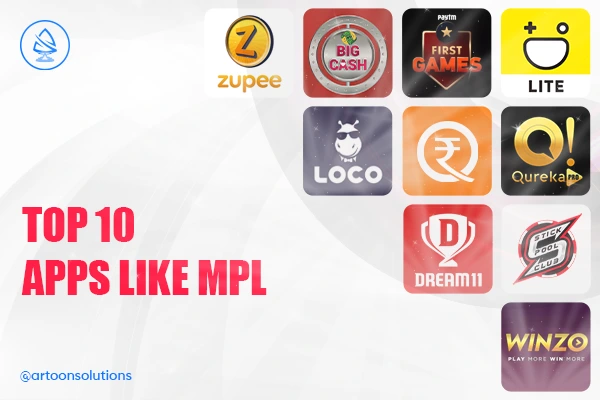 1. WINZO Gold: App Like MPL Alternatives
Winzo Gold is one of the tough competitors of MPL. Winzo Gold is like an MPL game app that has gained a huge reputation due to the app feature, variety, and profitable referral program it offers. It is not a platform for limited selections. It comes with various options to play different games, and all the games keep you entertained.
Winzo has a unique referral program wherein you get instant cash when someone uses your code, but there's more. Here, you also earn when your friends who used your referral code win games and earn money. The longer you play, the more you earn if you are winning.
Winzo is one of the leading MPL like game apps you can consider for day-to-day earnings. The money you earn on this platform can be easily withdrawn via UPI methods (Paytm, Google Pay, Phone Pe, etc.).
2. Dream 11: MPL Alternative
If you like betting on the potential of other players rather than maintaining control over your money, you can download Dream11.
The concept of this app was introduced to allow players to participate in a few safe sports bets. The original idea was to support cricket games, but the app has evolved to accommodate other sporting events such as Football, Kabaddi, and Baseball.

Unlike most online sports games, you don't need to choose the winning team. Instead, like MPL, you can choose 11 players from either or both teams, including a captain and vice-captain. If your picks are correct, you win points and, subsequently, cash.
You can participate in various contests like Mega Bonus, 8x Bonus, 4x Bonus, etc. Your returns will be calculated based on how much money you invest per the points you earn.
Also Read: Top 5 Alternative Money Earning Apps Like Winzo
3. Stick Pool Club: Apps Like MPL
MPL games are highly engaging. An MPL alternative that supports various games can be Stick Pool Club. The app is largely covered with 8 ball pool games. You can play the games like classic table sports on your cell phone or tablet and earn money after winning the match. There is a referral bonus feature that you can use to boost your earnings.
All the money you earn can be withdrawn via your UPI method (Paytm, Google Pay, Phone Pe, etc.).
4. Loco
Loco is another MPL-like app that is dominated by quiz games. There are so many MPL-like games, but when it comes to winning big, quiz games seem very beneficial. Here the objective is that you need to participate in a quiz and answer ten questions one after the other. You will be ranked among the top winners if you get all the answers right. There is a specific amount of money allocated for the winners, and it will be divided equitably among everyone who got all the answers right.
By looking at the number of competitors, your share may not be much, but it is still money that you earn.
5. Hago: Apps Like MPL
Hago is a great multi gaming app that packs multiple games like MPL. You can play with your friends, family, and even strangers (online players) anytime. Hago comes with one feature that differs from MPL is Live voice chat with friends.

6. Paytm First Games: Alternative MPL App
Is it possible to find alternative Apps like MPL online play?
Paytm First Games is the best alternative to MPL. It is powered by a leading brand Paytm, and it offers so many engaging games through which users can earn money. Here a user can earn money by playing tournaments organized by the game owner from time to time. After winning the match, users can transfer their winning amount to their bank account.
7. Big Cash
The Big Cash game app is like MPL looking at the interface and its designs. Big Cash application is one of the most trustworthy apps for earning real money cash by playing various online games. In this app, like many of the games mentioned above, tournaments of various games are organized in which the user has to take part and win. If the user wins the tournament, they are rewarded with money that can be transferred to the bank account later.
8. Zupee Gold
Do you want to earn money by sitting at home? Then Zupee Gold can be the best app for you. Here, you only have to play some quizzes from time to time which is easy and exciting. If you answer those quizzes before other players, you will get real cash as a reward, which you can withdraw from your bank account.
Also Read: 10 Rummy App List to Earn Money Online | All Rummy App List
9. Queeda
Queeda is another MPL like game app that gives freedom to earn money by playing online games available in the app. As mentioned above, users can also transfer their winning amount to their bank account.
10. Qureka
Qureka is a large platform for players who like playing quiz games. Live quiz games are organized here, and users can earn real money by playing these games.
How to make money from these alternative apps like MPL?
Earning money is easy once you cover all the basics and understand the game. Here implementing skills is very important. When you make a team of 11 players for a cricket match, you need to check the past experience of players and whether all the players are performing or not. Also, choose the Captain and Vice-captain wisely, or you will lose points. If everything is logically correct and you have planned a strategy to win the game, you have a bigger chance to win.
Once the game finishes, your score will rank among the competitors, and based on that; you will earn money.

Conclusion
So, this concludes the Top 10 alternative apps like MPL to earn money by playing online. There are other alternatives too for the MPL money-earning app, but the games mentioned above are on top. The world is growing, with online mobile games being at the top.
Artoon Solutions has been a leading game development company in India over the years and has developed 100+ games for top gaming clients like MPL, Flipkart, Winzo, Dangal Games, Zupee, and that's just naming a few.
Let's connect for a quick discussion on Gaming trends and their development processes!