Imagine installing an app on your phone and being rewarded with points that can be directly converted to a form you can use in the real world. You will not have to imagine because these apps like mobile performance meter do just this!
Over time, more people have invested in developing apps like mobile performance meter as it tends to adopt more users. It must have something to do with the fact that users don't mind carrying out actions so long as they are aptly rewarded.
But we will cover that later. First, let us look at the mobile performance meter app and why it is so popular.
What is the Mobile Performance Meter App?
The mobile performance meter app is essentially a mobile application that allows you to earn money passively. You can earn from the app running in the background on your phone because it collects data but not personal data.
What Data Mobile Performance Meter Does Collect?
The data collected by the app is purely for market research. Through this app, businesses, and app developers would be able to assess the success and effectiveness of their operations.
Website visits

App use

Session time

Battery usage

Internet speed and usage
What Data Mobile Performance Meter Does Not Collect?
Users should not fear their data being misused as the app does not collect sensitive material. At least not without your consent. These are some data that the apps never collect.
Contact information

Passwords and usernames

Images and videos
27 Mobile Performance Meter App Alternatives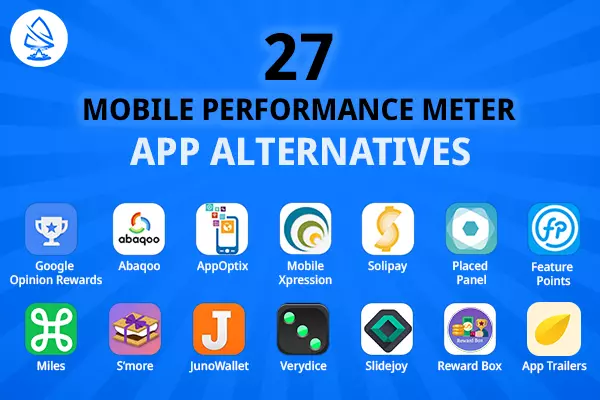 1) Google Opinion Rewards
Google is a popular name in the app industry, and its applications never disappoint. Google opinion rewards are another such example. It's a survey application that asks basic questions based on their information.
Surveys range from a few questions to a chain of them, and rewards are appropriately awarded. The frequency of surveys could vary depending on your answer frequency. Also, currently, the app only supports selected countries.
With a 4.5-star play store rating and 2 million downloads, Google Opinion Rewards is a worthwhile place to earn and spend exclusively on the play store.
2) Abaqoo
Abaqoo is another mobile application for earning money, simply by browsing the internet. The Abaqoo browser app safekeeps your data, eliminates ads, provides anonymity while browsing, and focuses on browsing quality.
All the while paying you for certain personal data that you are comfortable with sharing about your browsing habits. Money generated from earning through browsing using the app can be withdrawn using PayPal and other options.
3) AppOptix
AppOptix is a research program from Strategy Analytics whose aim is to find out more about the wireless industry. Post-installation, there is not much that needs to be done by the device owner. A word of caution here is that this app only runs on devices updated with Android 6.0 or above.
Post login and registration, users can track progress through the app. The app does not collect personal data, and it does not even track keystrokes and file contents.
4) MobileXpression
The mobileXpression app is one of the apps like mobile performance meter that allows you to earn immediately after installation. MobileXpressions is presented by Comscore, one of the most prestigious market research organizations.
The app works by collecting information related to app use on your device. This includes the use duration and the actions taken within those apps.
5) Solipay
The Solipay app will pay according to data collected. At the time of app setup, permissions can be set as to what should and shouldn't be shared. Options that can be enabled or disabled involve:
Browsing

Location

Purchasing

Device use

Profiles
The Solipay app is available on both the play store, app store and there is even a Google extension. So far the app has positive reviews.
6) Panel App
The company Panel owns the panel app (placed panel app) and this is where you can register for and download the app. It differs from other apps since it has a few other requirements than other apps in this list. It requires an internet connection and enabled GPS status. After this, you will be able to use your phone as usual while the app collects the desired data.
Users can opt-out of the program by uninstalling the app.
7) Feature Points
The Feature Points app uses various methods for users to generate points. The methods include downloading apps, playing games, surveys, scratch and win, and cash back promotions.
Once accumulated, these points can be converted into gift cards or received via PayPal, or Visa card. But, store cash back at partnering brands is available in the USA, Canada, and the UK only.
8) Miles
The Miles app works differently by calculating the reward points based on the distance traveled. The app automatically calculates and logs the distance after signing up. Once registered, the app adds mile points to the application where you can manage them.
Something very special about the miles initiative is that you can exchange the 'miles' for gift cards from various partners. Partners involved belong to a range of sectors such as retail, dining, electronics, and travel, and more.
9) S'more
Everyone unlocks their phone a dozen or more times a day. S'more works by displaying ads on the device lock screen. You can either swipe and dismiss the ad or tap on it to get more information.
Either way, you will earn rewards for every ad displayed on your lock screen. You can install the app to earn gift cards knowing that your phone's battery and data will not be compromised. The app goes by the title Make Money & Earn Gift Cards in the play store.
10) JunoWallet
The JunoWallet is best described as a wallet app that provides tasks complemented by gift cards. These gift cards can be used, gifted to others, or remitted using another method. Earnings depend on cost-per-action (CPA) applied by partnering brands.
Again, the app's purpose is to offer rewards (JunoCredits) to users in exchange for metrics, usually testing of other apps.
11) Verydice
Earning tickets and coupons is as easy as rolling a dice! This is all it takes to win with the app Verydice. You won't be left disappointed as is the case with other apps. That's because every dice-roll guarantees that you will be winning something in return.
The game is available for both Android and iOS users, players can even choose to play it on other devices such as tablets. You can download Verydice apps through their website.
12) Slidejoy
The Slidejoy app doesn't require much from the user. All that's necessary is that they need to download it and provide some permissions. After that, the app will display some ads on the device's lock screen.
Users do not have to take any actions, swipe right to access the home screen or swipe left to access the content. But, not accessing the content will not result in a loss of rewards. The app works to discover what content interests users.
Note – Slidejoy is operating exclusively within the USA.
13) Reward Box
The Reward Box app allows users who install it to earn convertible points using a range of fun activities. Among the ways of earning are watching videos, filling captchas, scratch to win, and daily bonus activities.
In addition to earning from carrying out tasks, users can refer friends/family and earn an additional 50 points per new member.
14) MoneyTree Rewards
This Android app offers users a convenient passive income by installing and trying out new apps, answering surveys, and even watching a range of tv channels. Users can even earn more by inviting friends. Plus there's even an option to earn while you sleep!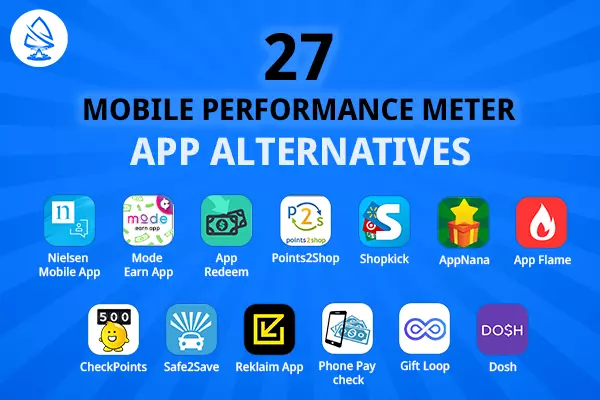 15) Nielsen Mobile App
The Nielsen company is a forerunner in information and data collection that helps businesses assess their progress. Very similar to other apps like mobile performance meter, the Nielsen mobile app runs in the background and takes note of websites visited and apps that are used.
Users can earn by just installing the app and letting it do the rest. Data collected does not include personal information. More information is available on the Nielsen website.
16) Mode Earn App
The mode earn app literally allows you to earn cash through every way possible. This includes playing music, watching videos, installing apps, playing mobile games, answering surveys, shopping, browsing, and even charging your phone. However, it only counts if the user performs these actions in the app.
Cash earned can be extracted as Amazon gift cards or through PayPal. Get started with the Mode Earn app today! Be part of its 2 million+ mobile user base.
17) App Redeem
Do you explore new apps often? Why not get paid for it. Paying for trying out new apps is exactly what the app, AppRedeem pays its users for.
Through the typical methods, you can withdraw the money you earn. Inviting people to the app can earn you more money.
18) Points2Shop
The tasks to earn merits in the Points2Shop earning app could range from studies/surveys that could take anywhere from a few minutes to over 10 minutes.
Depending on the duration and importance of the survey, earnings could be below or over a dollar.
19) Shopkick: Shopping for Rewards
This app pays you to go to a store to start earning, even if you don't actually buy anything!
Ways to earn compensation through this app include:
With the Shopkick app, you can earn 'kicks' from shopping you already do. The app has even managed to be selected as the Editor's Choice in the play store.
20) AppNana
Gamers would be most satisfied with the remuneration offered by AppNana. Users can convert their points or 'nanas' into various gift cards for gaming platforms such as Steam, Xbox, as well as Amazon, Play Store, and Itunes. The app has already amassed half a million downloads and a rating of 4.3 stars.
There are a high number of points to earn on a daily basis.
21) App Flame
People who have quite a bit of time on their hands can use the App Flame to earn while playing. The best part is the app isn't restricted to offering just action games. Users can even opt for arcade or strategy games.
To start earning immediately, users do not have to make a deposit other than investing their time in the app. The App Flame is steadily making progress and has accumulated 200k downloads for Android devices alone.
22) CheckPoints
Earn by just uploading your receipts amongst a few other things. Without taking much time the Checkpoints app will be sure to convert financially as a side income making it as common and useful as apps like mobile performance meter.
Submit shopping bills

Invite friends

Influence brands

Answer surveys
Points can be redeemed at stores including; Target, Sephora, Walmart, Amazon, and Home Depot. So, they won't be going to waste!
23) Safe2Save
The unique concept of Safe2Save.org is to provide convertible points to users who avoid using their mobiles while driving. Featuring a heart-warming reason behind its development, Safe2Save promotes safe driving. Points are given for every minute drivers avoid mobile use while behind the wheel.
Device owners can then go ahead and use these points at partners which are commonly used by everyone. The app even promotes challenges to make people purposely drive safely to win.
24) Reklaim App
The Reklaim app is a consumer-oriented app that informs users about who has their data, what they do with it, and how much they are selling it for. Doesn't this sound ideal?
Well, it gets better. The app will offer credits that can be claimed based on what data owners are willing to part with. An additional perk is that users can even choose to withdraw this credit using a cryptocurrency, the two options being Bitcoin and Ethereum.
25) PhonePaycheck
Brought to you by Neocortix, People with a spare phone can download PhonePaycheck to earn from simply keeping the phone charged and connected to wifi. This app doesn't use the personal details of its participants in any way.
Instead, the company's app uses the mobile processor to receive insight, but only when the phone is not in use. However, charging with a wifi connection is essential. Something you will love about this app like performance meter is that it is possible to donate your earnings to your favorite charity! Alternatively, you can withdraw the amount using PayPal.
26) Gift Loop
The Gift Loop app promises to give rewards for just charging your phone! Apart from that, the app also monetizes your lock screen by displaying appropriate content. To make the app more enjoyable, the company has incorporated games that are also incentivized by points.
Once accumulated, get cards for major brands or even choose from a list of charitable causes to donate to. You can learn more about Gift Loop on their website.
27) Dosh
The Dosh app enables cash back every time you use your credit or debit cards. All you have to do is register all your cards with the app. Every time you make a payment, the app will record the credits. The Dosh play store description provides more information about the app's working.
Again, the Dosh app provides a range of ways to withdraw your profits. The cashback can be used against thousands of brands and half a million hotels.
Conclusion
The concept behind the mobile performance meter app is ingenious, offering users the chance to earn for the data and insights they provide. In a world where every mobile app development company seeks information about their app's performance and use, user data has never been more valuable!
But, with apps like mobile performance meter, users can earn while consciously and selectively offering their data.
Having a combination of these apps could be highly beneficial for people looking to earn in their spare time.
If you are feeling motivated enough to develop a mobile application with two-way earning, you can partner with Artoon Solutions. As a frontrunner in mobile app development, the company has resources to expend that will result in effective applications well worth your investment.
Don't sit on your idea for too long! Call us today to put the wheels in motion for your mobile app.