Mobile devices are constantly changing and improving. Hence, the need for mobile app development services to constantly upgrade themselves. This helps to develop mobile apps that can stand the test of evolving user preferences. Whether it is iOS or Android mobile app development, both have to stay updated on the latest trends.
If you want to know what is in store for mobile app development, here are a few insights into where this appealing industry is heading. Any mobile app development agency hoping to stay relevant should concern themselves with the following features and technologies.
Faster Apps With 5G!
If 5G isn't already powering your smartphone, it will be very soon. This 5G technology is a massive upgrade over the 4G technology, being able to process large amounts of data within milliseconds!
5G networks are already operational in 61 countries. The Philippines has the most with active connections in 98 cities.
This capability would accelerate the development of those mobile apps that handle large amounts of data. These could be media streaming applications, real-time games, and many more. Applications usually prone to lagging would be able to provide seamless experiences with the help of 5G technology.
New Technologies, New App Capabilities
The last decade hasn't been short of new technologies and capabilities. The arrival of newer and newer features would cascade across the technology, with everyone catching on as soon as it arrives.
Although both technologies are supposed to be highly applicable in games, they also have extensive use in other applications. Examples are the use of Augmented Reality (AR), and Virtual Reality (VR) are not hard to find, and we often miss them.
Furniture companies, opticians, and eCommerce companies have all found ways to incorporate the use of AR and VR efficiently. This has created waves in the population as customers increasingly expect these technologies.
Technologies like these can provide real-life perspectives about how a piece of clothing would look on you or if a piece of furniture would fit in a designated space.
AI: An Evergreen Technology
Another technology whose integration has revolutionized mobile app development and will continue to do so in the future is Artificial intelligence (AI).
Artificial intelligence in mobile application development can reduce resource requirements. Chatbots are powered by AI and can drastically reduce the workload of the customer support team. One example is Google Assistant, which has a wide range of capabilities.
This is why a mobile app development company will always use artificial intelligence. Other applications of AI in app development include speech and face recognition and using speech as an input method for some applications.
Device-Driven Mobile App Development
Ideally, mobile app development will consider a device that ranges from a 1-inch screen to a 10/12-inch screen. That's because mobile devices range in screen size, and there are other devices to consider now!
Wearable and foldable devices are the latest devices to engulf the market, with the former being very popular now. Smartwatches are the highest-grossing wearable devices on the market and require applications that developers specially design and test to suit these applications.
Wearable device app development will be crucial in the future because, in a poll by Ericsson, 40% of wearable users used their smartphones much less due to the capabilities of their smartwatch.
Also, a study by PwC shows another interesting trend. 44% of the participants are likely to be interested in a wearable device that saves them money. This can be a reason enough to ramp up mobile app development exercises by investors.
Why should mobile application development be device-driven?
Because such apps offer the best user experience, they have the highest chance of succeeding in the competitive market.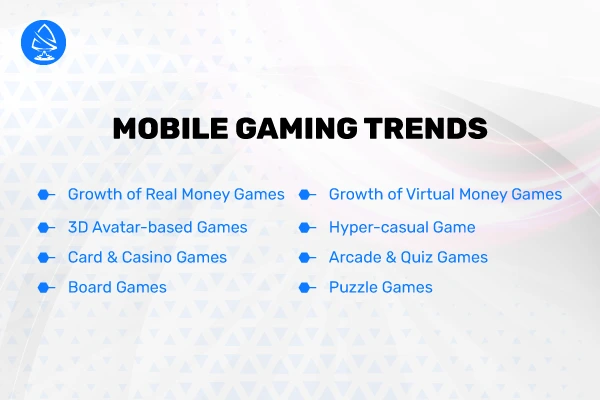 Enhanced Security
The past few years in mobile app development have been notorious for something, mobile app hacking and data breaches.
User data is collected by app owners and analyzed. Analysis of this data helps to measure the efficiency and performance of the app while it also holds details about how the app can improve to suit user preferences.
Collecting this data presents a tremendous responsibility to app owners to ensure it is safe and is not used for other purposes. An app may collect user data: name, date of birth, phone number, and address. Such data needs protecting at all costs! Apps must clearly state their intentions in the privacy policy where users will see it before downloading the app.
Blockchain
One can describe blockchain as an incorruptible digital ledger. Blockchain and cryptocurrency are two trending topics right now. However, current mobile devices are not capable of supporting a blockchain.
However, mobile app development can enter the blockchain industry by developing apps where users can:
Keep track of cryptocurrency transactions
Buy and sell cryptocurrency
Store sensitive data about id's and banking details
Enter and maintain assets (physical and digital)
Hence, developers can use blockchain to store any digital information in an encrypted form securely. Moving forward, blockchain is bound to be a big part of mobile applications, and I'm sure every mobile app development company is trying to find a way to incorporate this into their services.
Payment Integration For Mobile Commerce
The emergence of mobile commerce has enlightened many on the need for secure and stable payment integration. Most online shoppers prefer shopping from their mobile devices due to its convenience.
Seeing as there is an endless list of mobile commerce apps available on the market, the need to follow through with a secure transaction is vital. This is where payment integration comes in and can further facilitate the success of a mobile application.
Payment integration should occur such that all payment options are equally present! This includes mobile wallets, debit/credit cards, bank transfers, and PayPal (other digital wallets). This will reduce the need to carry cash and, in some countries, eliminate the need for it altogether!
IoT- Internet of Things
The invention of smart appliances has created an ever-important need for a way to control them efficiently! Mobile applications present a way to bridge the divide between technology and control.
These internet-connected appliances usually contain sensors that are connected to the internet. Mobile devices are also connected to the internet and can be used as a remote control, so to speak. Plus, mobile devices make for the perfect fit because they offer so many connectivity options.
IoT-enabled appliances can vary significantly! They could be simple sensor-embedded lights or kitchen appliances to an electric fireplace!
Cloud-Dependant Mobile App Development
A recent development in software development is cloud services. The use of 'the cloud' helps to reduce the strain on the physical resources of mobile devices while improving performance at the same time.
With cloud-based mobile application development, less device memory is utilized while performance speed is increased. Plus, cloud development also aids developers. It enables the development of applications capable of running on multiple platforms without the typical drawbacks!
Seeing as the benefits can outweigh the drawbacks, cloud applications could be a prominent fixture in the future of mobile application development.
Conclusion
The best mobile app development companies will already know how to implement these features into a mobile application. Most have already started doing so.
Many applications on the market today already have incorporated many of these technologies and features. This already shows that mobile application development has a bright future ahead!
Got an idea for a mobile app that you want to turn into a reality but need an expert mobile app development company? Contact Artoon Solutions.