Are you trying to develop a Carrom game alone or have the idea and need a carrom board game development company? If you have been impressed with the Carrom game of Zupee, you'll be impressed with our work as we have developed the Zupee Carrom game. 
If you do, we have the best carrom board game development to complete your vision and turn it into an investment. We will take the time to understand your requirements and provide the best solution to improve them. 
Artoon Solutions Pvt. Ltd. has been developing board games for over a decade and caters to several other board games. Our name is prominent throughout India as we also develop casual and real-money casino games. 
Reasons to Hire a Carrom Board Game Development Company
Continue reading to find out how a carrom board game development company can help you to turn your idea into a functional mobile game.
Seamless Game Functionality

Alluring Features!

Customized Game Design

Impenetrable Game Security

Safe Earning Opportunity

Maintenance, Support, and Updates
1. Seamless Game Functionality
Carrom is traditionally a physical board game! However, it could be tricky because it is being adapted into a mobile game! Therefore you need the best carrom board game development services to ensure that the game retains that authentic feel. 
The mobile carrom game should not fall short in providing the core elements of a real in-person carrom board game. All the usual game aspects should be present in the game, including the rules. 
Carrom game development comes with the ability to offer a mobile game player user the entire experience behind the beloved carrom game. 
2. Alluring Features
The features of a carrom game may not be why a user downloads the game, but it is undoubtedly responsible for the engagement rate. Judging by our own standards, we feel more attracted to games of medium complexity.  
Because of this, including the right kind of features and the correct number of features is crucial to your app's success! This is good since many ways exist to entertain and keep users returning.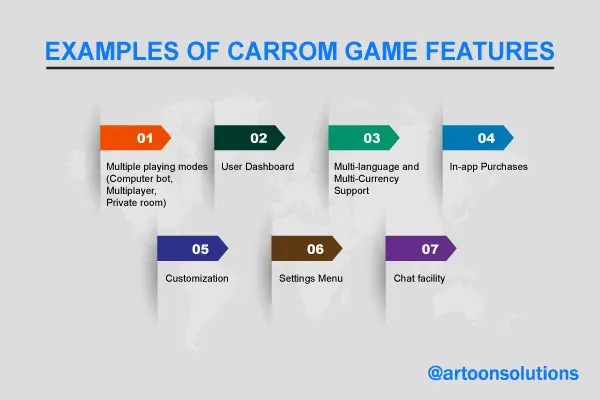 Examples of Carrom Game Features
Multiple playing modes (computer bot, multiplayer, private room)

User Dashboard

Multi-language and Multi-Currency support 

In-app purchases

Customization 

Settings menu 

Chat facility 
It should be stressed that the more features you add, the greater the chances of you covering more users' preferences. 
3. Customized Game Design
Carrom game boards can come with varying designs and colors, while the core carrom board markings are present. But to make a board game exciting on mobile, there are many ways to do it. You can customize just about any part of the game.
Colorful and exciting game design is what will attract users to your app. With time they will expect you to maintain this design throughout the app and any new features you add to the game. So even if your app doesn't look the best, it should maintain design standards.  
Also, allow users to customize the game according to their preferences. This means background designs, disabling/enabling light/night mode, and optional game sounds.  
4. Impenetrable Game Security
Mobile game security has grown to include two scenarios; hacking leading to the theft of personal data and a backdoor entry for people who want an easy way to the top! Both are wrong, and you should 
Nobody likes a cheater, and you must help your app keep safe against such issues! 
To do this, your carrom games must be developed securely and include various safety measures. To not jeopardize data and maintain fairness, security is a must. Users should not feel insecure about sharing a few personal details to log in/create an account. 
Games offering all players (even unskilled ones) a chance to win are always favored, mainly when the game is intended as a pastime!  
5. Safe Earning Opportunity
Being an utterly skill-based game and a popular game, some players may need some extra help which can be provided in real-money games. 
The presence of boosts for real money is known as in-app purchases and can act as a steady way for carrom game owners to earn through their app. You can also introduce a virtual currency that can again be purchased with real money. 
But, when the payment gateway for such purchases is blocked or faulty, users could lose trust and stop trying to make in-app purchases. In fact, it could affect their whole impression of your game.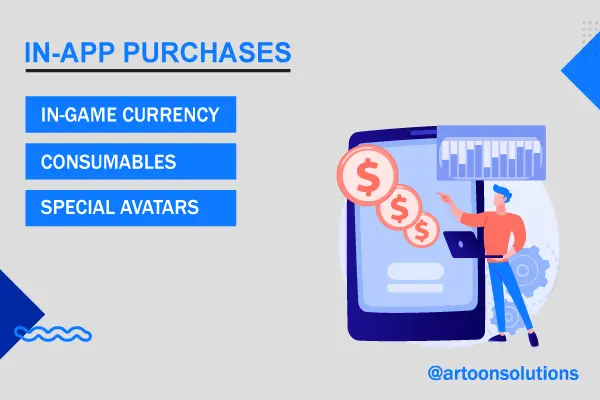 In-App Purchases
In-game currency

Consumables

Special Avatars
This could mark your app with a negative reputation which can be highly damaging, resulting in fewer users and less revenue! 
Can you Develop a Real Money Carrom Game? 
Since carrom is completely a skill-based game, it is possible to launch it as a real-money game in India. But in other countries, real money games are legal. 
The incorporation of real money is bound to increase revenue for you but also provide users with a way of making wins more rewarding. Thus, it acts as a benefit for both the app owner and the players. 
6. Maintenance, Support, and Updates
Investors are usually so excited and focused on launching the carrom applications that they rarely stop to think about what happens afterward. All games need maintenance, updates, and support. 
Maintenance keeps the app updated with the latest software versions, updates bring new features to the game, and support enables users to report bugs. All of them are vital to your users having the best user experience possible.
Support is especially important because it gives users a sense that they are valued. This is important to achieving a loyal and large user base. 
Again, sticking with the same carrom board game development company is advised as they will be up to speed on the original game. They will maintain the same design and technologies. 

Conclusion 
Carrom game development services are the best way to develop your board game if you want the best results. After all, you will invest a lot of money into this software! 
With the help of a Carrom game development company, you will be able to implement your carrom game idea into a feasible and functional mobile game. You can even have a carrom game developed for your multi-gaming platform. 
FAQs 
How much does carrom game development cost? 
Most companies cannot give an exact cost for developing a game. The reason is that every game differs significantly, and so its cost will also vary. The cost to create a carrom game depends on the features, complexity, development duration, team required size, and payment integrations.  
Is a real-money carrom game legal?
In India, games based on luck cannot include real money by law. However, any game that is completely based on skill is allowed to be a real-money game. Being a game of complete skill, real-money carrom games are legal in India and many other countries.