Judging by our website, you can tell we take web design services seriously. We have become a renowned website design company in Surat and one recognized throughout India! Every website designer in Surat knows the importance of an appealing well-designed website, but do you?
Why Choose Our Web Design Company?
Utilizing the expert skills and software resources of every web designer in our company, we work towards creating appealing and pleasingly easy-to-use websites. Using the combination of tried and tested methods and the latest technology, we forge effective web design approaches that will only work to improve user engagement and brand awareness, ultimately increasing sales.
Additionally, we ensure to provide quality web design service that incorporates mobile-friendly websites to help your business succeed online.
Being the best web development company in Surat, we build websites that are not just appealing but also mobile and SEO friendly. We believe that providing users with a rich experience sparks user interest and can attract a larger local audience and higher conversions.
The best part of our services is that we conveniently make them affordable so that any business in India or abroad can hire the services of our Surat web design company.
Services Offered by Our Web Design Company
If you want to hire experts in your hometown that know their trade well, take a look at the services to which our web designers in Surat cater.
Single Page Web Design
As the name suggests, all single-page websites feature a single page that displays all the information or products in a linear format. The content is logically compiled to lead the reader on an informative and convincing journey.
With this design layout, your business could tell its story and then progress to sell the product to the user.
Dynamic Web Design
This website is the opposite of a static web design since it is much more interactive, conveying information and products in an appealing method. Businesses that want a more interactive website that is actionable can consider this design. Naturally, such services require better technologies and also more resources but despite this, there will not be an excessive increase in the cost to hire dedicated developer in Surat.
Responsive Web Design
Responsive web design offers the best user experience since it adapts to the device on which it is accessed. We suggest this to businesses that want to offer the most inclusivity to their audience. Time and cost may increase with this service. However, it provides the most value for money to your business.
Static Web Design
A static website design is made with little to no capability for user interaction. They contain few pages and limited functionality; these limited resource requirements convert to lower costs and development times.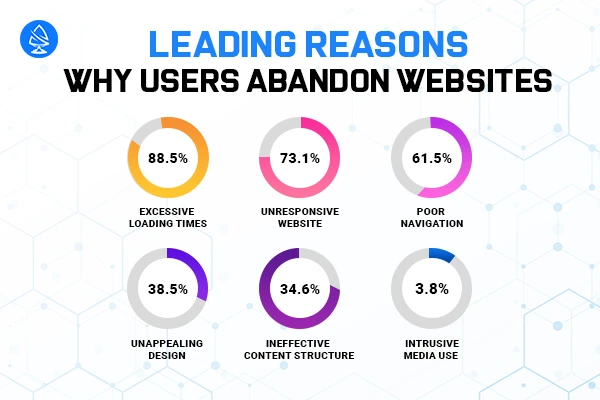 Understanding the Methodology of Our Web Design Company
Our company operates unlike any other website design company in Surat; we use a unique design strategy covering all avenues of website design, thereby increasing the chances of success. Do take a look at our agile methodology to understand how we work.
1) Goals & Objectives
Before commencing a project, business owners must establish their objectives and what they hope to achieve through their website. The goals communicated to the web design company will be instrumental in ensuring the client's objectives and final website align.
2) Scope of Work
Over time a business may want to increase its website to include other add-ons. With the right amount of time and resources, additional work provides a great opportunity for a web design company in Surat. However, it's imperative these intentions are communicated shortly after project commencement. Failure to inform early on could result in losing sight of goals due to complexity.
3) Research and Analysis
Ideally, a website should reflect the audience it serves. So, if you want to attract an audience who will become customers, you must give them reasons to do so.
Start by enticing them with an appealing website. Automatically this compels users to buy from it, assuming functionality matches appearance.
For this to transpire, you must know everything about your prospective buyers, down to their personal preferences. This particular instance is where research matters! We scour the internet and carry out research to assess what visual effects your target audience looks for before buying a product.
A few other areas of research that need emphasis are: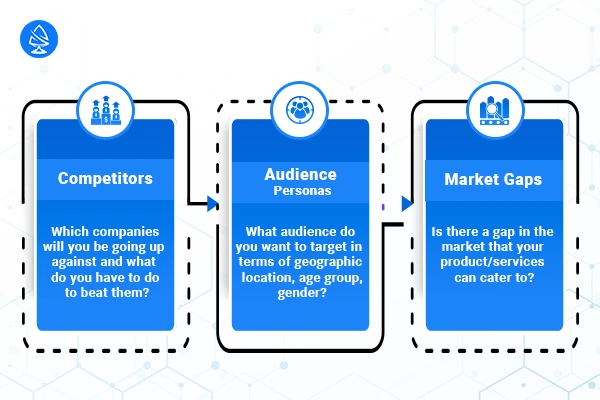 4) Planning / Conceptualizing
Once data from the research is compiled, the next step is planning, and this involves conceptualizing how the web designer will make the website actionable.
5) Site Architecture
Website architecture contains the sitemap. Basically, a sitemap holds details about all the website's pages and their relation. Ultimately, it maps the navigation route of the website.
Along with the sitemap, wireframes lack design details but represent content allocation on each page. Still, it proves important to carry out effective web design projects.
6) Content
An appealing website usually is supported by information relevant to your business and its products or services. Additionally, real product images with authentic details and specifications are mandatory.
But, this accounts for only half of a website's content. The other half of the content should be blogs- informational articles that have high search engine optimization (SEO) relevance. SEO is what makes you visible on search engines; only if you are visible will people find your website and your business.
7) Development
After all, goals are established, it is time for the website design company to engage its developers. This team will work on putting an actual website together that looks and functions as the owner requested.
This development phase is where the use of the best and latest technologies is crucial. Correct choices will ensure the livelihood of the website.
8) Testing
The testing phase is essential as it determines the efficiency of the web design and development and what area needs improvement. The web designer hosts the website on a private server during this time to allow selective access. To avoid potential errors from degrading the business, thorough testing on several devices and browsers will occur to measure the functionality and inclusivity of the website.
9) Launch
Provided all is well during testing, your website is ready for launch. This occasion will be a testament to all activities done until now. But, expect some changes according to user feedback. Value and embrace this feedback, and your website is on course to success!
10) Support and Maintenance
The work doesn't end after launch, as keeping the website up and efficiently running is your main goal. Bugs and errors will need to be addressed immediately as severe malfunctions can cause a drastic shift in website statistics.
Technologies We Use
Web design is imperative for developing a website that best represents your business and its objectives. Want to know what technologies our web designer in Surat has? Well actually, every web developer under our roof prides themself on learning the latest technologies that will ultimately help provide our clients with the best web design services.
HTML5
Hypertext Markup Language (HTML) is the coding language that is applied to the arrangement or structuring of web page content. This includes structuring using bulleted points, paragraphs, tables, and images.
CSS3
Cascading Style Sheets (CSS) is the technology behind formatting the layout of web pages. We can customize font size, color, element spacing, position, background color, image, and screen appearance for different devices using CSS.
Photoshop
Adobe Photoshop is a leading tool for developing logos and website banners. These two elements are very important as they are a few of the first elements users see when visiting your website. Hence their contribution to user impression is evident.
Making attractive logos and web banners is possible with Photoshop, which offers 300 CSS capabilities.
Illustrator
Illustrator is another member of the Adobe group of tools that's effective at designing. It enables cropping, positioning, and sizing of graphical vectors and transforming pixels. But that's not all! Text areas can also be customized by coloring text boxes or specifying font size and type.
Sketch
Sketch is a web design tool offering all the design capabilities a traditional tool does, except with a lighter user interface. What makes Sketch even more appealing is the fact that it offers the ability to test prototypes, allowing the web designer in Surat to receive constructive feedback. Another perk of using this platform is its collaboration tool, which conveniently allows web developers to be looped in.
Conclusion
Putting our location aside, we are a website design company in Surat that caters to local businesses, those situated within India or Internationally. Rest assured knowing you will get a web designer who has working knowledge of what is trending in the web design market. Businesses looking to get complete web design services at competitive prices can reach out to us to get a quote.