Internet usage has grown to a larger extent in the last decade. The ever-changing technology and software are the drivers of this surgical growth of users in the digital age. Web development is the modern way of scaling up your business and reaching out to different users across the globe. It is one of the many reasons businesses prefer hiring a website development company in India to develop their business website. 
Every crucial aspect must be considered to create a successful business website in the long run. The website's design is critical as it decides the credibility of your business website. 
So, what are the most important parts you must avoid about a website development company if you are looking for a website development company?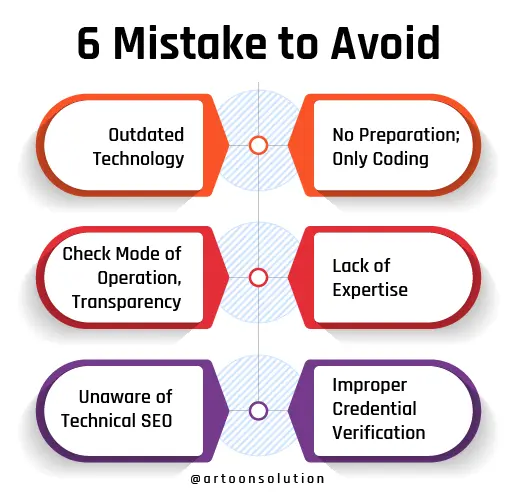 Let's explore this in detail. 
Companies with Less Experience
When hiring a website development company in India, you must check the experience of the company. By looking at the company portfolio, the experience of the company can be checked. If the portfolio is not up to the mark, you should not select the company. A web development company must have the stand-out experience to meet current development standards. 
Technology is changing at a faster pace these days. It may hinder the smooth operation of the website. Additionally, businesses should hire companies that are up to date with the latest technologies and trends.
Therefore, businesses should hire a company that has an extensive run in the development of websites and web applications. 
Not Following the Latest Standards
The website development needs to follow a proper procedure. There are better ways to develop a website than coding from the beginning without a roadmap. For a business website, the company should analyze what needs to be done; the design and coding parts should be discussed with the in-house team before the coding part begins. 
After that, a roadmap should be prepared so that the entire team has the exact task to complete. Also, a custom web development company should not follow a degraded tech stack for website development. A degraded tech stack results in outdated development standards which need to be avoided. 

Transparent Project Flow
Select the website development company that has a proven mode of operation and maintains a transparency layer with clients. Here is what you need to check. 
The company should be transparent from day one and must be following software development lifecycle methodologies like AGILE, Waterfall, Kanban, Scrum, etc. The mutual understanding about the project and Scope of Work should be clear to the company.

Check whether the company is sending a "Mutual Understanding" document after reading the scope of work or asking several questions to be on the same page with the client. 

Check if the company is sending a work-in-progress report on a daily, weekly, and monthly basis. 

For smooth communication and easy tracking of project work, the company must use Project Management Tools. 

Check if the company provides a pre-maintenance period & hosting and should be able to extend the maintenance period if the deliverables need to be better. 
Lack of Expertise in your Domain
This can be seen as one of the biggest mistakes companies make when hiring companies. Even if you have rich website design and creation knowledge, you must have the domain knowledge to meet your business needs. You have your goals and vision ready, and you should look for a development company with expertise in the required domain.  
You need to do market research and find the perfect website development company for your project. The company that you will choose must have worked with more significant firms and large projects. It reduces the chances of errors in the project and provides a hassle-free website experience. 
Unaware of Technical SEO
Design and development are only part of its website development. SEO is a major aspect that is equally important compared to other elements. Once the website is launched, SEO work needs to be done so that the website can rank on top. Technical SEO alongside SEO tools and plugins is a huge bonus that boosts the website ranking significantly. 
Often, businesses hire companies that don't need to learn about SEO. In such cases, businesses should not employ these companies. Ultimately, a company without SEO knowledge cannot help you generate leads through your website.
The main reason for SEO is to optimize your site according to the Google PageRank algorithm.
Improper Credential Verification
When you hire a company for website development, proper verification of the company should be done. Businesses often look at the company profile and start the project, but that is a big mistake. Hire companies after doing proper credential verification. 
Furthermore, select a website development company with proven experience working with large companies and a good reputation for working on multiple repetitive projects for clients. It shows that the company is trusted by its previous clients and still performing at the same pace. Lastly, you need to check the time it takes for the company to deliver the final product. 

Wrapping Up!
Businesses need deep research and analysis before hiring a custom web development service in India for their project work. Currently, hundreds of companies offer outstanding website development work, but it is necessary to analyze properly for a result-driven output. 
For more extensive analysis, the business can ask for a demo or look at the client feedback, reviews, and testimonials. So, how would you plan your website? 
Artoon Solutions has been an established web development company in India since 2009 and has an outstanding track record of working with leading brands. 
Book a demo now!!