Website development services take a certain amount of time based on certain factors. These factors will likely speed up or slow development based on your requisites. However, a custom website development company will only give a more precise deadline after the project's complete details are provided.  
Artoon Solutions can deliver upon this requirement if you are looking for custom website development services without worrying about sacrificing quality. You won't have to fear poor quality when dealing with us, one of the best website development services in India. 

Website Purpose 
A leading factor that drives the development of your website is the purpose of your website. What do you wish to accomplish when users visit your website? 
Suppose you want to develop an informative website; instead, you can develop a landing page website. Regardless of the purpose, anyone and everyone can get a website!
This wouldn't help you go too far in helping your users accomplish a particular goal. So, instead, you have to ensure that purpose and results are in synchronization. If not, your website is as good as non-existent!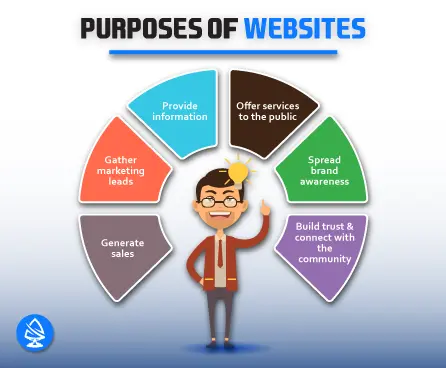 Type of Website
There are several websites available to you. When developing your website, you must choose which one suits your target audience and business. Every website differs, which is why different websites need different designs. 
Here are the three types of websites you can choose from. Remember to choose the type of website you want based on what you wish to achieve by using it.  
Corporate
Most enterprises make use of a corporate website as it is the best solution for a large and professional company. Unlike any other website, a corporate website focuses on representing a company, its goals, and its mission to all audiences. 
Examples of corporate websites are Samsung, Sony, and NASA.
Landing Page 
A landing page website is usually restricted to just a few pages. It provides the most basic information about the company or one specific product/service. 
A landing page website doesn't exactly sell items; you should choose an eCommerce website if that's what you want to achieve. You are more likely to find a single-page website useful for introducing a single product or for a startup.  
This website allows you to spread awareness about your company, products, or services. 
Landing websites examples include Surprise.com and The Bancroft.  
eCommerce
An eCommerce website is a special website through which a business can sell its products or services. This type of website is made specifically with customers and users in mind. It's made to provide more convenience to customers/users. 
Several examples of eCommerce websites exist, such as Amazon, eBay, and Walmart.
Blog Website 
A blog website is an informational website with a lot of content; generally, CMSs come into use here. Blog websites are usually restricted to a few pages and are not so time-intensive to develop. 
These websites often need to be made to accommodate SEO (search engine optimization) to ensure the content on your website ranks and are found by the right target audience. Blogging websites are content-rich websites that will feature content in multiple media types. 
SaaS Website 
SaaS or software as a service usually means that the website operates as a means to access a particular service. Such websites need to be built well to ensure they can handle large volumes of concurrent users. 
Examples of SaaS websites are Grammarly, MOZ, and Google. 
Website Complexity 
The complexity of a website also affects how long it will take for the website to be built. As the complexity and number of features increase, the time required to complete the project also increases, and so does the cost. 
If you are a small business, you can get a simple website. Also, an enterprise-level business can have a simple website too. You must ensure that your website conveys your message or fulfills the desired purpose. 
Basic  
A basic website is one that only consists of a few pages, and this is usually kept to an upper limit of 15 pages. Anything more would qualify as a bit more complex, falling under the average category.  
This still comes with custom web development and design services. You can choose from various back-end and front-end languages. 
Average
An average website is a bit more advanced compared to a basic website. The number of pages also goes up with the complexity of your project. Expect an average website to have close to 50 pages. 
These websites are for businesses that want more than the bare minimum but not an excessive amount that surpasses the functionality and features of a complex website. 
Complex
The number of features also increases the complexity level of a website. In turn, higher complexity will increase cost and development time. 
These apps usually have the latest technologies and features. They usually require massive databases to store information so that it can easily be retrieved whenever necessary.  
Naturally, websites with higher complexity and a higher number of features also require developers with higher experience. Irrespective of their immense skills, even the best developers will have to put in hours and hours of work for these projects to ensure perfection. 
Location and Team 
How does location affect custom website development duration? Well, the location speaks volumes about the experience of the developers. And a developer's skills will usually dictate how long a developer will take to write the code. 
For example, India is amongst the best locations to hire website development services. The skills there are excellent, and the final results are also impressive! Furthermore, development times are kept to a minimum when hiring experienced developers.   
A junior team could cost less. However, you may want to do this as you cannot trust them with your website, as the final result may not be up to expectations. Choosing an inexperienced team could further lead to more costs to identify and fix the errors created. 
Technology 
Whether you choose a simple or difficult, old or new technology will affect the delivery date of your website. Harder technologies that aren't developer friendly will take a bit longer to develop than the standard technologies, which are easier to code in.  
It is easier to find professionals in certain technologies than others depending on how often they are used in website development. 
How many hours does it take to develop a website? 
A custom website development company cannot provide a development time frame upfront without the SOW (scope of work) document. However, when the scope of work is provided, Artoon Solutions makes the most effort to hand the document over to the technical team, who will review it and provide an accurate delivery date. 
We will provide our best developers and ensure your project is delivered within the delivery deadline and according to your specifications. 
How long does it take to develop a WordPress website? 
WordPress website development speed depends on the number of features as well as the complexity of the project. A WordPress website with more complexity will take longer to develop, while a simpler website will take less time.

Conclusion
Owning a custom website is becoming increasingly popular, especially for small businesses, as only 29% of small businesses lack a website! If you are a startup or small business, it's time to ask yourself if you are part of that minority. Custom website development services could build a website to help your business spread awareness to new customers or even assist in retaining past and present customers. Besides, you are better off being with the majority than the minority!