Do you know about multigaming platforms? Why are game owners taking more giant strides while developing multigaming platforms? And is it even possible to make money from multigaming platforms? Here is all you need to know.
What is a Multigaming platform?
A multi gaming platform is a single platform where multiple types of games are available in a single app; the games can be real money games or virtual money games, i.e., skill-based games or luck-based games. It is an all-in-one game app where you can play many games and can earn and compete with your friends/strangers. Examples of multi gaming apps can be MPL, Skillz, Paytm First, Winzo, Hago, etc. Users can play these games on their smartphones/laptops. If the user wins, they will earn real money, which is critical in multigaming platforms.
Various games like Card and Casino, Board, Sports, Hyper casual, Arcade, Puzzles are available under a single platform. Some of the best examples are
Card Games: Rummy, Solitaire, Spades, Callbreak, Teen Patti, Andar Bahar
Board Games: Carrom, Ludo, Pool, Chess, Mahjong, Cell Connect, etc.
Hyper-casual Games: Fruit Ninja, Bubble Shoot, Hill-Climb, etc.
Puzzle Games: Quiz games, 3D matching games, etc.
Arcade Games: Pac-Man, Pinball, etc.
Fantasy sports is also one of the significant parts and parcels of a multi gaming platform.
Basics of Real Money Games
Real money games are nothing but skill-based games where each coin available in the game app has a monetary value. These are the games that require a proper skillset to win specific games. Players may earn vast sums of real money by playing real money games with skills, strategies, and logic.
Basics of Virtual Money Games
Virtual money games are skill/luck-based games where chips/coins don't have any monetary value. In luck-based games, the primary focus is to enhance gaming skills. Each player can play various gaming modes and practice modes. With skills and strategies, luck plays a prominent role in winning virtual money games. The winner can earn chips/coins, gift vouchers, rewards & bonuses in these games but not real money.
Methods to Make Money:
1. Integration of Real Money Game Apps
Multigaming platforms mean it combines both real money and virtual money games. Isn't it?
The game owner earns a fixed percentage from every player's transaction.
Real money games involve real money, as the name suggests, and sometimes these games become risky as real money is involved. Real money games are nothing but skill-based games where users must showcase some skillful strategy and logic to win the game.
Here, to play a game, the user must buy some coins with a monetary value. Each currency in real money games has an economic value that can be converted into real money. Users can withdraw real money from their bank account once they win a game/tournament.
Some skill-based game examples are as follows:
Card & Games – Rummy, Solitaire, Spades, Call Break, Mindi, 29 Cards, Court Piece,
Board Games – Carrom, Ludo, Chess
Puzzle Game – Various Quiz Games
2. Integration of Virtual Money Game Apps
The integration of Virtual money game apps in a multigaming platform is necessary for game owners to generate revenues. Here is how.
Players can't win real money but coins. Virtual money games don't involve real money when it comes to playing games. Here the involvement of real money comes if the user wants to make some in-app purchases. These games are risk-free, and users play these games with an open mind where there is no need for particular skills. Luck plays a vital role in virtual money games.
Some luck-based games examples are as follows:
Teen Patti, Andar Bahar, Fruit Ninja, Bubble Shoot, Hill-Climb, Pinball, etc.
Here, the availability of coins doesn't have a monetary value. In Virtual money games, users can't win real money regardless of how good they play. These games are entirely meant to be entertainment purposes and skill enhancement for players.
A game owner can make money by in-app purchases and advertisements. In Virtual money games, owners provide premium features to users through in-app purchases. It includes features such as Level upgrades, 1+Life or More Energy, and an option to download ringtones & wallpapers. These features give an exciting gaming experience, and owners generate staggering revenues from in-app purchases.
Also, from advertisements, owners boost their revenue count. Generally, the advertisements are:
Interstitial Ads
Header & Footer Ads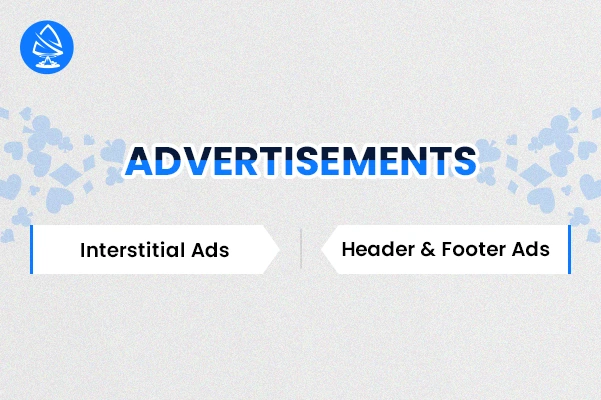 3. Advertisements
Besides every online mobile game or multi game app development, there is a reason why game owners take those giant strides. It is about getting revenues. Game owners tend to add various attractive and eye-catchy advertisements in the game apps to boost their revenues. Here is a quick look at it.
Interstitial Ads
These are the ads that cover the whole screen of the mobile. You might have experienced this many times in your game app. It is called interstitial ads, and these are highly interactive & alluring ads (sometimes it feels like giant pop-up ads). Such ads appear suddenly when you complete a game level or when you are playing the game and take a pause. A single click on these ads increases the revenue counts of the game owner.
Header & Footer Ads
Header and Footer ads are a general money-earning purpose for game owners and app owners. For a known instance, third-party ads are in the header and footer sections of the game screen. When a player taps on the ads (intentionally or not), a certain amount will be transferred to the game owner's account. This is not the primary source of income for multigaming platform owners, but it keeps ticking the revenues upwards.
4. Tournaments
Apart from all these advertising and integrating game models, organizing tournaments is also another crucial part of making money for game owners. Owners can generate matches based on player rankings, i.e., Top 3, Top 5, Top 10, or only one winner. To enter a tournament, each player has to pay some money as an entry fee and then play the game. These entry fees and small ads in-between generate significant revenues for a game owner.
5. Publishing Games
The job of game publishers is to publish games for gaming companies. There are various game publishers available globally like YooZoo Games, Machine Zone, Supercell, Niantic, King, and many more. Game publishers give freedom of choice to gaming companies whether they want to publish some games or a particular game type like Card & Casino, Board, Puzzle, etc.
ame publishers contact game owners. They discuss a business model wherein the revenue is distributed between the game owners and publishers via pay-per-click, pay-per-install, pay-per-view, etc.
Let's take a quick look at the revenue models:
Pay-Per-Click
When a user clicks on the game app or the banner, the revenue is generated, and the game owner has to pay a certain amount to the publishers.
Pay-Per-Install
When a user installs the game app on their device, the revenue is generated, and the game owner must pay a certain amount to the publishers.
Pay-Per-View
When a user clicks on the view button to see some screenshots of the gameplay, the revenue is generated, and the game owner must pay a certain amount or a small percentage of the payment to the publishers.
In Short!
The multigaming platform apps are currently on the rise and earning the big bucks using all the strategies we have mentioned above in this blog. If you think we have missed any monetization staregy that should be on this list, do let us know in the comment section.
Artoon Solutions has been a leading game development company over the years and has developed 100+ games for the top gaming clients like MPL, Flipkart, Winzo, Dangal Games, Zupee, and that's just naming a few.
We're Mentioned in MPL's Blog in the Forbes India

If you want to develop your own multigaming platform app and earn large amount of money then LET'S CONNECT and make your dreams come into reality!