Card games are currently taking centre stage with more modern gameplay and intuitive graphics. The rapid growth of online card games in the last two years is a perfect example of how it has revolutionized the gaming industry. There are many card games available in the market. This blog will look at the cost to develop 21 card game.
Before going to the cost factors, let's first look at the 21 card game? And how to play 21 card game?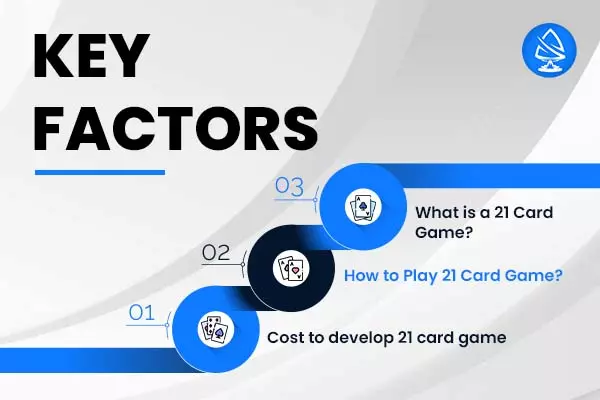 What is a 21 card game?
21 card game comes under skill-based games and is a two-player card game. The Famous 21 Cards a.k.a 21 Blitz, 21 Puzzle game is on the MPL Platform. Because of its fast nature, it can make the game more exciting & entertaining. The objective of 21 card game is to get a hand that is 21 in value. Or, at the very least, as close to 21 as you can get without going over. Many of the classic 21 card game rules are still the same. Although over time, there have been many variations and new versions.
How to play 21 card game?
The Aim & 21 Card Game Rules: One of the main reasons 21 is so popular is that the game's objective or goal to win the game is well-defined and 21 card game rules are not difficult. All you need to do is score as close to 21 as possible. It seems very easy, but there are a lot of strategies involved in it. Suppose you have a hand of 18; do you risk taking another card or not? Let's take a look at how you play 21.
First rule of 21 card games rule is to take a deck of cards and remove the jokers to get started. Then, shuffle the deck. After shuffling the deck, each player needs to draw two cards. It is necessary to keep the cards hidden for each player; once players have drawn their cards, they can opt to take another.
This is known as a hit; you say hit to take another card if you want to use the traditional lingo. According to the traditional rules of the 21 card game, there is no limit to the number of cards you can take. Although the more you take, the more likely you are to exceed 21.
If you go over 21, you have busted and must declare this to the other players. If you don't want to take more cards, you say stick. Once every player is happy with their cards, they will show their hands.
The player with 21 or the closest to it wins. While it's rare, multiple players could have the same score so that it could end in a draw. That is basically how you play the 21-card game; it's fast, simple, and fun.
Now, as we know the gameplay of 21 card game, let's look at the cost factors.
Cost to develop 21 card game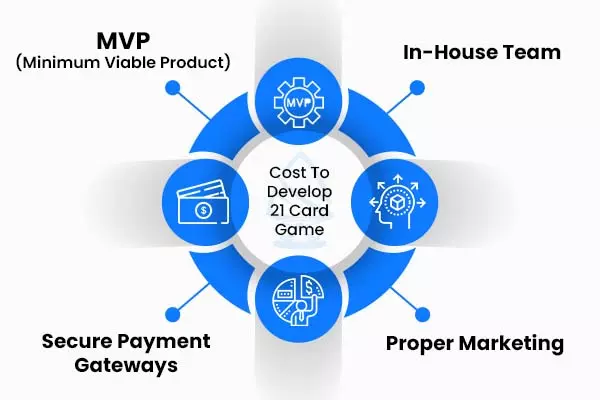 MVP (Minimum Viable Product)
A Minimum Viable Product or MVP design is necessary while developing any game app. A minimum viable product (MVP) is a smaller version with just enough features to be usable by early users who can provide feedback for future product development. Here are the following two versions of MVP.
Version 1: Study the gaming market before initiating the 21 Card game development & design. The focus should be on the current market trends, the audience response, and game popularity in the targeted location for this particular game.
Version 2: More features can be added to the game if the audience response is good and the user base is vast. By doing this, the user base grows subsequently and saves money.
In-house Team
Having an in-house team is a huge bonus for any game owner. It saves money for 21 card game development process effectively. Also, there are better chances of structuring and modifying the project in a more improved way. Detecting errors and fixing bugs becomes easier with an in-house team. Suppose you hire a QA Engineer; in this case, sharing files over a medium, downloading the file, and fixing the same bugs can be tough for the development team. Whereas with an in-house team, this can be fixed quickly.
An in-house team should look like this:
Secure Payment Gateways
Integrating secure and quality payment gateways is a necessity when it comes to card games. In card games, transactions are done every time, including cash withdrawals or in-app purchases. So, providing a quality payment gateway is a must. Providing features like Multiple payment options (Credit card, Debit card, Net Banking, Mobile Banking), Digital payment options & UPI (Paytm, Phone Pe, Google Pay) may increase the project's budget but ensures the trustworthiness of the game app.
Proper Marketing
Marketing is a huge aspect of online gaming. If proper marketing metrics are not followed, there is a larger possibility of the downfall of your game app. Well-planned marketing campaigns and strategies are the building blocks of your game's success. It includes game trailers, advertising posts on relevant resources, and social media promotions.
Marketing campaigns on social media platforms like Facebook, Instagram, LinkedIn, and Twitter are essential to reach a larger audience as there are more young gamers available on these platforms. Also, the game website should be optimized with proper SEO tools by SEO executives. Marketing campaigns on social media with paid promotions may increase the project's overall budget, but it is the best method to acquire a younger audience.
Conclusion
21 card games is a fast, simple and fun-addictive game. A game owner should always look forward to how new game elements and logic while keeping an eye on the cost to develop 21 card game that may outsmart the competitors.
Are you interested in developing a game?
Artoon Solutions is prominent in developing mobile games, including Card, Casino, Board, Puzzle, Hyper-casual, Arcade, etc., to its clients. Our in-house expert team in every department ensures we provide the best game app experience in online gaming.
MPL's Rummy is Developed Artoon Solutions

Contact us to discuss more on relevant topics.