The rummy games have been in vogue for the last couple of years and will stay popular for years around the world. As a rummy game offers a real-time playing experience on a smartphone, people love to play it on mobile for hours. There is no dearth to say that such card apps are the perfect way to refresh the minds of the hectic schedule. Believe it or not, this game has users from almost all countries across the globe.
Interesting Facts about Online Rummy Games:
India serves approx. 75% of the total traffic in the Asian countries and the European countries, the majority of traffic comes from Rome.
Planning to Develop a Magnificent Rummy Games App?
Since the rummy app has become popular, it has attracted several entrepreneurs to invest in the game. Are you one of them? This post is dedicated to you
In the 21st century, investing time and money in the mobile gaming industry isn't a bad idea at all. The real examples are PUBG, Rummycircle, JungleeRummy, Pokemon, and many more. At that time, no one had ever thought about the success they are experiencing now. Today, mobile game development companies are all set to make your dream true delivering top-class solutions.
Let me come back to the point, why develop Real money apps like JungleeRummy & RummyCircle?
First of all, the rummy games is socially accepted by all age groups in families. From a teenage boy/girl to an aged person of a family who loves to play rummy as it's easy to understand the rules. We all may agree that digital rummy is a joyful and the best entertainment game to bust the stress.
As you have planned to develop an app, let's discuss it in deep.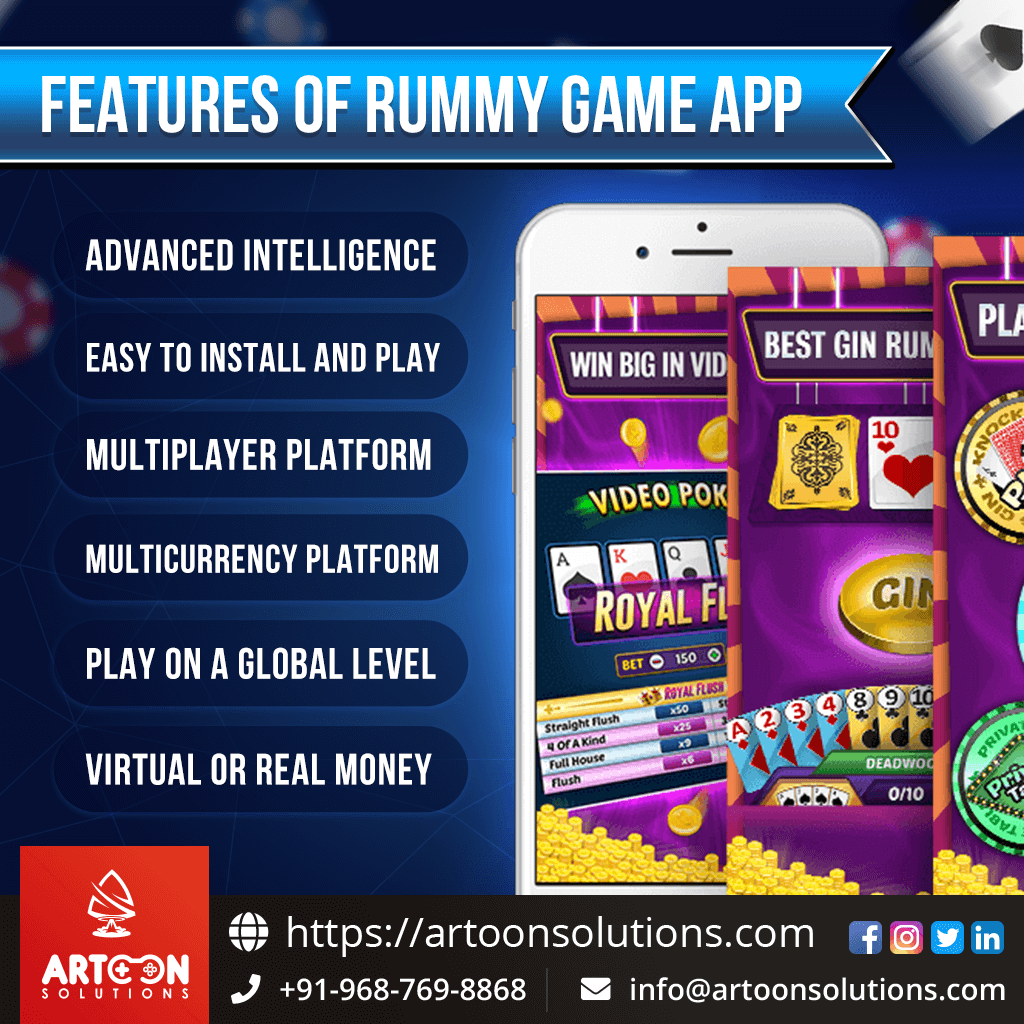 Development Platform:
This matters the most. On which platform do you want to develop an app?. Currently, Android and iOS app development platforms are in trend as most people either use Android or iOS devices. Developing these platforms costs you a lot when compared to some hybrid platforms like flutter. However, each has its separate pros and cons. Building a native app using Android and iOS technology offers several features that hybrid technology doesn't offer.
Genuine Advice: As an entrepreneur or an investor, you must discuss this matter with rummy software development experts before selecting the platform blindly. You will not get disappointed after taking a decision.
What Will be Your RummyGame Features?
Features are what attract the users to play a game for a longer time and recommend others to play. An app whether it's a rummy or Ludo without user-centric features never creates magic and helps you earn money through the app. Here, we have listed some necessary and advanced features that must be in your rummy app. If they aren't, either you should implement it in the app or forget the investment.
Multiplayer Platform: No one would like to play with software. Everyone would like to play like him. Do not even think about building an app like rummy without having a multiplayer platform.
Multiplayer Platform: Rummy is well-known and widely played by players around the world, thinking about building an app in just one language is a worse idea. Let users select their known language to understand the rules and play comfortably.
Multiplayer Platform: Same as a multilingual feature, you must add the multicurrency feature into an app. Allow players to choose a currency of their choice. Sticking to only one currency isn't a good idea at all. That may become a reason for not getting enough players.
Multiplayer Platform: Let your players play a game with and without real cash. However, you can earn through real cash then it must be incorporated into it. When it comes to a cash transaction, there must be a secure payment gateway, a user can trust on it. Discuss with your rummy development company for the same and get installed a trustworthy third-party payment system.
Multiplayer Platform: As said earlier, cash transactions is of utmost importance in real cash games. With several payment options available, a player should make transactions securely from anywhere. It's essential to add and withdraw cash with just a few taps on a game. A lengthy process can never become a feasible solution for both owners and players.
Cost for Rummy Game Development:
Well, this is a tough and the most essential thing for an aspirant who wants to develop a game. The cost of rummy game development depends on a variety of factors including gaming platform, graphics, features, third-party APIs, development company, and many more. In short, there is no significant answer to this question. You will know only when you consult with the rummy software development firm and then they provide you with a quote after analyzing everything regarding your vision and goal.
When thinking about development, you will have two options either get an in-house team or outsource the firm. Both have their pros and cons. If you are technically sound and know the process of development, then opt for the in-house team& of course, it's a good idea. If you are not, then do not even think about hiring an in-house team; your money and time may get lost and you end up with little to nothing.
Now, you have the only option left – Outsourcing the project. The question is "how to identify the best rummy game outsourcing development company?" To know the quality of service of an outsourcing company, read the reviews and talk with recent clients, if possible. A quite simple and effective way to identify a company with a great quality of service. However, a higher cost is a factor with top-class firms, you can neglect it.
Final Thought
I hope you have got the point and understood the process of how to develop a rummy game like a rummy circle, classic rummy, and jungle rummy. Still confused, don't worry.
Artoon Solutions– a renowned mobile game developer in India and USA is a good spot to contact. Hire RummyGame Developer today & get a stunning rummy game app that can create magic for players.