Let's go a few years back, and we will see people playing indoor games for fun. Board games are indoor games, aren't they? When we talk about board games, one thing that comes to mind is how fun-making these games are! Now that time has changed, people often choose online mobile games, but in the era of board games gone? Not yet. Here is how online board games have emerged with time and a quick look at the cost factor associated with developing online board games.
What is a board game?
Board games are tabletop games that typically use pieces moved or placed on a playing surface and often include elements of the table, card, role-playing, and miniatures games. Most feature a competition between two or more players. In some games, a player wins by capturing all opposing pieces, while others often end with calculating final scores. Some games are cooperative games where players all win or lose.
Some of the best board game examples are Carrom, Ludo, Pool, Bingo, Chess, etc.
Cost Factors Associated with Board Games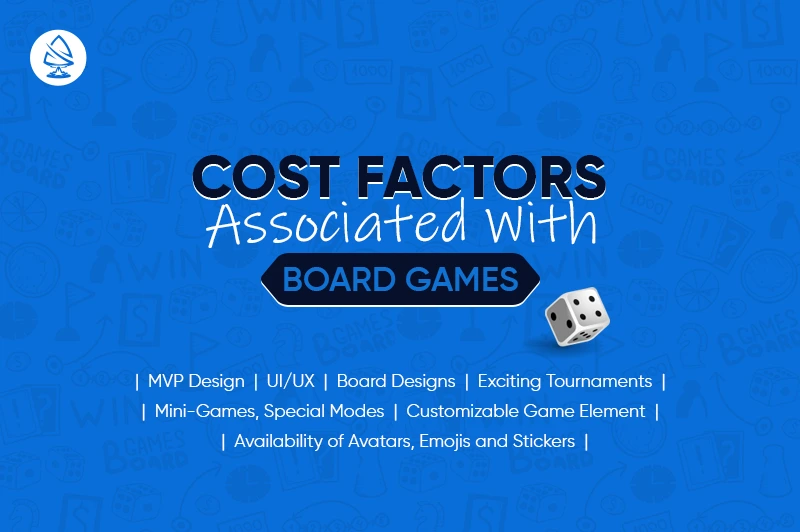 1. MVP Design
This is one of the most critical topics when developing a game. A minimum viable product (MVP) is a product version with just enough features to be usable by early customers who can then provide feedback for future product development. MVP designing is a must if you are looking to develop a game but do not have the user base covered. Here are the two following methods.
Version 1: Study the market before designing the game/platform. The owner needs to look at the current trends, the geography, and which game is trending in which area. Suppose you plan to develop multi-gaming platform but do not have the best user base. You need to focus on one single game type, like, for example, a Board game. The owner needs to focus on only board games apart from Card & Casino, Puzzle, Hyper-casual, Arcade for a subsequent increase in the user base.
Version 2: If the owner already has a large user base, then more extra features can be added to the game, and new games can be added. Here the idea is to add more features and provides several playing options like games of all types (Card & Casino, w, Puzzle, Arcade, Hyper-casual, etc.) for a compelling user base.
Now then, let's go step by step on additional features.
2. UI/UX
There is no doubt UI/UX is a prime factor in grabbing someone's attention in any game, be it Card game, Board game, or even Puzzle and Hyper-casual. Technology is changing with each passing day, and it becomes necessary to come up with the latest UI designs to succeed in the online gaming market. Board games are always exciting, involving skills, strategy, tactics, logical thinking, etc.
However, coming with the latest UI design may cost some budget, but it also helps acquire a large user base.
3. Board Designs
There are two games when we come to designs, i.e., 2D games and 3D games. 2D game designing takes less time in comparison to 3D game designing.
For example, in 2D games, the background is just an image or a paint compared to 3D games; the background will feature different assets. Here is an example: the environment can be a road street, sea beach, or even garden in the board games. There will be animations like moving bikes, walking dogs in road streets, the sea waves and birds flying on the sea beach, and rainfall in the tree leaves in the garden.
Comparing the same with a 2D background, simply an image will be there. Henceforth, a game owner should design 2D/3D games, as most gamers prefer these new feature-rich games, but the cost is a significant factor. 3D designs cost a bit higher but can be customizable with preferences set.
4. Exciting Tournaments
A game admin should look forward to organizing special tournaments for the gamers. They use their skills strategies, win the match, and earn a healthy amount. Tournaments are organized with varied entry fees, and accordingly, winning prizes also varies. The organizer can change the winning amount based on the top 3, top 5, or top 10. This means only the top 3,5 or 10 ranked players can win the prize while the remaining players won't get anything.
The craze of gaming tournaments has grown nowadays. It is necessary to add a tournament-like feature in board games.
5. Mini-Games, Special Modes
Mini-Games is another feature owners add to almost every real money game nowadays. Mini-games give an option to users that they can earn some quick chips/coins without even playing the hard level. Some mini-game modes are Surprise Boxes, Scratch and win, Spin Wheel, etc.
To open a 'surprise box,' the user has to pay just a tiny amount of chips/coins, and he will be rewarded with a lot of chips/cash and some other game assets. Now in 'Scratch and win,' there will be nine boxes, and the user has to find the exact suit of 3. Once the user sees the same 3, he will be rewarded; else, he won't be rewarded. Another one is a 'spin wheel,' where the user can spin the wheel, and when it stops at a particular specified reward, they can collect it.
Special Modes – These are the new modern modes in the game app. Here, there are some special modes like 'No Guideline.' There won't be any instruction or help note for the user while playing this mode, and every win here results in enhancing game skills and earning chips/coins.
Another special mode is 'Tours.' The player will enter into some popular places (for example, New York, Moscow, Venice, Berlin, Tokyo, Mumbai, Sydney, etc.)
worldwide play. The owner can make tours based on tournaments or competitions. The special mode gives users a choice of playing the game they prefer.
6. Customizable Game Elements
For Pool (Cue, Boards, Balls): In pool games, the most common game type is 8 ball pool, where the game is played with a full rack of 15 balls (7 stripes, 7 solids, and one black, i.e., 8th ball). Here the player has to put 7 stripes or 7 solids on pockets followed by the 8 ball to win the game. The player who ends up pocketing the 8 ball first before 7 stripes or 7 solids will lose the game immediately.
So, if a customizable option is given in pool games like changing the boards, adding sticker elements to the board, changing the cue ball will create a considerable possibility for the game's success.
For Carrom (Boards, Striker): In Carrom, there are 19 pieces (9 black & 9 white with one queen in red) without including the striker. If an option to customize the boards and striker is given to users, then user engagement will increase.
For Ludo (Boards, Die): In Ludo, there are 16 pieces (4 each in the same color, i.e., 4 Green, 4 Blue, 4 Red, 4 Yellow). If an option to customize the boards and die is given to users, the gameplay will be more attractive, which automatically results in more users.
7. Availability of avatars, emojis, and stickers
3D Avatars: These are the new modern ways of attracting many gamers in a short time. 3D avatars make the game very interesting. In 3D avatar-based games, everything needs to be 3D from head to toe, and they all must have expressions and animation effects that will create a new aura for the gamers. The playing table, chair, background, i.e., environment, should all be 3D.
One of the best examples of a 3D Avatar-based game is 400 Arba3meyeh.
Emojis and stickers: The owner can add a unique feature like emojis to express the feeling more precisely. Also, the owner can offer stickers as a game feature. Most users like to add their favorite stickers on the board to express how efficient they are in this game. Stickers for boards and emojis for chats will undoubtedly gain more users.
However, adding these features to these games will increase the budget. So, it is the owner's responsibility to select a perfect vendor who can provide the best features in a smaller price range.
In Short!
So many areas to look around during online board game development, right? What are the key points you are considering? Would you like to create a board game for the future?
Artoon Solutions Pvt. Ltd has more than 14+ years of developing mobile or web games with perfection in delivery. We have 300+ in-house proven and experienced dedicated teams of 2D/3D Designers, Frontend/Backend Developers, QA Team (Testers), Server management team, Project managers that can cater to every challenge.
Let's get in touch, and we assure you to turn your dreams into reality.