If you are looking for a Poker Game Development Company that offers the best services guaranteed without any difficulties, you must consider Artoon Solutions! We have developed Poker games before and are more than qualified to develop Poker games for you. Some of the clients we have for other skill-based games are MPL, Winzo, HD Works (A23), Junglee Games, Flipkart, Zupee, YooZoo Games, Dangal Games, and Hello Play. 
Poker Game Developer Experience 
We have been developing Poker games for much longer than most other game development countries around the country. Through time and development, we have garnered in-depth knowledge, understanding and expertise about developing Poker games that attract and engage audiences.  
Throughout our 13+ years in the gaming industry, we have managed to adapt to the ever-changing requirements of Poker game enthusiasts. Thus, we are equipped with everything needed to develop a successful Poker game development. 
Some brands that we have managed to partner with over our time are MPL, Batball11, Winzo, A23, Zupee, Dangal Games, Junglee Games, Flipkart, YooZoo Games, and Good Gamer. 
The highlights of our services are the games developed for bigger brands are as follows:
MPL – Rummy, Callbreak, Ludo, 21 Cards/Puzzle, Bingo, Mahjong, Win Patti, Hill Racing, and Golden Boot.

Winzo – Bingo, Court Piece, 29 Cards, and Mindi.

Batball11- Ludo 

A23 – 8 Ball Pool 

MultiGaming Platform- Good Gamer, 3Plus Games, Team18Play.
Client Feedback 
Before signing any paper's worthwhile to read about the feedback from several sources. Try to get your hands on feedback that is submitted by genuine clients who have had a poker game developed by the company. 
Client feedback left behind for poker game development services can be judged on several criteria such as design, functionality, and game strategy. 
Past clients usually also provide excellent feedback as to what the poker development company did well and what they didn't do so well. These details are crucial as they let you know what they are good at and what they aren't so good at. This will give you a heads-up as to what needs an extra amount of attention. 
Platform 
When it comes to choosing a platform that will suit your Poker audience, it may be best to pick both a mobile version and a web version. However, with deeper user research, you can pinpoint which platform will best help achieve your goals. 
When selecting the mobile version, you have the ability to satisfy iOS and Android users. The mobile version seems like the best way to go seeing as mobile gaming has taken the nation by storm!   
The gaming market has shifted from the web to mobile but the web still seems like a platform that still garners a decently large audience of Poker gamers. 
That said, whichever company you choose should be well and able to develop a Poker game that surpasses expectations without needing to do too much reworking.  
Also Read: Why Your Business Needs To Hire Rummy Game App Development Company
Customisations
Every poker development company tries its best to make unique offerings that would otherwise prove to be alluring to new clients. But, only some companies have the ability to develop unique custom features. There are several aspects to customisation, which can pertain to appearance or features.     
Before committing to a company, you must ascertain whether or not the company is willing to customise your application. There could be a range of reasons why you would want to customise a poker application. 
Customisation also covers re-designing an application that would otherwise prove negligible to a poker development company but is crucial to poker game users.  
Appealing UI & UX
It's understandable why you wouldn't want your Poker game to look exactly like everyone else's. The reason is that it tends to be overlooked and categorised as part of the 'crowd.' 
To stand out, you must make a physical impression straight away! This starts from the app's logo to the user interface and user experience. 
A customised poker game could include adding an extra feature that isn't already present in other poker game apps. Or it could mean a complete overhaul of design that would make the app look completely different from any other poker app on the market.  
Appropriate Technologies/Tech-Stack 
Techstack used for Poker game development is just as important as which company you decide to hire for your project. Failure to apply the right technology for the right section of the project is bound to bring your overall Poker game down with performance or security issues. 
This is why Artoon Solutions uses only the best tech stack to ensure that the resultant Poker game app never disappoints! Unity is the most widely used tech stack for any mobile game development. 
Mobile & Web Version Poker Game Techstack
Front-End – Unity, HTML 
Database – MongoDB
Back-End – Node.js 
Also Read: Top 10 Casino Game Development Companies in India
Certified and Recommended Poker Development Company 
Most companies feature a list of reputable brands that recommend them. Some platforms specialise in providing insights into the quality of poker software providers, here are a few examples:  

Clutch, GoodFirms, Google.
Dealing with a certified company does assure any client that the services provided will be worth it. Because such companies are recommended, and others aren't, they most certainly must be assuring their calibre of services.
Checking the certification and recommendations of a poker software development company helps to guard against fake or spam companies.      
Communication 
Communication is key to any successful business contract; without it, things are bound to go wrong. So, firstly, secure a means by which you can communicate with your development partner.   
To correctly and efficiently communicate your requirements to the developer, you need to speak the same language, and then again, there are a few issues to be aware of, such as time zone differences.
When dealing with a poker game development company overseas, timings may not align. This can prove to be problematic, and there would be a break in the communication link.   
Portfolio
You should avoid dealing with a company that has only made one poker app. Instead, choose a poker game development company that has developed multiple poker games. There's no better representation of a company's expertise than its portfolio. 
That's where the portfolio helps determine the skill level and the experience of the company based on the past projects the company has completed.  
Looking at the portfolio, you will be able to see what the company is really capable of. If the projects are live, you can also test out the functionality of the poker game.    
Agreement & Contract
Before signing an agreement or contract, read through and understand the full scope of the terms and conditions. Most importantly, the terms should be such that the both parties are treated fairly.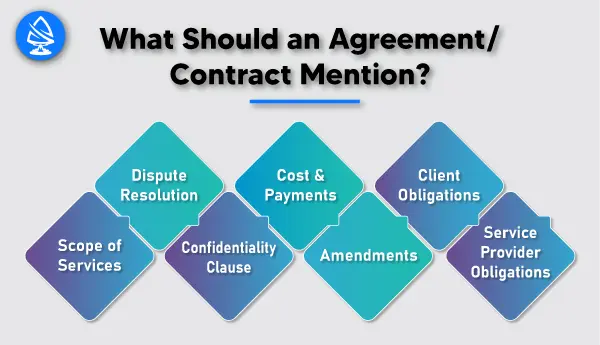 What Should an Agreement/Contract Mention?
Making sure these terms are all included in the contract is very important to say the least as it will govern your partnership with your poker app development company. 
Development Cycle / SDLC
The development methodology used by the company does tend to play a special part in dividing how well the Poker development company will be in delivering what you want.      
Agile methodology is a set of processes that are usually followed for the development of games and mobile applications. This methodology is devised to ensure that the project evolves and becomes flexible to whatever changes the client may want during the development phase. 
Taking a look at the company's development cycle is worthwhile to avoid surprises that may affect the outcome of your final poker game. 
Furthermore, if you are situated overseas, you will want to ensure that the company's process suits you to avoid problems regarding timings, communication, and process.    
Conclusion 
Poker software providers will ensure that your game is functional and appealing. But, a great deal of what your poker game will include, feature-wise is up to you. By observing other poker games on the market and carrying out market research about your target audience, you can identify what your final poker app needs to look and function like. 
As for finding the right poker software development company, there are several factors by which you will be able to identify the right partner. Factors on which you can judge a Poker Game Development Company are customisation options, UI, UX, technologies, recommendations, communication, portfolio, client feedback, development cycle, and cost. 
Looking for the best poker game development company in India? If so, you can Contact Artoon Solutions to get a poker game affordably developed and in accordance with your specific requirements.