Gaming is an enormous market but still has space to house the emerging concept of NFT game development which is giving rise to NFT mobile gaming that is based upon the concept of the non fungible token. Investors looking to claim their stakes in this market can do so with the help of a NFT game development company. To find out more, continue reading this blog.
What is Cryptocurrency?
Cryptocurrency is a virtual/digital currency that is relatively secure since it is based on cryptography. These currencies are often decentralized and are not managed or issued by governments.
What is an NFT?
An NFT or non fungible token is a digital asset whose ownership is depicted with a unique code. It means that only one person can own that digital asset at any one time. This asset can be almost anything, a painting, a song, or anything else digital.
NFT game development is not unheard of, with a host of games already using the technology to the fullest. These games are purely play-to-earn games that allow game users to earn real-world value rewards.
What is an NFT Game?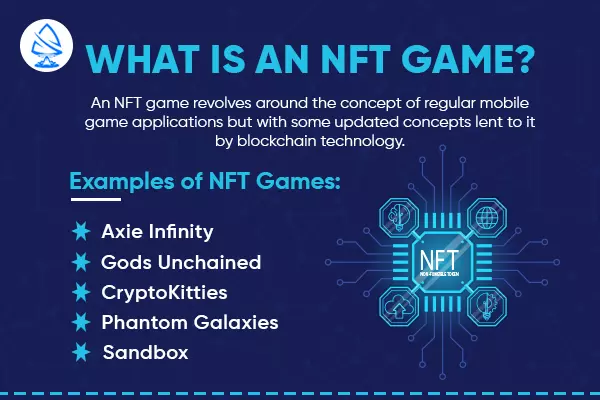 What are these new concepts, you may ask?
Previously, games would have predefined elements, and users would have little to no control of anything in the game. Mobile gaming app development with NFT would change this as users could alter the character appearances, sell digital assets, and solely own certain in-game assets.
Now gaming can be seen as less of a past-time and more of a means of making an investment.
How NFTs & Cryptos are Influencing Mobile Gaming App Development
NFTs and cryptocurrency are not rarely heard words. The expansive gaming industry is trying to find the link between them and introduce NFT mobile gaming apps and these two interesting prospects. But, it's not that simple as neither of these two technologies have peaked!
Still, the way NFTs and cryptocurrency influence the gaming industry is evident and backed by the increased demands for a NFT game development company. Here are a few of the ways that they are making an appearance in this sector.
1) Revenue Generation Models
Games offer in-game rewards, usually in an in-game currency, to players who put in the time and effort. These rewards are restricted to the game and cannot be used elsewhere!
However, it would be more meaningful if players could exchange these otherwise valueless currencies for something a bit more valuable. For example, a non fungible token.
Going forwards, gamers will be more open to this and the game's developers will have to make the change to stay in the market as it may just become a staple feature in the future.
2) Incentivizing Gameplay
Most games, regardless of genre, require an incentive for users to keep playing. Without this, the mobile game would drastically lose players as its appeal fades.
This is where NFT game development comes into use. The game can be developed such that users would play to earn rewards that can be related to NFTs, making it more appealing due to its value over in-game currency.
Since NFTs only allow a single owner at a time, there would be an incentive to own the object over other competitors. The effects of such a mechanism would probably increase engagement time as users would spend more time competing to be the first and only owner of the NFT.
3) Cryptos as Payment Option
Completely replacing in-game currencies with cryptocurrency is not a novel idea. In fact, developers of the Fortnite game are purportedly thinking about or in the process of developing their own cryptocurrency, "V- bucks." This currency will run along existing ones.
This is not unheard of or unimaginable, as common cryptocurrency mobile gaming participants already use cryptocurrency as the basic or only currency! Take a look at games like Axie Infinity which deals in non fungible token items. It uses cryptocurrencies, two to be exact!
4) Decentralized Environment
Until now, games are completely controlled by the corporations that develop them. But, this comes with risks of data being lost through server compromising or hacking. However, with decentralization, users have some control over possible outcomes.
The ideology behind game decentralization is to provide gamers with a higher level of ownership, flexibility, and control over the game.
5) Improves the Gaming Experience
As seen in the gaming space, new technology has rapidly caught fire. Evidence is in the sheer numbers of mobile gamers worldwide. This represents that there would likely be a large market for NFT mobile gaming were it to be implemented successfully.
Gaming Industry Statistics for 2021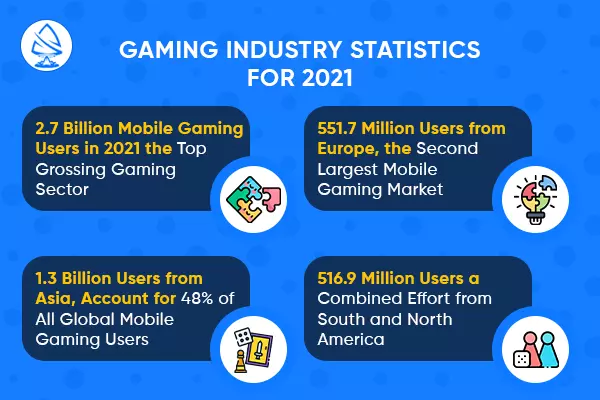 6) Game Branding
It hasn't been long, but many brands have already begun developing their own blockchain-based cryptocurrency. The reason is to get maximum engagement and revenue from such a move. NFT mobile gaming can assist in branding capabilities.
From now on, games can have their specific cryptocurrencies. The desired effect here would be for a certain game to be identified just upon mentioning the name of the cryptocurrency.
If NFT game development becomes a reality, we predict that almost every game will have a cryptocurrency specific to the game.
7) Handling Hacking Woes
Hacking is a problem no game is exempt from. In all scenarios, hacking proves to be an unfair activity that can reduce your player base. It especially affects players who put in the hours to reach a certain level.
Implementing ownership through a non fungible token would avert all chances of theft of in-game objects and purchasing fake objects. Currently most games are addressing the issue with little success, perhaps an NFT game development company can provide better success using this idea.
8) Tying Users to Assets
With the continued use of cryptocurrency in the gaming space, NFT mobile gaming could move to tie virtual assets to the individual game users. That's as opposed to tying them to the game itself.
This would revolutionize the gaming industry as players would no longer be heavily affected by the actions of the developers. Immense frustration is caused when users lose their game progress due to changes that developers make.
As a result, users would not fall victim to losing all their progress if certain changes were to be made. This would be an important shift seeing as so many game users invest money and time into climbing game ranks.
9) More Avatar Options
With the circulation of crypto currencies and NFTs which have real-life value, gaming corporations and developers also have incentive to provide more options to users who are willing to spend cryptocurrency. But, care needs to be taken to ensure the game does not only favoritize those users who are willing to spend on it.
Enhanced options exist in terms of characters and personalized avatars. The number of avatars available in most games has increased since the introduction of real-life currency. But it is only set to increase again with the help of the non fungible token and cryptocurrency.
Will NFTs and Cryptocurrency Improve the Gaming Industry?
This depends on how you look at NFT game development. The gaming industry is expansive and implementing it could be a boon if the 2.7 billion users (and growing) embrace its presence. At the same time, for this migration to be successful, adequate support must be given by blockchain technology.
NFT games have experienced success by incorporating cryptocurrency and NFTs into mobile game development, but it is undeniable that correct implementation is necessary! If not, it could be a risky gamble, especially for established games. But, choosing the right NFT game development company improves your chances of success.
If you are not at the stage of using such technologies yet, you can avail mobile game development services and develop an app for either iOS, Android, or both with the help of Artoon Solutions. Want a quote for mobile game development services you can trust?
Why wait, contact us now!