The mobile game industry had 3.9 billion users in 2021! Meanwhile, mobile game development consumer spending amassed $116 billion. This figure was $16 billion more than the previous year, a clear sign that mobile gaming revenue is only increasing, nowhere near its peak.
But for anyone that isn't into games, you may be oblivious to the massive investment opportunity it provides.
Why Invest in the Mobile Game Development Industry?
What makes investing in real-money games or any game, better than investing in commodities or company shares?
The sheer possibility of massive growth and opportunities that lay hidden but may surface in the future undoubtedly offer the chance of collecting massive returns. Here are a few other reasons to invest in mobile game development now and not miss out anymore!
1. Rapidly Expanding Gaming Industry
With a clear difference between the figures in 2020, 2021, and 2022, the gaming industry has not yet reached its peak!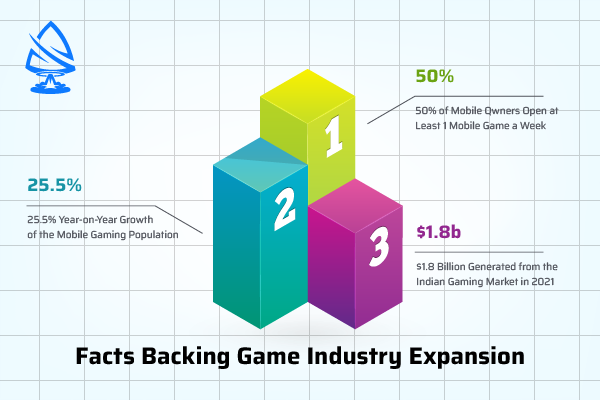 Facts Backing Game Industry Expansion
25.5% year-on-year growth of the mobile gaming population

50% of mobile owners open at least 1 mobile game a week

$1.8 Billion generated from the Indian gaming market in 2021
With more gaming titles launching daily, gamers are unlikely to quit now. This fact shows that investors of new games have an equal shot at making an impact, albeit in this massive arena of mobile games.
You can reap the benefits of a growing game community with the right game development support and maintenance. You won't have to rely on a local audience as you can appeal to a global community.
2. Multiple Revenue Generation Methods
Mobile apps have several methods of generating funds. These apps do not generate money by just being downloaded or played. Here's various game app monetization methods to help you earn through your game:
In-game purchases
The in-game purchase concept enables users to purchase items inside the game with real money that would enable them to progress faster.
Consumables
These virtual items can offer users a more desirable position in the game. Game consumables could be extra lives, hints, or access to premium in-game content

Non-consumables
A non-consumable premium feature is usually permanent, unlike a consumable. Examples could be the removal of ads, access to new levels, or special game modes.
Paid app version
If you have had much success with a free-to-play app, you may consider releasing a paid partner app. Of course, one that has more features to justify the price.
Subscriptions
Apart from offering free subscriptions, you can also offer paid subscriptions with a special game mode or tournament to your game's users. But be mindful of your pricing!
Advertising
Used by almost every mobile app owner, game or otherwise. It provides a steady stream of income which can be beneficial throughout your app's time on the store.
3. Mobile Device Improvements
Did you know that most current devices, such as the iPhone 13 and Samsung Galaxy S22 series, are more powerful than the PS4?
The improvement of mobile devices through the years has expedited the shifting of gaming from gaming consoles to mobiles and tablets.
With innovative mobile technology launching ever so often, now is the best time to launch yourself into the game development industry. Mobile gaming has created waves worldwide and is not going away anytime soon!
4. User Earning Opportunity, Gives You Earning Opportunity
A class of games provides a unique earning possibility to users. They are called real-money games and can be more alluring to anyone hoping to make a bit of spare money or more from something as simple as displaying their skills in a game.
Someone with a lot of experience in playing these skill-based or luck-based games may have more success. But, that's not always true, giving everyone a fair chance at cracking the code. You can own a game like this and choose to launch it on the Google Play Store, iOS App Store, or even both to maximize your earnings!
5. Shifted Definition of 'Gaming'
The word 'Gaming' no longer implies action games involving shooting or role-playing. It can include puzzle, arcade, or racing games. No hard and fast rule restricts your imagination of a game idea.
Also, board games have been converted into mobile apps that can be played on the spot, with friends or family wherever they are. Gaming as a need to communicate and virtually interact with friends and family has led to a new role for this industry.
6. Breaking of Barriers
The core members of the gaming business and gamer community cannot be assumed to be male anymore! In fact, the ratio shows an almost equal ratio. Although male and female gamer numbers may synchronize, games targeting female gamers are underwhelming!
Naturally, creating a game that appeals to all groups stands the chance of the highest success. Gaming statistics for 2022 shows user age, spending, geographic location, personal preferences, and more.
Gender Ratio of Gamers in the USA
The gender ratio between male and female gamers is closer than you thought in the USA.
Female- 48%
Male- 52%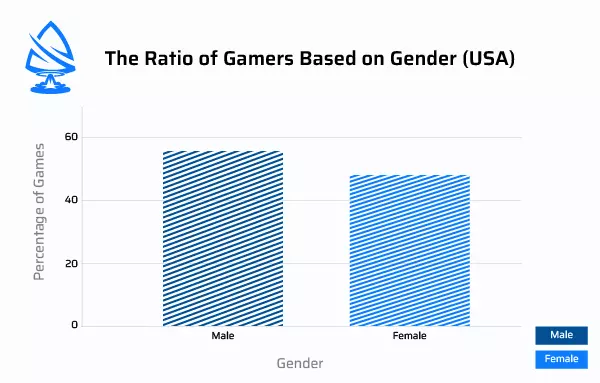 Through market research and analysis, you will find a way to navigate and utilize this to your advantage.
7. If You Have Invested in AR and VR, Investing in Gaming is a Must!
AR and VR are two technologies with applications in the gaming industry. They are both vital in providing users with a better user experience.
They play a role in creating realistic imagery and landscapes, which users have come to expect from playing highly immersive and graphical games. Anyone who has invested in AR and VR should also invest in the gaming industry.
The reason is that they are connected, and these two technologies can greatly aid game development.
8. Growth Opportunities/Branching Out
The gaming industry can branch out into different but related fields. The most common one is hardware which can be used alongside mobiles while playing games.
With the increased adoption of games comes a higher demand for gaming accessories. These accessories range from mobile cooling devices to headphones/earphones and controllers.
It is a vague possibility but one that still exists! You could start producing a line of gaming accessories that appeal to all gamers. This would be an excellent accompaniment if your gaming business were to do extremely well!
Conclusion
There's no doubt that the gaming business is an alluring one! Everyone loves to play games, and it is hard to stop playing once they start. But much of this depends on developing an engaging game for the masses.
For this to happen, you need an experienced game development company to help you over the line. If you are interested in skill-based game development as well as other games, you can find your match with Artoon Solutions.
Also Read