Despite being far behind Android in market share, iOS surpasses its competitor by a mountain in terms of revenue generation! Hiring the right iOS app development company can allow you to have the best iOS app you need to improve your business. 
If you want your business to benefit in more ways than one from an iOS app, you also stand a chance of generating higher revenue if you choose to monetize your application. Apart from this, iOS apps may take less time to develop, and as a result, they can also cost less!   

What are the advantages of developing an iOS app over an Android app for your business?  
Hiring an iOS app development company to develop an iOS app rather than choosing an Android app comes with several advantages:
Easy to manage an iOS app 

Greater app revenue due to a greater inclination toward paying for apps and subscriptions 

Higher reach (especially if targeting developed countries or specific niche clients who use iPhone/iPad devices)  

A better chance to reach your ideal target audience globally 

Lower costs due to less fragmentation and less testing 

Shorter iOS app development timeline, which can lower costs  
All in all, there are monetary and non-monetary benefits to iOS app development. 
Also Read: A Complete Guide To Get Started With iOS App Development
10 Benefits of iOS App Development For Your Business
Your intention to launch a mobile app for your business is a good one. But do note that this app could very well affect the reputation of your business. A wildly successful iOS app could pave the way for an Android app that becomes an instant hit!  
1. Convenience
Imaging quickly needing to pay a bill. What would be the fastest way to pay it? If it comes down to a mobile app or a website, it's obvious which one gets precedence. Taking out your mobile is much easier as not everyone can access a personal computer or tablet. 
Also, accessing a website from a mobile device is not the best experience you can provide for your business! Plus, there are chances of faulty payments and other such difficulties. Either way, customizing the experience for your user's particular device is an Apple device in this instance. 
2. Visually Appealing
The iOS mobile platform is known for being simple, straightforward, and highly customized according to the layout and buttons of Apple devices. 
Every iOS application development company develops an application based on the specifics of an iOS device. They carefully research how to make the best of their development skills and merge them seamlessly with the pinpointed requisites of the client.  
3. Greater Exposure
The iOS mobile platform is prevalent throughout the world! Developing an iOS app would likely offer your app and business much global exposure.   
Your business's mobile app will be more accessible than a website! More people have mobile devices than they do laptops or PCs, the device that a website specially caters towards. 
An iOS app, on the other hand, requires expert iOS app development services to ensure it perfectly suits iPhone devices to which the iOS platform caters. 
Also Read: Points Guiding Which iOS App Development Company to Hire
4. Targeting Special Niche/Location
iOS app development comes in great use when you are targeting a specific group of individuals or a location. An apt example is businesses targeting the USA, where the dominant mobile company and operating systems are iPhone and iOS. 
Another case is if you want to target the younger generation or more affluent individuals who are brand-centric.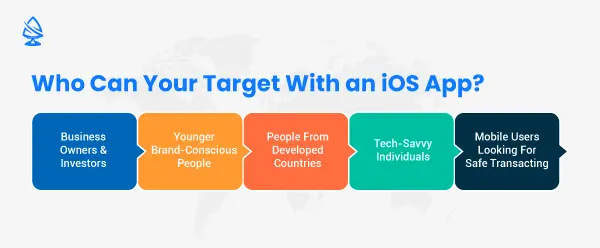 In such circumstances, going ahead with iOS app development is best. Proceeding with other mobile platforms won't help you reach your business goals. 
5. Higher Security
iPhone devices and the iOS platform have always been a safe and secure ecosystem. Some preventive measures ensure that malware and viruses do not get a chance to affect this platform.
The closed system of iPhones also helps to ensure that your iOS app has limited chances of being infected by such problems. Not to mention that the Apple app store maintains a strict level of security, and the bar is set relatively high.
6. More Appealing Designs
The iOS mobile operating system bears a uniquely different appearance compared to Android and iOS app development or even Windows platforms. Thus, the designs of mobile apps are unique and highly appealing to look at and use!
That said, people with an iPhone would instead use your app than check out your company website. IOS apps are highly appealing, and clients can keep returning due to this appealing factor! 
The key is providing an appealing UI but not losing sight of functionality.   
7. Higher Paying Community  
If there is one particular aspect where iOS pips Android, it's for their paying power! Apple device owners are more willing to pay for an app than Android users. Android device users are not as prone to paying for apps as Apple users because Android itself stems from an open-source nature.
Although Android holds 75% of the global mobile platform market, the iOS app store has higher revenue generation than Android.
According to Sensor Tower, during 2021, in the USA alone, the iOS app store generated $6 billion, while Android generated $2.5 billion! 
This stark contrast persists in the global figures. The statistics are $13.5 billion and $4.8 billion for global revenue generation of iOS and Android. 
Also Read: Why You Should Hire a Top iOS App Development Company
8. Less Fragmentation Necessary
When it comes to testing, an iOS app development company has its work cut out for itself. Unlike Android, only a single company uses the platform, meaning fewer devices use the platform. Thus, there are fewer devices to test your mobile app against. 
This is a blessing, as more devices mean more testing and, eventually, a longer iOS application development period. This lengthy process could be concerning for businesses who are looking to develop their application within a strict deadline. 
The lower fragmentation testing load also means that the iOS application development company you choose can test all the devices, and create an iOS application that perfectly suits the full spectrum of devices, without chances of a bug sneaking through!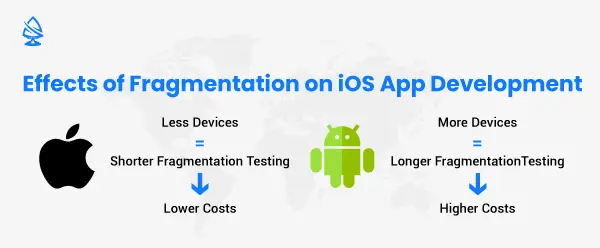 9. Competitive Pricing
Most people state that iOS app development is much more complicated or expensive than Android app development. This is not always the case; some even say there is a negligible difference in their pricing. 
As for the complexity factor, iOS app development requires less time and less coding, making it less complex and faster to complete. Managing an iOS app is also easier.   
iOS application development makes use of Swift, while Android uses Java or Kotlin. 
10. Safer for Transacting
Even before the advent of the Apple pay system, there has consistently been a safe and secure environment for transacting. Apple has made increasing efforts to ensure there are no chances of phishing and hacking of any sort. 
The entire platform is well enforced with encryption that guarantees that the user is not in danger, nor is their sensitive data. This makes making an iOS app for your business even more appealing. 
Over the years iOS has received accolades from users as being an extremely safe platform to transact over. It features a very different ios app development process compared to Android devices and apps. 

Conclusion
If you have been unsure about what mobile platform to use to develop an app for your business, know that choosing iOS is a wise decision that has many advantages. This is especially true if your prime clients are all Apple device users or live in a developed country where iOS is highly prevalent!  
If you want your app developed excellently, you should take a look at Artoon Solutions Pvt. Ltd. Having 14+ years of experience, we are well equipped to develop any project regardless of your exact requirements in iOS app development or Android app development. 
Also Read: iOS App Development to Dominate Mobile Consumer Market
FAQs
How much does it cost to develop an iOS app?
The exact cost of an iOS app cannot be given out without first looking at the project's requirements. Only then can a time estimate and a cost estimation be drawn out. This is because each project is different, and differing app designs take varying amounts of time to develop.   
How long does iOS app development take?
Again, no promises can be kept regarding iOS app development timing. It solely depends on how complex your project is. The more complicated it is (design and functionality-wise), the more likely it is to take longer. But, other specific factors may also lead to the fluctuation of delivery deadlines.