The demand for mobile apps is increasing with time. Mobile applications are amongst the best ways for organizations to keep in touch with their clients and run businesses progressively. With the mobile app user rate increasing, almost every organization wants to put their hands on this new mobile application development trend. 
What to consider while hiring: Freelancers vs Companies
Before we compare freelancers and app development companies, let's first look at what you should consider while hiring app developers or app development companies. 
Check the area of specialization & work experience
Be it a freelancer or an app development company; this is a necessary step to follow. You must check their past working experience, like whether they have worked with more prominent brands/clients or not. 
Secondly, you need to check the field of work they are exceptional at. For example, suppose a company has an excellent android app development record and lacks iOS app development. In this case, if you choose the Company for iOS, the result can be disastrous. So check the area of specialization, and work experience and choose wisely. 

Check Portfolio & Client Feedback/Testimonials
It is another crucial point that needs to be made while hiring app developers or development companies. A portfolio is a collection of a company's completed projects. Prospective clients will use this to indicate the Company's service list and their experience and caliber. Portfolios also help establish the strong suits and weaknesses of a development company. 
The client's feedback indicates the capabilities of services the Company or freelancer can deliver. Testimonials are provided by clientele who were impressed with the Company's services. In contrast, feedback will mention what was done well or poorly. 
Read More: Questions That Help Choose a Mobile App Development Company
Post-Development Services
When an application is developed, that is not where the task is complete. The mobile application requires continuous development by keeping an eye on the latest trends for users. So the post-development services offered by the company/freelancer also become essential when hiring freelancers or app development companies. 
Generally, app development companies become more reliable for post-development services than looking for a freelancer. A company would have enough resources to manage and redesign the app in various ways. It includes code maintenance, addressing bugs & errors, and upgrading the app to the latest features. 
Factors Associated with Freelancers vs App Development Companies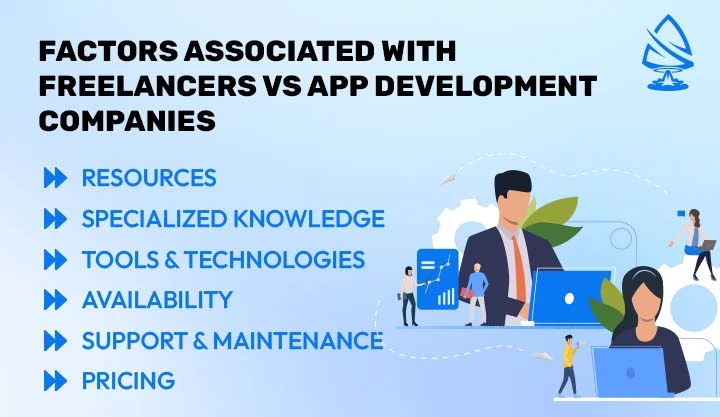 Resources
It won't be fair enough to say freelancers have more resources than app development companies. Yes, app development companies have better resources. The company infrastructure and budget mean they will have a larger team with experience in various fields (such as development, design, or testing) and development platforms. Professionals would also use various tools and are more likely to offer a comprehensive service.
Freelancers may not be the best choice for large-scale and complex projects. They come with fewer resources and will, therefore, also move at a slower pace. Also, they tend to specialize in specific development tools and software. 
Specialized Knowledge
An application development company has only one focus: to develop an excellent mobile application. Therefore they possess the specialized knowledge required for developing a mobile application.
As a freelancer working on several projects handling both front-end and back-end simultaneously, specialized knowledge in both areas is impossible.
Tools & Technologies
As we've mentioned, app development companies can offer more comprehensive services and, therefore, have access to a vast array of tools and technologies and a team with experience in diverse fields. They also tend to use more efficient project-management tools to ensure everything goes over smoothly. It means they can adapt to a variety of different projects and whatever your needs may be.
When we look at freelancers, they are usually specialized in specific tools and technologies. It may be a positive thing depending on your project, but it is something to keep in mind when deciding on one over the other.
Read More: How Long Does It Take to Develop a Mobile App?
Availability
It is a noteworthy territory where Mobile application development Company varies from freelancers.
When you hire a Mobile app development company to deal with the development of your applications, you are not hiring an individual; you are employing the Company. But in the case of a Company, if one developer falls sick, the project will be transferred to another developer. Therefore, hiring an app development company will ensure the deadlines are met on time.
When a freelancer is hired for mobile app development and if he falls sick, then development gets stopped, so projects get delayed. 
Support & Maintenance
Nowadays, companies offer long-term cooperation and, therefore, they are more likely to offer support and maintenance for your project, even as part of the app development package. An app development team will always be able to include a team member to work on updates or bug fixes for your app.
Freelancers also offer these services, but they may have time restrictions on their availability and usually offer this service as an extra. 
Pricing
Hiring a freelancer is more of a budget-saving approach and less expensive compared to hiring an app development company. However, freelancers are usually less experienced and not as proficient in certain areas, so the more considerable investment may be worth it in the long term. 
Read More: How Much Does it Cost to Build a Mobile Application in India?
Also, you need to keep in mind that the cost of your project will depend on the size of the company and the services you hire, so it's necessary to do your research before deciding on either of these options.

Wrapping Up! 
Putting an end to a lot of discussion on freelancers vs application development companies is not easy. There are other areas where a freelancer might be the best choice. As per the points mentioned above, it seems app development companies have a more considerable edge over freelancers. 
Suppose you are working on a large and complex project with the possibility of scaling it up over time and want app developers as a team that can quickly adapt to your needs. In that case, app development companies are the best fit. However, a freelancer might be an intelligent choice if you have a smaller-scale project with a precise idea and a smaller budget. 
So, are you planning to develop a mobile app for your business? 
Let's get in touch and discuss more mobile app development.