Services and Areas of Specialization
When looking for effective mobile app development services, your number one concern will be finding a company that delivers to your specific business needs. In most cases, this means customizable development services.
I doubt you want to be another copycat on the market! But, developing a unique application may be a brave move that could very well pay off! Look at all the high-earning apps on the market today. Their similarity is that they were all once new and considered odd.
Do not sell yourself short with a company that cannot deliver to your expectations! You are better off with a company with all areas of expertise covered.
Portfolio – Seeing is Believing!
A portfolio is a collection of a company's completed projects. Prospective clients will use this as an indication of the company's service list as well as their experience and caliber.
Portfolios also help establish the strong suits and weaknesses of a development company.
Although this collection of completed projects can show a company's range, it may not display its full potential. However, every business knows the importance of a portfolio, and hence they are likely to display their popular and high-profile projects.
Client's Feedback / Testimonials
Want an honest opinion of a company's capabilities? The best way is to speak to prior clients.
Testimonials are provided by clientele who were impressed with the company's services. While feedback will mention what was done well or poorly!
Technologies and Development Process
Already know the service you want but just looking for a particular technology or work process? Different companies opt for other processes. So, as a client, you should pick one with a convenient working mechanism.
The development process of a company speaks mountains about its success rate and ability to meet deadlines. Poorly devised strategies are bound to lead to underwhelming output, this is unacceptable in the ever-evolved world of mobile applications.
Also, try to see what technologies a company offers to avoid time wastage. You are better off availing services from a specialized iOS app development company if iOS development is all you want.
But, if you think that you'll need another technology, it's best to go with a company having a larger base of specializations.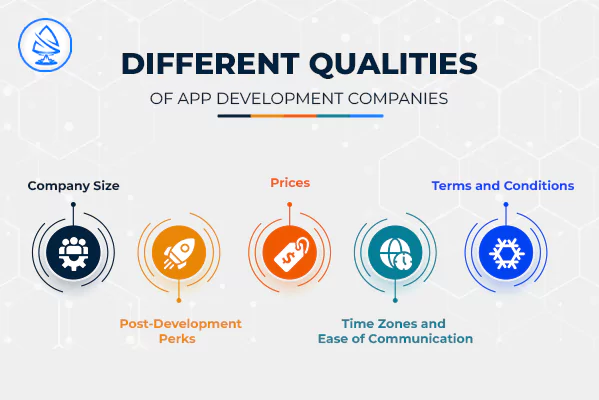 Company Size
Company size matters, as it is usually an indication of the magnitude of experience and education a company holds.
But, company size also indicates the ability of the company to concurrently develop several applications simultaneously. That is, without compromising on quality!
Company size is very important when choosing a mobile app development company to hire. Larger enterprises usually outperform their smaller competitors through improved output and quality.
Post-Development Perks
A mobile application is not a developed and done software. Post-development, there is still work to be done. Before signing any papers, inquire how much of this your development is willing to do.
These are areas that need work after an app has been fully developed:
Code maintenance
Addressing bugs and errors
Upgradation of features
Failure to address these post-development issues can lead to complications due to a lack of communication.
Why would you want your development partner to do this work?
While the extra costs may not prove problematic, the level of expertise of another developer may not be up to the mark. Also, it may take the new development company longer to get up to speed with your developed app! Plus, there is always the chance they may mess it up!
Prices
Price does matter! If it is high, it should be well worth it, right?
Prior to choosing a partner, cover all your bases. Explore the prices for the following project types:
Hourly projects
Fixed price projects
Short / Long term projects
Dedicated resources
Every client's project differs and so will their development resource requirements.
Time Zones and Ease of Communication
What if the development company you have hired is situated on the other side of the globe? We know one thing for sure, it should not restrict or inconvenience communication.
Regardless of the time zone difference, there should be direct ease of communication between clients and development teams. If not, there is a high likelihood that the project will not meet the client's expectations.
Terms and Conditions
The terms and conditions should be a physical agreement on what the company is willing to deliver. Usually, app development will not commence until this is drawn up and agreed upon by both parties.
This includes the following points:
Work Quality

This applies to the service the company will be providing and according to the direct requirements of the client.

Perfection

Will the development partner be willing to make changes to fulfill their work quality agreement? If not at what cost will they be willing to make the desired adjustments?

Post Delivery Services

Upon mobile app development completion, ask if the company will offer any post-delivery services like support and maintenance of the app.
All these conditions should be presented on paper.
Questions to Ask Yourself Before You Choose A Mobile App Development Company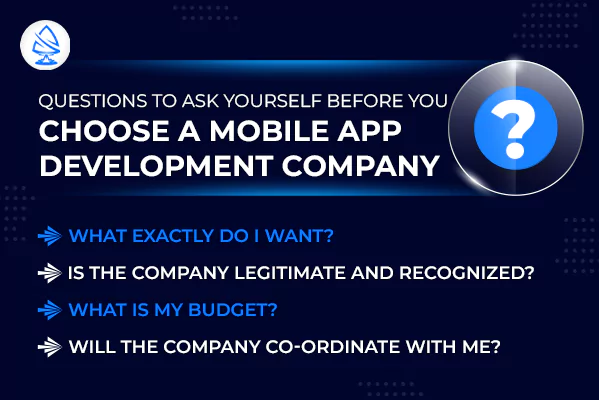 Not all the work is to be done by your services provider. Here are some mobile app development tips regarding what questions to ask before availing services from a company.
What Exactly Do I Want?
Nothing is more confusing and frustrating than not knowing what you want! Not having a clear concept often leads to a wastage of time and money as the app is not what you have envisioned.
Avert this problem by establishing a clear and concise definition of your app's appearance and functionality. Mobile apps with a defined concept are easier to develop and more likely to succeed; follow these pointers to help you best express them.
Niche- games, health apps, entertainment apps, productivity apps, social media apps, others.
Target audience- children, teenagers, adults, and senior citizens.
Availability- iOS, Android, both.
Paid/Free
Is the Company Legitimate and Recognized?
You would hate to fall victim to a fraudulent company! Luckily, some background checks can confirm a company's legitimacy.
Software development platforms such as Clutch, GitLab, GitHub, Dribble, and Behance are a few examples of where a company's work can be found.
Also, some companies have received awards and recognition, and this is proof of their existence and level of expertise.
What is My Budget?
Going over budget will not be ideal if you need that money elsewhere in your business. Prior to developing your app, inquire about quotes so you can budget accordingly.
Proceeding with your plans without any knowledge about costs could be shocking and expensive. Get a number and stick to it. Also, inform your development partner that you will not pay anything beyond this figure.
Will the Company Co-ordinate With Me?
If you are hiring an outsourcing company, it may be vital to check up on the development team at regular intervals. The reason is it helps to resolve new issues and to make sure development is going according to plan.
Ready to Develop a Mobile Application?
Deciding to develop a mobile application is an investment rife with the possibility of developing millions of dollars. But before this, you must know how to choose a mobile app development company that will breathe life into your vision.
With global mobile app users willing to spend more money on apps, the market is continuously growing and is not set to stop anytime soon!
If you are looking for a mobile app development company that provides affordable mobile app development services customized to your requirements, try Artoon Solutions Pvt. Ltd. With 14 years of experience and your idea at heart, you will not be disappointed!
To make your dream mobile app a reality, contact us now!
Related Posts: