Mobile app development is an ever-changing niche in the technology world. Especially since new mobile devices are launched every so often, and new technology arrives so regularly. Also, users' increasing demands drive change in the app development world. Because of this, Android app development or iOS app development has to change as well constantly.
To stay ahead, you need mobile app development services that can predetermine the changes in the market. Doing this will help ensure your project will have a longer life in a market that constantly includes new technologies. 
#1- Voice Technology
With the presence of speech recognition and AI bots like Siri and Alexa, people are moving away from typing. Why type when you can simply speak it? Voice recognition technology will be a huge game changer if it makes its way to day-to-day apps. 
Imagine being able to execute a task without having to type in a single alphabet. This would be an instant success and one that other app owners would quickly follow. It would automatically let users perform tasks on their mobiles just by speaking!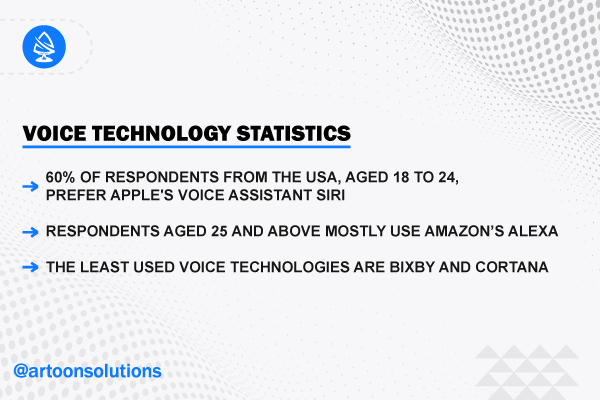 #2- Multi Capability Apps
Users find it highly repetitive and boring having to access ten different apps to perform ten tasks. Each one takes its own set of time. Why not hire mobile application development that provides an app that offers multiple capabilities? You are better off providing a few capabilities within a single application.
Imagine an application that would let you check out a location (hotel or restaurant), its pictures, and chat with a friend while sharing your findings. These apps are known as "Super Apps" and demand for them is on the rise.  
#3- mCommerce Applications
We've all heard about eCommerce, but have you heard of mCommerce? mCommerce or mobile commerce is a stream of eCommerce that occurs exclusively through mobile devices. Making a commerce app more customized to the device being used will offer more convenience to the user. 
People spend most of their screen time on their mobile devices. So, it makes sense that they are more compelled to purchase products through their mobile. Creating an app that makes browsing through catalogs easier is enough to convince your users and win them over!
#4- Integrated Payment Options
Carrying cash is now a dated activity! Nobody would willingly carry some money knowing that there is an alternative. Mobile wallets are now making their way to devices, and even mobile device makers are creating their own versions of payment wallets. 
This makes creating a payment wallet an inviting idea for a prospective app investor. Mobile wallets still haven't reached their peak, and developing one now can give you a good grip on the market. Take a look at the likes of PayPal, ApplePay, and GooglePay and how far they have come. 
  #5- All-Round Security
Security has been an essential part of modern development for the past few years. Any mobile app development agency will tell you its importance. Before creating an app for your users, endure that you can deliver upon your promise to keep them safe as well as their data.  
Security is uncompromisable and should not be treated as a by-the-way. Instead, it should take center stage. Your users are your most valuable asset and so keeping them happy and satisfied with your app's safety is vital for future success.

#6- Mobile Learning Apps
Mobile learning apps came about during the pandemic, and this was what powered most learning from home efforts. But, given their benefits and convenience, they won't be going away just yet.
Many other existing platforms have launched a separate or integrated learning platform for users to learn. Examples are LinkedIn Learning, LearnPress from WordPress, and many more.
#7- All the Realities (AR, VR, XR)
There was a time AR and VR were all the rage. Well, they are not off the scene completely, and a new reality in the form of extended reality (XR) has arrived. This one really can improve your app and its capabilities.
So how exactly can these technologies help a company? AR and VR allow you to try on clothing or a pair of glasses virtually. They can even show how a piece of furniture will look in a particular space in your house.
#8- Wearable Software Integration
The wearable market has increased steadily ever since the first wearables were introduced. Thai clearly shows that there is a growing demand for wearables, maybe not for their look as a fashionable accessory but also for their function in maintaining health.
Now several wearables are available on the market, and not enough mobile applications cater to their requirements. Wearable devices are also improving with time, which is a reason for wearable-based apps to enhance their applications by including better capabilities and functionality.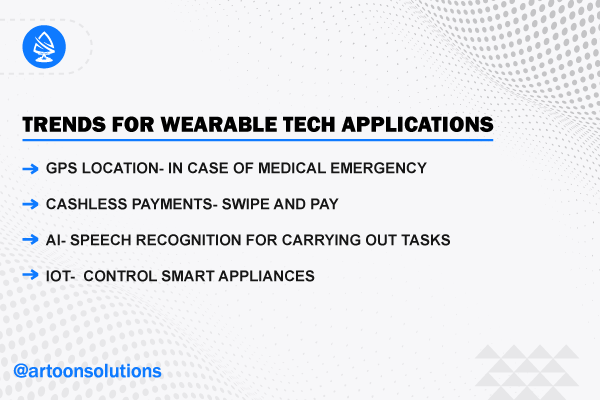 #9- 5G
When it arrived, 4G created a massive shift in the mobile app development world, 5G is bound to do the same. The ability to transfer large amounts of data to and from servers will drastically change how your app communicates with servers and users. 
If utilized correctly, you can offer your users more functionality with your 5G-ready application. 5G will significantly improve an app's capabilities. There will only be a few apps already geared up for the 5G wave, and you can get mobile app development to prepare your app for 5G. 
Given the massive potential for 5G, every mobile app development company will be looking to capitalize on the upcoming network. 
#10- IoT (Internet of Things)
The internet of things is another area where technology and mobile application development converge. The internet of things is a modern progression of technology. It involves devices that are embedded with sensors.    
These sensors can collect data and take commands from it. This would make it possible to make your app an in-between the device and the data it collects. This concept may seem unheard of, but it plays a crucial role in smart homes.   
That is controlling household appliances, lights, and alarms through a single mobile application.

Conclusion
If you are looking for a mobile app development company that can deliver stellar mobile applications, Artoon Solutions can provide them to you. Whether you require iOS app development or Android app development, we can provide both of these services.  
Our 14+ years of experience speaks for itself, and you will find we have garnered more than enough working experience to be able to cater to your requirements.
Related Posts: