The card game UNO has been played since the late 90s, and even in 2022, this game is not short of followers. With UNO Game Development, you can cater to people looking for a UNO mobile game to pass the time. But, as an investor, you may be looking to get insights into how much a UNO game costs to develop. 
UNO Game Development Cost
UNO game development cost starts at $20,000 for the basic version, and the cost will increase with more requirements and features.   
Additionally, the development of an MVP first before a fully-fledged game will affect the stages of when to pay but not the final cost if you are to develop both versions. 
Uno Card Game
The Uno card game originated in 1971 in Ohio, where people would play it with a physical deck of cards. Later the game changed hands, and in 1992 the Mattel brand took ownership of the UNO game. The UNO game is unique since it is both a skill-based and luck-based game in which outcomes can change with just one card.  
But, this card game only became an official mobile app game in 2018. Before this, Crazy 8 served as the only game like UNO. Interestingly enough, UNO can be offered as a standalone app or integrated into a multigaming platform along with other favorite card games. 
"The original UNO game from Mattel163 Limited is #1 in card games on the Apple App Store and has a 4.7-star rating."
Game Overview 
The objective of the UNO card game is to get rid of all your cards the fastest! However, there will be bumps along the way courtesy of actionable cards, which make the game fun! 
Typically, a full UNO card deck contains 108 cards. 
76 Number cards, 

24 Action cards and 

8 Wild cards.
There are 4 color "suites" comprising four colors: red, yellow, green, and blue. 
Numbers 0 to 9 are available in each suite.
There are also five types of actionable cards for each color suite.
Action Cards
0 – Swap your deck 
7 – Rotate cards in the direction of play. 
Skip – next player skips a turn
Reverse – reverses play direction
Draw +2 – next player picks up two cards
Wild Draw +4 – next player picks up four cards and misses a turn. While the player chooses the next color for play. 
Wild Card – the player gets to pick the next color for play.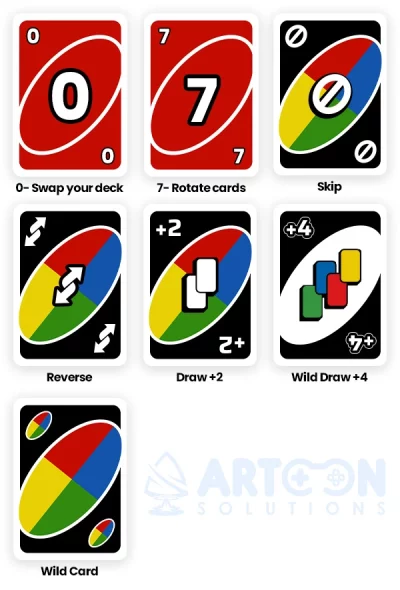 A few rules are:
Play continues according to color until it is changed (with a wild draw four or wild card.)

Players must play a card matching the discard pile's color, symbol, or number. 

A +2 can be stacked on a +2, while a +4 can be stacked on a +4. 

When a playable card is unavailable, players will pick up a card and play it immediately if possible. 

Players must say "UNO" after playing their penultimate card. If challenged by someone else, the player will have to pick up (+2) cards as a penalty. 
So, now comes the interesting part. What are the UNO game development costs and the requirements contributing to the final cost? 
Process
The part that matters most is the process adopted by the development company. An efficient development mechanism results in effective and smooth operations that benefit clients and the development company. 
It allows you, the client, to know how your UNO game development will progress as time advances. Ultimately, adopting an agile development process will work in everyone's best interests. 
If you want to be kept in the loop at every step of the development process, it may take a bit longer, but you get the guarantee that everything is moving along to your plan! 
Technologies
The technologies applied during UNO game development will have immense influence over the final app's gameplay, navigation, and user interface. There are a range of technologies available on the market; however, not all of them are best for your app, even if they are the latest ones. 
Choose according to your needs. But even if you are unable to decide, a card game development company would easily be able to advise you based on their real-world experience. Having developed several card games, your development partner will know what works and doesn't! 
UNO game development cost may increase according to which technology is selected, skill level, and the number of skilled individuals required. 
Also Read: Rummy Game Development Cost
Designing 
There are several UNO mobile app games on the market already. But, you know what will set you apart from them? Designing. The appearance of the card deck can influence your popularity amongst your competitors. 
All you have to do is stick to the game's original strategy; beyond that, you are free to change designs and gameplay appearances. 
While a more complex design may incur a higher cost, it also offers higher chances of meeting the likes of a wider audience!  
Development
The development phase entails all the coding and construction of the parts that make a game work. This includes everything from levels, design, and set rules.
For obvious reasons, the development phase takes the longest! It also involves the most resources as it's an "all hands on deck" phase. 
You can request any special additions during development by communicating them to the respective developer. Accordingly, the developer will make the modifications as per request. 

Prototyping- Importance of MVP Development
Suppose you have been conceptualizing your UNO game for months or possibly even years. Is developing a functional game and launching it onto the market enough? Frankly, it's not! The public must love your game if you want it to be successful.
Such an instance is where having a Minimal Viable Product (MVP) or prototype is essential. You can call it a type of market research or survey by which you can understand your target audience better. All the while having enough time to create changes in your app accordingly. 
Now imagine not launching an MVP UNO game. You would essentially launch an app and hope that people love it without listening to their preferences. If they dislike the game, the money spent during UNO game development might as well be a waste! 
Also Read: Cost Factor Of Poker Game Development
Testing
Post-development, your UNO game needs testing. How else would you know that the final game is working and of the caliber you and prospective users expect? 
During this time, the game may be available to a small pool of people. This group's role is to use the app, play the game and provide feedback. They may also be responsible for identifying loopholes or errors created by coding and design failures.  
This gives the development partner another opportunity to ensure that the app is fully functional and bug-free at the time of launch. 
Deployment
The final phase is deployment or, more simply, launch. You have made an app, and it will be launched based on the platform you have developed it for. This could be Android, iOS, or Cross-platform. Many entrepreneurs choose to try the market out by just developing for one platform. 
A second app for the other platform can be developed if your first app is wildly successful. However, cross-platform apps are cost-efficient in the long run but more expensive to develop. 
Marketing
Most developers tend to market their apps much in advance by having a launch event. This works well for marketing your new app. Also, having a limited-time special on your app at launch may tempt people to try your app. 
Marketing is an essential activity that no product or service can do without. It spreads awareness about your product as no one will download an app they don't know about.
Marketing is not necessarily involved in UNO game development, and it could be an additional cost. 
Support & Maintenance
Technology gets outdated too, and your app will need constant updates to overcome development flaws. App support and maintenance will be crucial as bugs and errors will easily lead to a decline in your app's users. 
Employing these two services won't just keep your app working; it also keeps users happy as they know the app is being maintained. 
That's enough about the cost of developing UNO game apps. What about the ways to earn money from your newly developed app? Is it even possible to profit from such an app? 
Is a UNO Game Profitable?
UNO happens to be, if not the most popular card game. Naturally, there is a massive market of followers. Hence, a great audience and even greater chance to become very profitable. 
Plus, it's obvious that your target audience will consist of more than just kids and teenagers.
"Uno is currently the second most popular card game, with 100 Million downloads on the Google Play Store alone."
So, considering this stat, your audience consists of people from all age groups with the game launching only in 2018. 
How to Monetize a UNO Mobile Game
It's no secret that apps must earn money, even free apps. The way they do so is quite obvious, actually. 
In-app purchases
Most games, regardless of type, revolve around an in-game currency. This currency usually offers players a chance to get ahead by availing special features. 
A pack is usually a collection of special boosts and features. It's not unheard of to offer starter packs or other packs on special occasions. 
These in-app purchases can range anywhere from $0.99 to $99.99 and users can choose to buy any pack they want. 

Advertisements
Including adverts in your app may come off as annoying to users but is a great way to monetize your UNO game. You can choose from a range of advertisement setups to make the ad less intrusive.
Also, the successful addition of rewarded ads offers users a reward upon watching an ad. Thus, appeasing both parties, the app owner and the app users. 
Being the owner and inspiration behind an extremely successful card game is a reality everyone wouldn't mind. However, it takes time and an exceptional vision to achieve this. A great deal of realizing this dream comes from partnering with the best card game development company. 
When partnering with Artoon Solutions Pvt Ltd, you can invest knowing that the result you wish to achieve is obtainable that to, within the desired deadline. Get all the details you need about UNO game development, contact us. 
FAQs
Can I make my own UNO game? 
Yes, you can make your own UNO game and make it somewhat customized by choosing to display different images on the cards. You can also choose to make some other personalized features to your mobile app. 
How much will it cost to develop a card game like UNO?
The final cost could vary greatly depending on the final requirements, but you can consider it to be in the range of $40,000 to $80,000 and possibly above if the game has greater complexity. 
Will the development team keep me updated at every step of the project?
If you wish to be kept up to date with the progress of your project, we can make it possible to keep you informed every step of the way. This way you will know the direction in which your app is going.