Rummy games are ever so popular in India, with the online real rummy market size set to soar to US$1.4 billion in 2024, according to Statistica. Judging by this figure and statistics, Rummy game development appears to be the ultimate way to break through the digital space. 
Rummy Market Size Growth Per Year (India)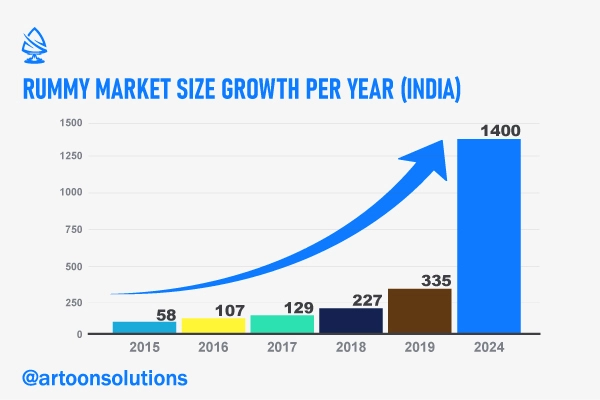 Rummy is popular worldwide, especially in India, where it ranks within the top 5 most popular card games. An increase in mobile penetration also contributes to the rummy game's popularity increase. 
Which Rummy Game is More Popular: Standalone App or Integration in Multigaming? 
Rummy is equally popular in the standalone app states than in the multi-gaming state. However, if you plan to grow a multi-gaming platform in the future or now, doing it without Rummy is an unthinkable mistake! 
Read More: 10 Rummy App Lists to Earn Money Online | All Rummy App List
Wondering Why Real-Money Platforms Prefer Rummy? 
Rummy is not a casino game as such! Unlike other games, Rummy is a game where players get an advantage. There is the slimmest house advantage. But despite this, many multi-gaming platforms still prefer this game due to its popularity with players. 
Multigaming platforms that have included the rummy game can vouch for the number of players and revenue that it helps to generate. 

Factors that Help Estimate Rummy Game Development Cost
If you have never made an app before, you must be wondering where to start regarding the rummy app development cost in India. There are a few crucial factors on which rummy game development cost greatly depends. 
Standalone or Multigaming Platform 
When developing a rummy application, clients must make one crucial decision. That is if you want a standalone rummy application or a rummy application that can be integrated into an existing multi-gaming platform.
Sometimes investors create a standalone rummy game only to discover that they want to develop a multi-gaming app a few years later!                        
So, if you are hoping to develop a multi-gaming platform, it is best to keep the door open for this in the future! 
Rummy Modes
Rummy exists in several modes; most people choose all, although you can choose only two or three. Points, Pool, Deal, and Raise are the four modes of Rummy that a prospective game owner can choose. 
You may also want specific modes delivered in a specific amount of time. These varying conditions affect the cost as they come with a delivery date stipulation. Among all these modes, their popularity ranges from highest to lowest: Points, Pool, Deals, and Raise.   
Read More: Why Your Business Needs To Hire Rummy Game App Development Company
Points 
Players get a single deal of cards. The game's objective is to declare your cards before anyone else and score zero. The remaining players must count out their cards, and points are allocated based on the cards. Jokers can be used to replace missing cards. 
Pool 
Each player pays an entrance fee towards the final winning amount. The winner is the last player remaining after players have been eliminated for crossing the cut-off points mark. This cut-off could be 10, 201, or 51. 
Deals
Instead of using points, players use chips. At the start of each game, a certain number of chips are decided. The game starts and continues for a few rounds. After every round, the winner takes all the chips and starts again for the next round. 
Raise 
Raise rummy has regular monetary value increases every round. Thus, it is similar to points rummy but differs in value. In points rummy, the value stays the same. But, in the raise rummy mode, the values will change regularly.  
Ultimately, choosing to get two modes on a priority basis or getting all four modes at the same time will affect the delivery timeline, as well as the final cost of the rummy game.   
Tournaments and Events 
Adding tournaments and events is another greater feature that aims to increase user engagement! Tournaments and events are usually time-sensitive or have limited capacity. 
However, these games usually offer better rewards that otherwise cannot be earned anywhere else, least of all in simple normal games. 
Read More: What is the Current Status Of Playing Online Rummy Game in India
Mobile Platform
Developing a Rummy mobile game means you have two options: Develop a native application that works on a single platform; cross-platform applications are capable of running on multiple mobile operating systems, which is why they are preferable over traditional native apps.  
Also, you want your app to be visible on Android and iOS app stores. In that case, a cross-platform application is a cost and time-efficient solution compared to developing two native applications. 
Additional Features 
Rummy game development cost is also reliant on features. These features will also increase your rummy app development cost. The cost increase is proportional to features, so the more extra features you want to include, the higher the cost. 
Additional features are the features that are present apart from the basic features. These extra features are what make the app and game more enjoyable.  
Additional Features For Rummy Games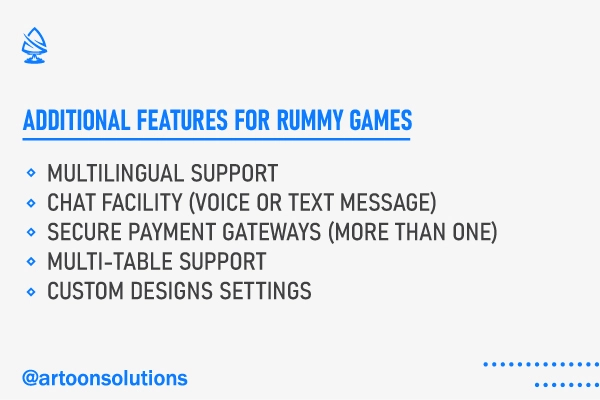 Cost to Develop a Rummy Game 
The minimum cost to develop a rummy game is $15,000 and this is for the most basic features and platform. 
If you require an advanced rummy game for multiple platforms, the cost is very likely to increase! 
Conclusion
When trying to determine the rummy game development cost in India, several decisions need to be made by the client before the development company can provide an approximate quote. Also, clients cannot completely trust a cost quote from the get-go. It will differ from the final figure depending on client requirements.  
If you know what you want for your Rummy game, contact Artoon Solutions Pvt. Ltd. to get the closest possible cost quotation.  

FAQs
Can you make a multi-gaming app instead of a multi-gaming platform (website)?
Yes, we can make a multi-gaming platform or application as per your requirements. All it takes is for you to specify your scope of work, contact us and provide us with the same, and we can provide you with a quotation.
Is rummy a gambling game? 
No, rummy is not a gambling game, as it has been deemed a skill-based game. Even the Supreme Court of India has declared that rummy is a game of skill. This means that users can play real-money rummy games in India without attracting the word 'gambling.'
Read More: What is a Rummy game? What are the pros & cons associated with it?