In recent times, video sharing app like TikTok has gained huge popularity. If you are one of those aspiring entrepreneurs who are looking to create such an app like TikTok then you have hit the right button. Let's get you into more details
Kindly keep in mind that this article is only my personal opinion and also based on some articles I read about the same
What is TikTok?
TikTok, a popular video-sharing app that has become a widely used entertainment option in the world. When apps like Facebook, Snapchat and Uber are losing their active users, TikTok has gained huge popularity and a wider user base in such a short span of time. Being a multi-faceted video-sharing app, users find a better engagement level and entertainment factor than the other apps they use. Not just the general public but even businesses are using this 15 seconds video sharing app to mark their presence in this world of competition.
TikTok has been developed by a Chinese Company Beijing Bytedance Technology Co. Due to its huge popularity worldwide, many startups these days are eyeing on creating an app like TikTok. Other competitors in this arena include Dubsmash, Pandora, Funimate, Triller, Viga Video, Video Star and Spotify. TikTok was originally known as Musical.ly. In the year 2016, Bytedance launched this app initially as Douyin in China and launch the international version of it as TikTok. They decide to purchase Musical.ly in 2017, and merge both of them in the year 2018. Even now China uses the initial version of the app i.e Douyin.
In this article, we will discuss the facts that will help you in creating an app like TikTok and enter the field of the mobile entertainment industry. The technicalities and cost involved in creating a video-sharing app is something that you must know before building it. We will also discuss as in how this app works, how it makes money, how it rose to fame, and much more to deepen your insights regarding the same.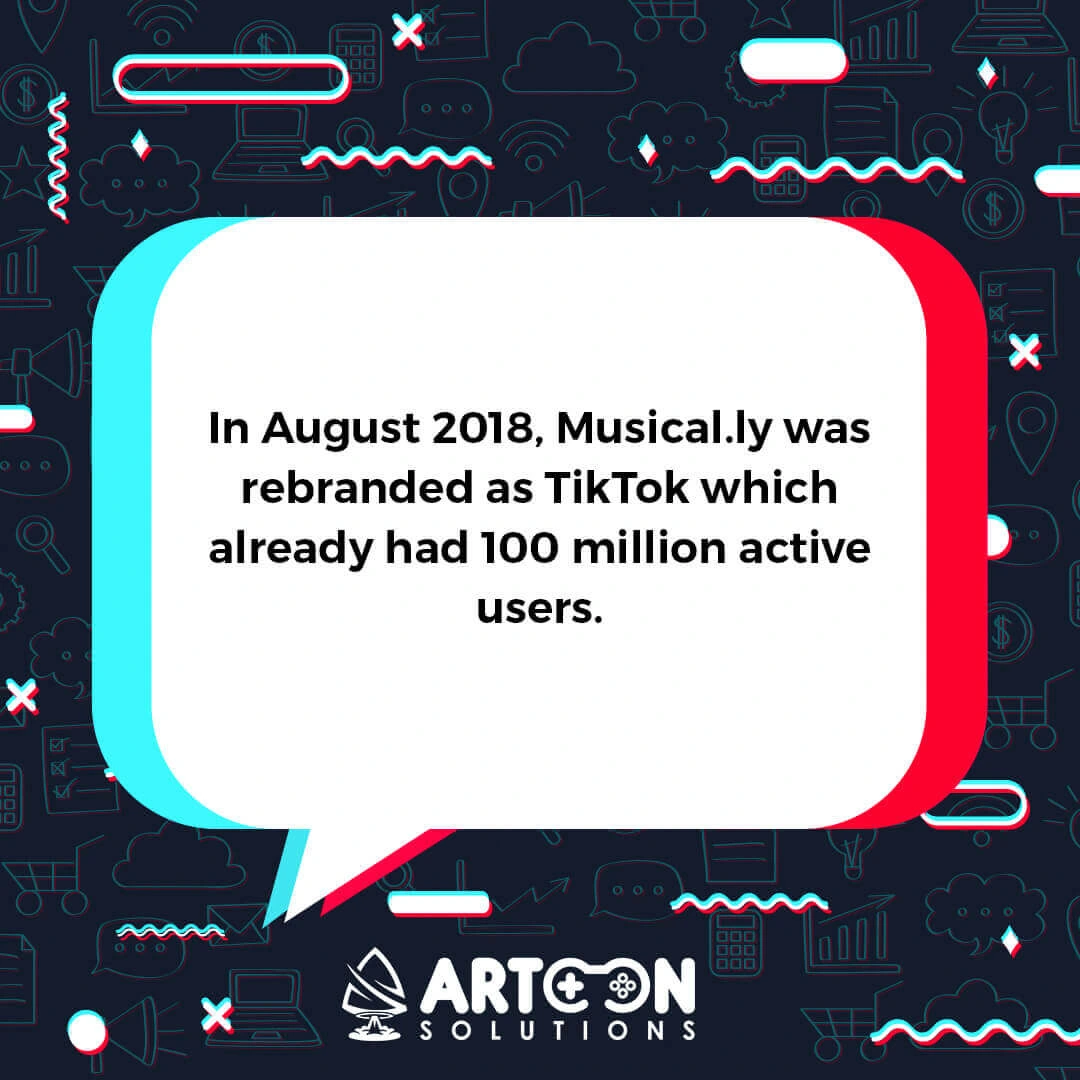 TikTok Revenue and Usage Statistics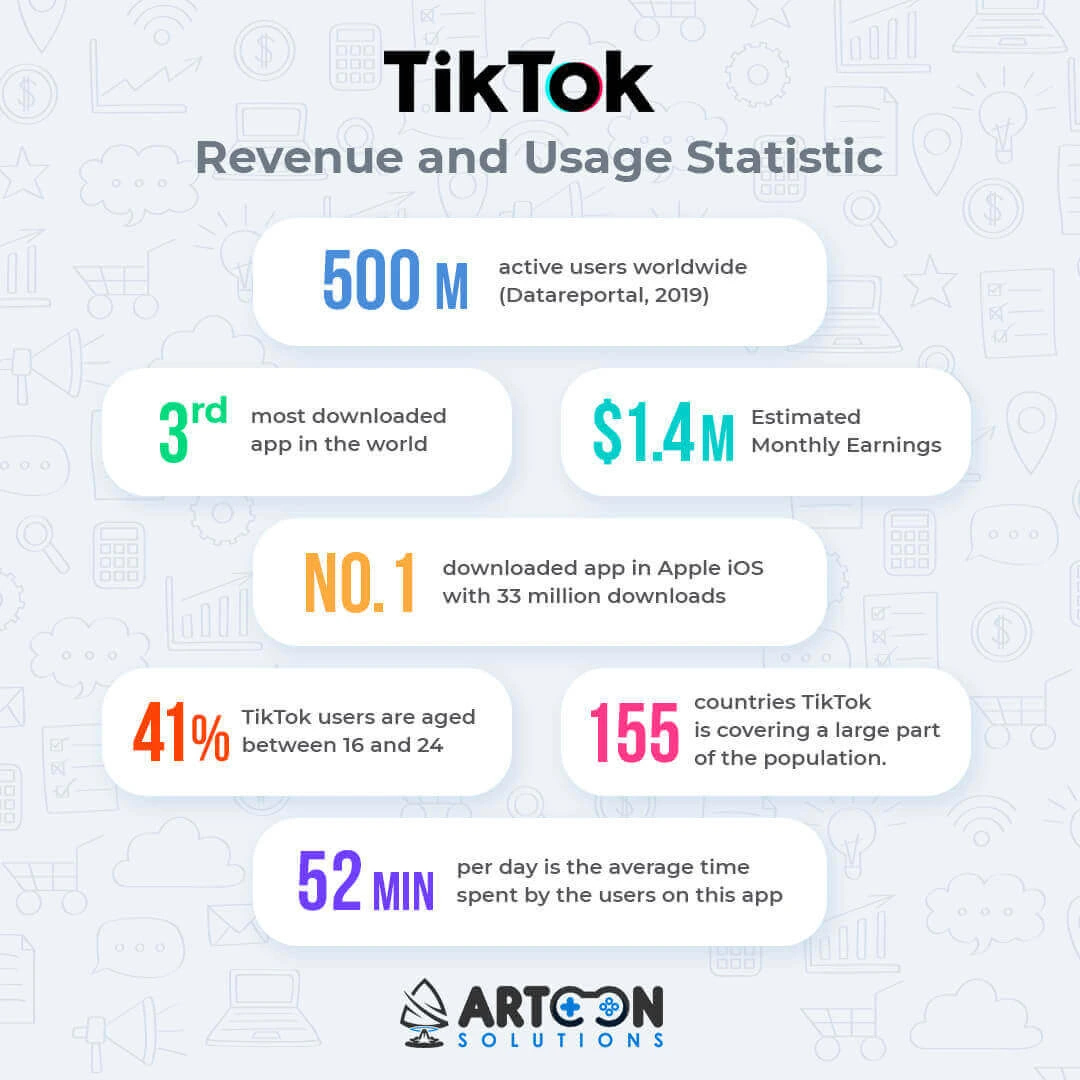 How does it work?
In order to develop a quality app like TikTok, you need to understand the operation of this app from top to bottom. TikTok allows its users to post a 15-second video by lip-syncing to any famous songs and dialogues from movies or even the voice of other users as well. This app is a complete entertainer and lets its users have great fun and frolic.
TikTok lets its users record their videos performing or lip-syncing from a wide selection of sounds and snippets and also use special effects, stickers and filters for extra oomph. Users can share their exemplary performance over the most social media platform including Facebook and Instagram. Users around the world enjoy watching these videos. The scope of video creation is wider in TikTok ranging from challenges, dance videos, magic tricks, comedy skits and other funny videos. This app has successfully given a competitive edge and added a fun twist to the regular karaoke.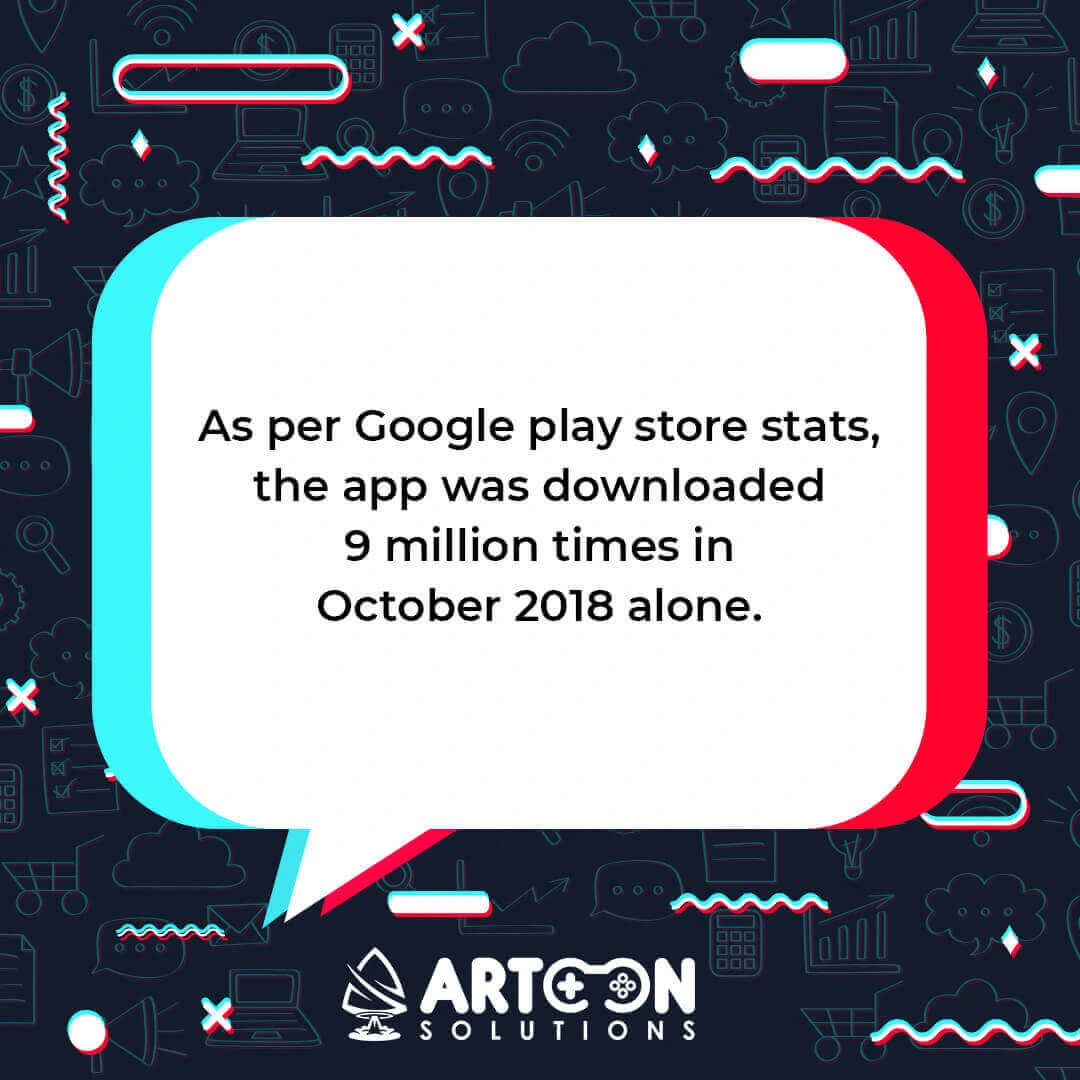 How does it monetize?
In-App Purchases– In TikTok, users are given a chance to upgrade their account in order to get some exciting features. For e.g. there are some amazing stickers and emoticons that can make their video creation to look more attractive and entertaining. Users can easily purchase these stickers and emoticons for a better video presentation. As per reports, with in-app purchases, TikTok has made 3.75 times more revenue.
Advertisements

Another great monetization strategy is to include in-app advertisements as well. This is a platform that is visited by millions of users, so the chances of increasing a brand's visibility are high. Henceforth, many brands across the world are advertising themselves in these apps which is giving a huge amount of revenue for apps like TikTok.

Options to make money using TikTok

Numerous users make money out of this video sharing app like TikTok. Here's how.

Brand promotion

Brands around the world can shell out any amount of money to users with a large number of followers to promote their brand. It is highly important to find creative ways to promote a brand in order to avoid losing followers. For a great profile, users must think ways to sanely promote any brands they are collaborating with.

Selling on TikTok

An App like TikTok can be used to sell their product as well. Any users who are looking to promote and sell their product can use this wider platform for better sales. Giving the links of your product or using other creative techniques to promote your business can be a great idea to let your users have some entertainment as well as help you monetize.

Cross Promoting

TikTok allows cross-promotion, wherein the users can promote their other social media platforms. For e.g. if one is active on YouTube, then he can also promote the same in TikTok. This platform can be used to promote their other ventures as well. Through this strategy, they can make use of this platform to engage their audience and promote their other ventures just in case one of them fails.

How has it become so popular?

TikTok's popularity has to be credited to multiple factors. It became one of the most downloaded apps in the Apple store in October 2018 and surpassed over 500 million active users per month. Below are some of the reasons for its popularity:

Backed up by celebrities

ITikTok has multiple celebrity endorsements. This tactic has been crucial in expanding the geographical popularity of this video sharing app.Through this strategy, celebrities promote TikTok on other social media platforms as well. This tactic has given TikTok huge number of engagements and downloads.

Region-based content confinement

It's a known fact that this app is a globalized one. But this app displays its content as per the location separately. By using local trending hashtags, this app makes a video viral and gain more popularity over time.

Easy video-creation

Being short-form video creation, it is effortless to make videos as well as see the video. TikTok also allows its users to easily watch random videos and have all the fun and entertainment they are seeking for.

How safe is TikTok app?

TikTok had suffered a ban and suffered a major backlash in the past years. Since inception, TikTok has suffered multiple legal issues. Indonesia had completely banned TikTok app on 3rd July 2018 for concerns over negative contents such as pornography and blasphemy. But eventually, this ban was removed after making sufficient changes and implementing security measures.

Even the Government of India had banned the app once for encouraging pornography content. TikTok was removed by the Google Play and the App store on 17 April. The ban was lifted later after removing over 6 million videos that violated its guidelines. TikTok is a safe app if known how to use it responsibly.

Features in an app like TikTok

Login
Simple user Interface
Video section
Notifications
Settings
Live-Ops
Exemplary tools
Hashtags
Follow users
Find and connect
Special effects
Social sharing
Notifications
Settings

Unique Features to Add-on

Cropping videos
Real-time analytics
Drawing on screen
Push Notifications
Geolocation
Video streaming architecture
Hidden recording button

Technologies used to develop

Expert team of developers behind TikTok-like app development

If you wish to create a video sharing app like TikTok then having a huge capital resource is not sufficient enough. Only by hiring a team of efficient developers can get you close to the dream of creating an app like TikTok. You would require:

A Project Manager
UI/UX Designer
Android Developer, iOS Developer
Back-end Developer
Database Experts
QA Experts
Delivery Manager

How much it cost to develop a TikTok-like app?

The cost involved in developing an app like TikTok depends on various factors such as the number of platforms, features incorporated, technologies used, resource allocation, complexity in designs, region to target and number of hours consumed to develop an app. As per our experience, the approximate cost for a video sharing app development with basic functionalities may take somewhere around $25,000. But with the increasing complexities, the cost may go up to $35,000-$50,000.

Are you in search of a mobile app development company who makes your dream app come true?

Choose Artoon Solutions Pvt. Ltd., as we are always happy to help you. Being the finest mobile app development company, Artoon Solutions Pvt. Ltd. has offered quality mobile app development services across the globe. Our extensively knowledgeable and experienced developers have delivered masterpieces to client worldwide that has helped their businesses stay ahead of the curve. So think no more and collaborate with us for a prosperous future!