Solitaire is a skill-based card game. The Solitaire card game was first played some two hundred years ago in France. Two centuries is ample time, and in this time, the card game has reached a new aura. Here are some of the key points to look at.
What is a Solitaire Game?
The solitaire card game can be played by oneself (i.e., individually), usually with cards, but also with dominoes. The term "solitaire" is generally used for single-player games of concentration and skill using a set of layouts of tiles or stones.
Solitaire came from a long-ago but gained popularity when offline desktop games were invented, and people used to play for fun and entertainment purposes. Later online card games came into the gaming market. With online Solitaire game development, the Solitaire card game touched new heights.
The solitaire game comes under skill-based games, i.e., Games of skill, and can be added to multi-gaming platforms where real money is involved, or it can also be released as a standalone game.
Two of the best examples of Solitaire card games can be MPL's Cube Solitaire and Spider Solitaire.
Types of Solitaire Games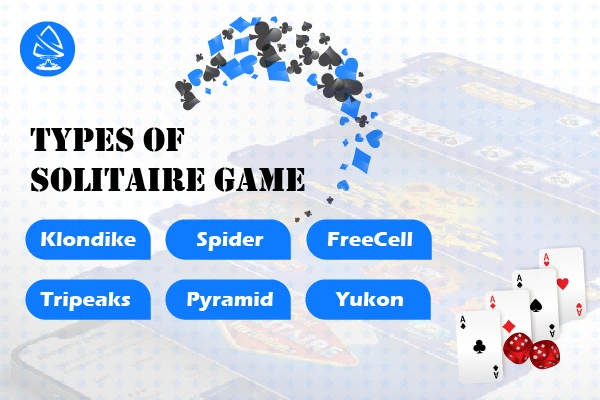 Many Solitaire game development companies come with Six exciting games, i.e.
Klondike
Spider
FreeCell
Tripeaks
Pyramid
Yukon
Each game from the above requires different skills, calculations, and strategies to win. Having so many options makes players choose their game type, and there is no wonder why Solitaire is becoming a gamer's first choice in 2023.
Why is Solitare a Gamer's First Choice in 2023?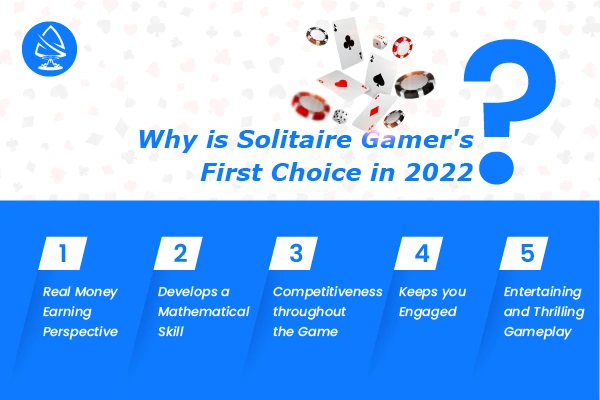 1. Real Money Earning Prospective
Solitaire is a skill-based game that involves real money. Once users enter the playing table, they will either earn a good amount of money or lose some. Solitaire comes with exciting gameplay where every player can play and win. By following the basics and applying some math calculations, a player can win real money in Solitaire, unlike other games where a higher skillset is mandatory.
2. Develops a Mathematical Skill
Playing Solitaire is priorly a mental activity that develops mathematical skills in players. When the game begins, the players need to analyze all the cards while considering several factors such as their suits, their number, and which ones are available on the Stockpile and hidden in the table. Then they need to create and plan future sequences which can lead to a victory.
By doing these small and straightforward calculations simultaneously and repeatedly, players experience a clear improvement in their mathematical and mental skills.
It also helps improve a player's memory as it requires constantly memorizing the colors, suits, numbers, and even the order of the cards in the Stock, after going through it only once.
3. Competitiveness throughout the game
Solitaire is a top-rated game, and the kind of competitiveness it provides to each player easily explains why it is so exciting. Here, players challenge each other to achieve better scores. The player who finishes the challenge first by sticking with the game rule wins the challenge.
The more competitive game, the more excitement, and thrill will be. It also increases the user base, and there is no wonder why Solitaire is becoming a gamer's first choice.
4. Engaging User base
The fascinating and intuitive gameplay of Solitaire always keeps you engaged in the game. The mathematical calculations and logical moves in the game combined create a gaming environment where players spend hours.
Also, earning real money plays a significant role in having much-engaged use simultaneously. The players keep placing bets, and the game keeps moving forward. As user engagement increases, it goes without saying why Solitaire is a gamer's first choice.
5. Entertaining and Thrilling gameplay
Solitaire is a low-risk game. It is entertaining and thrilling without ever creating a sense of frustration or failure. Solitaire is one of those games where you are not out of the game immediately; it offers chances to recover.
A mistake results in transferring a card without affecting the display on the table ultimately. To open the card retained by the wrong move, the player must reanalyze the sequence or begin a new one.
Opportunity for Mobile Game Owners
Solitaire is fairly growing in the online gaming market. Game owners must invest in a trending, beneficial game that has a higher audience reach. Solitaire is one of those games that promises to be a profitable business for years to come due to the exciting gameplay. So, should mobile game owners look at this opportunity of developing a Solitaire game in 2023?
ABSOLUTELY YES! Looking at the current trends, they should invest in Solitaire Card game development!
Conclusion
Ultimately, the Solitaire Card game is one of the top favorite games of mobile gamers. And, it's no wonder that the ongoing growth in the number of Solitaire game players creates an opportunity for those who want to invest in the mobile gaming business!
So what are you waiting for? Artoon Solutions is a well-known solitaire game development company that provides highly feature-rich mobile gaming apps. We provide secure game development services crafted by professional designers and expert game developers.
Let's connect and discuss how to convert your dream project into reality!