Currently, there is an overwhelming number of Android applications on the Google Play Store, around 3.5 million to be exact. This figure doesn't stand for the sake of it! Something else must be more alluring than monetization regarding Android app development. 
Android app development has long been an ever-growing market globally since the introduction of touch devices using Android. The endless benefits it provides to the market have made it a technology worth investing in, which is also why every Android app development company in India is more prevalent now than ever. 
Take a look at these Android app statistics: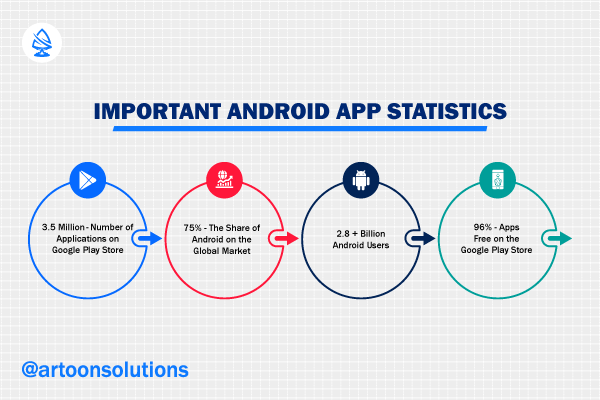 Improving Functionalities 
Android app development has drastically changed since its initial days. The apps we see today are much more functional than before. But, still, we have not reached the peak in terms of Android app functionality.
Since devices always come with new features, there will always be a buffer between new features and the software available. But, with the impact of constant android app development, the functions of applications are continuously changing and improving. 
Enhanced Security 
Security vulnerabilities are being exploited by hackers every day. Although attempts are being made to secure Android applications, there is still a long way to go. 
But, Android's current emphasis on security has led every Android app development company to rethink its strategy and improve the app's security. 
We live in times where users will not tolerate any vulnerability to their data, and rightfully so! Large volumes of sensitive data are being misused or sold by hackers and organizations for a quick buck. 
Higher Customization
Android users are looking to get apps that better suit their exact needs. Prospective app owners are able to provide applications that are better suited to their target audiences. Overall, this positively affects Android app development as apps become more user-centric. 
Higher customization means there will also be a higher chance that users will be interested in your application. It is wise to heed user preferences as they will be using your application, and failure to please the masses will result in losses! 
Competitiveness
There is a distinctly higher number of Android applications on the Google Play Store than on the Apple App Store. This clearly shows that there is high competitiveness among Android applications.
You may think this is bad, making it harder to thrive. However, it is actually one of the positives for Android application development services. It raises the bar and improves the overall quality of Android applications available on the market. 
More Market Options  
Android applications aren't what they used to be. Market options will also increase, meaning you have to stay updated if you want to sway users in your favor. Android users are opening up to having more options, meaning even new apps have a chance at wooing the crowd! 
More options on the market could even be why Android users are more adventurous with the type of Android apps they download and use. This has been a great help for Android app developers. 
The introduction of so many more app genres is leading the way in terms of mobile app development paths an investor can choose. 
Android App Development Cost
Hiring an Android app development company's services is much more affordable now than before. Because of this, many people have the opportunity to develop an Android application. This then benefits the market as Android users have more choices.
Because of the cost adjustments, Android application development is getting much more popular. People will even consider it a better investment than other alternatives, given that many options exist to enter the mobile application market.
Ease of Use
Anyone who uses Android for the first time will immediately agree to how easy it is to use. The ease of use of an Android-based application is appealing. 
The Android ecosystem is a lot more user-friendly than any other mobile operating system. It is even useful for people who have never used a mobile device before. Its simplicity is evident and navigation is evident.
Anyone can find it very easy to use an Android application regardless of what device you have been previously using. The next button to press is always evident, and the user won't have to think much about where to go next. This could be the leading reason why it is the globally preferred operating system. 
Google Support  
Google owns Android, in what is considered one of the best Alphabet acquisitions to date. Plus, backing from such a massive tech name is excellent and bound to yield some benefits. Google is an expert in studying user behavior and knowing what people want.
Thus, support from Google has been instrumental in making the Android operating system that much more popular. Android is now the leading OS if you count it in terms of global statistics. Plus, in certain countries, Android is overpoweringly the leading OS provider.   
Wider Compatibility
Android is so widely applicable because of its high adoption rate by several mobile device manufacturers. Many brands use the Android OS, which is good news. Developing iOS devices means you are limited to just iPhones and iPads.  
Hence, the Android device market is and will continue to expand because of a large app market. Unless Apple decides to share its OS, which is unlikely to happen. 
Conclusion  
The way we carry out Android app development has changed drastically over time. But taking it further will require you to acknowledge its positive effects on the market. The first is definitely the countless advances that Android app development has brought in general. These advances have even influenced iOS app development. 
By taking charge of the benefits of developing an Android app, your app can also benefit the most. Get in touch with an Android application development company and build your application while making use of these benefits pointed out.

Related Posts: