Online gaming is one of the most successful industries in recent years. It is growing rapidly and starting a gaming business is a fruitful decision. If you are exploring starting an online gaming business, then this blog will help you. We will be looking at the 7 major points that would help you establish a successful gaming business. 
India has the largest youth population in the world. So, it is obvious why it is gradually becoming a hub of gaming, innovation, and technical advancements. We are seeing a huge leap in the growth of the gaming industry and the emergence of players in this market. 
Already seem interesting? 
So, let's get started step-by-step.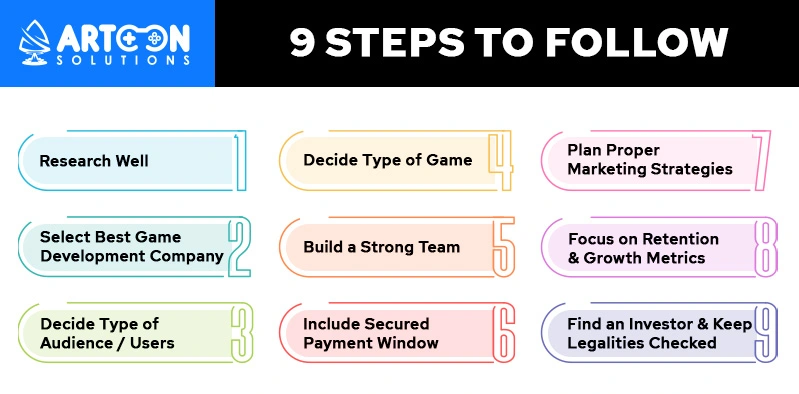 1. Research Well
It is paramount to research the market well in order to get an idea of what you are venturing into. Starting any business requires a lot of things but it is important to get your fundamentals right. For instance, answering questions like – How big is the market? What is the growth potential? What are the risks and dangers involved? – can help you target your efforts concretely. 
In addition, it is also important to gather data on how the market functions and the mindset of your potential customers. Conduct surveys, understand the existing gaps in the market, and then work on bridging them. 
2. Select Best Game Development Company
When you start a business, you should never go with the bare minimum. Going with the best would result in outstanding outcomes. That is why selecting the best game development company is the most critical step to follow. 
A company must have extensive working experience in game development with larger companies. Working with larger companies showcases, the company not only delivers quality products but also it is trustworthy and capable of handling large projects. Working with larger projects also indicates the company has a strong team that can handle concurrent users with ease. 
The game development company should also provide end-to-end encryption. Data security is a strong factor as it holds the idea & vision of the game. Mismanagement in this could be disastrous for both the client and vendor. Game data needs to be secured and protected safely by the game development company. While going with the top game development company, maintenance and future customizations of the game app are the last things to be bothered with. The company should take care of post-maintenance services as well as future customizations. 
Currently, the following are the best games trending worldwide. 
3. Decide the Type of Audience/Users
Selecting the audience and the area where you want to launch the game plays a significant role in the gaming business. Suppose, if you are targeting a younger generation in that case you should launch the game in countries or areas where there are more young gamers. Launching the game app by deciding both the target audience and region could result in a more successful user base. 
4. Decide the Type of Game
You need to decide what type of game you want to create in your gaming company. After that, do market research and plan your gaming business based on the most recent trend or idea. Most importantly, your concept must be original and one-of-a-kind so that people are drawn to your games. 
Games can be Card, Board, Puzzle, Hyper-casual, Arcade, Action, Sports, Racing, Trivia, etc. 
Also Read: Mobile Gaming Trends and Revenue Models in 2023
5. Build a strong team
Sometimes hiring a team is not enough. As a business owner, you need to analyze what are the areas where the game would succeed more and what kind of a team is required for that. For a gaming business, you need to hire professionals who are knowledgeable, technology-oriented, and passionate about new innovations in gaming. The team must showcase a good knowledge of coding that would help make the game app more exquisite and outnumber the competitors. Moreover, the owner must build a team with individuals who have vast experience in the game development field. 
Remember you are serving a market that plays games through numerous means such as computers, mobile phones, laptops, consoles, and more. So, hiring employees who can build a solid backend is one of the secrets to success.

6. Include a Secured Payment Window
How would you make your game app trustworthy apart from all the features? It is through payments & transactions. The game owner must include secured payment gateways for transactions. The faster, more transparent, and easy payments are, the more will be trust among users. 
Also, a game owner can include multiple payment options and international payment options to make the game app even more reliable. Multiple payment options include payment through Credit & Debit cards, Net Banking, Mobile Banking, and UPI options (Google Pay, Phone Pe, Paytm, etc.). For international payments, PayPal and Stripe can be used.
7. Plan Proper Marketing Strategies
As of 2022, we understand how digital marketing and social media has become an integral part of socializing your product or service. Planning proper marketing strategies play a key role in taking the business off the ground and helping you attract your user base. 
Strategized and planned SEO, and SMO alongside social media campaigns and paid marketing approaches may help you grow the number of users who visit your site. Moreover, to reach out to the target audience, gaming start-ups can also explore brand collaborations. Also, it is crucial to strategize around creating good content for social media platforms for organic reach. 

8. Focus on Retention & Growth Metrics
To grow your user base at a constant pace, focus on retaining users. According to many marketing metrics, user interaction within the app can be highly rewarding. A data-driven approach to retaining users will show a leap in revenue metrics. 
So, use various standard methods like offers, rewards, special tournaments, festive bonuses, and more to keep your customers hooked to your game app. Also, ensure that the growth metrics are tracked regularly and showcase the data of how the users are responding to the game.  
9. Find an Investor & Keep Legalities Checked
The last and most important thing you need to do for a successful run of the gaming business is to find an investor. An investor will assist you to launch your game app globally. 
Legalities must be checked as well. Here are the things you need to take care of. 
Trademark – A trademark logo makes your game unique and prevents copyright infringement. 

Copyright – Copyright serves as a protector for your game as no one can steal your copy of work with this logo. 

Privacy Policy – It indicates you are secure and deny third-party access without users' consent. 

Terms & Conditions – With this, the game owner has the authority to block any gaming account if any illegal activities are found. 

EULA – Known as End-User License Agreement. It applies when your user downloads, installs, and uses your game. 

In Short! 
Starting a gaming business is turning out to be one of the most profitable businesses in the year 2023. A large number of users are getting attracted to the online gaming line-up. Some apps also offer positives, like earning real money from the game apps. 
So, on which game would you like to start a gaming business? 
Let's discuss the gaming industry more.