Mobile Gaming Trends? Mobile Gaming itself is a trend, isn't it? Why is mobile gaming buzzing the market? And what can be the top revenue models in 2023? Let's explore this in detail.
Mobile Gaming Trends
1. Growth of Real Money Games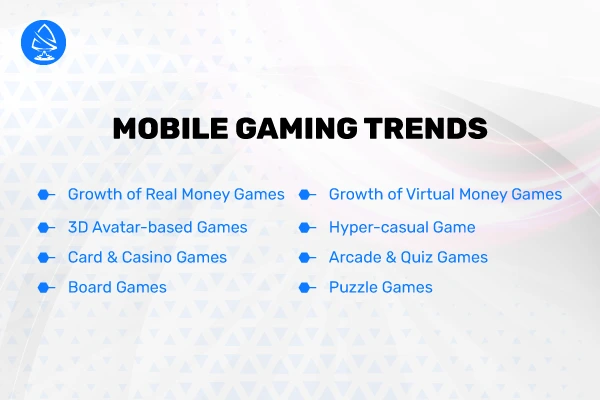 Real money games are played online and real money is wagered on the outcome. As real money is involved, a risk factor plays a part. Every win-lose counts. Players need to showcase skillful strategies and logic with their game knowledge and gameplay. Some players make real money games as a profession. They earn money based on their skills. Also, real money games promise huge rewards and cash prizes after winning a particular tournament or competition. Real money is growing exponentially in the global gaming market in 2023.
2. Some Example Of Real Money Games
Rummy
Poker
Callbreak
Solitaire
Uno
Spades
Ludo
Carrom
Pool
21 Puzzle
Spring the Wheel
3. Growth of Virtual Money Games
The purpose of virtual money games is to enhance the gaming skills of players and entertain the players. The earned chips, coins, and points in virtual money games just determine the skill level of a player. Chips/coins in Virtual money games don't have a monetary value which makes them risk-free. These games are a massive addition for the players who just want to relax & entertain. Virtual money games are growing significantly in the global gaming market in 2023.
4. Some Example Of Virtual Money Games
Teen Patti
Andar Bahar
Candy Crush
Bid Whist
5. Card & Casino Games
Card & Casino games are known as the oldest form of games of all time. The reason why card games are on top of the list is due to their highly engaging and exciting gameplay in online mobile gaming nowadays. Generally, card games don't feature graphics much but the logic implementation, strategy planning, and decision-making skills are something that attracts users and keeps them in the loop. Also, it comes under skill-based games that take the center stage in the real money gaming market.
6. Some Examples of Card & Casino Games
Rummy
Poker
Teen Patti
Andar Bahar
Spades
Call Break
Solitaire
Blackjack
Roulette
7. Board Games
Board games are more popular than ever before and they might gain more popularity in the future. The global board games market is worth over $3 Billion. That is quite staggering, isn't it?
Board games like Pool, Carrom, Ludo, Snake & Ladder, and Chess is not only engaging but also develop various skills in a player as board games come under skill-based games. As it provides an option of earning real money, users play this game regularly.
8. Puzzle Games
The puzzle game industry is also evolving in the gaming market. It is the latest mobile game market trend that leaves behind the match-3 puzzle technique and adds new exciting layers to the game. Two of the best examples can be Fruit Ninja and Candy Crush. It is known as a giant in puzzle games. Being on top of online puzzle games creates a different mindset and gameplay for every player.
9. Hyper-casual Games
Hyper-casual games like Hill-Climb racing are one of the most successful games in the last year. Most people turned to hyper-casual games as these games are simple to play and users can experience fun and relaxation in a small-time. Some users want to play games just to have fun and don't require heavy graphics, so those Hyper-casual games perfectly fit. The hyper-casual gaming market is on the rise and it is indeed a trending topic in 2023.
10. Arcade & Quiz Games
Arcade games used to be a fun package game in the late 70s and early 80s. In those days the meaning of the Arcade game is a game machine that is found most often in restaurants, and malls and is usually coin-operated. The popularity of the Arcade game slowly decreased as PC games evolved. But with the change in time & technology when mobile games came into the market, Arcade games started to rise again. Today Arcade games like pinball are one of the trending virtual money mobile games. Examples of Arcade games can are Bubble Shoot, Archery, Basketball Shoot, and many more.
Quiz games were very popular in past years. It is a way of playing games by answering questions and competing with fellow members. Quiz games are now modified as Mind games, where the player has to think and answer the relevant topics (Can be crossword, history, or sports). Quiz games are also a trend as many people don't go with graphics and strategy. A quiz game is the best solution to relax your mind.
Let's take a quick look at the top revenue models that can be beneficial for game owners in 2023!
Revenue Models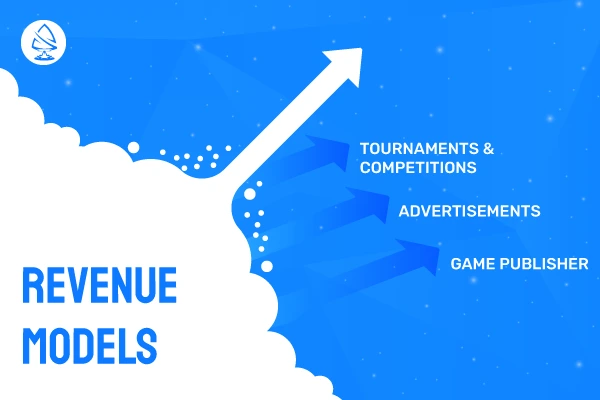 The revenue models of a game depend on various aspects. Based on which type of game, different revenue models can generate better value. Here are some of the best revenue models in 2023.
1. Tournaments & Competitions
Game owners generate huge revenues by organizing tournaments and competitions in their game apps. Tournaments generally require an entry fee to participate in various games in the tournament. Competitions don't require larger amounts of money to enter and don't offer huge prize money, rewards, and gifts like tournaments offer. It is a beneficial revenue model and real-money game owners use this model on the go.
2. Advertisements
Advertisements are the best tactical move to generate revenues. Game owners tend to add various attractive and eye-catchy advertisements in the game apps to boost their revenues. Here is a quick look at it.
Interstitial Ads
These are the ads that cover the whole screen of the mobile. You might have experienced this many times in your game app. It is called interstitial ads, and these are highly interactive & alluring ads (sometimes it feels like giant pop-up ads). Such ads appear suddenly when you complete a game level or when you are playing the game and take a pause. A single click on these ads increases the revenue counts of the game owner.
Header & Footer Ads
Header and Footer ads are a general money-earning purpose for game owners and app owners. For a known instance, third-party ads are in the header and footer sections of the game screen. When a player taps on the ads (intentionally or not), a certain amount will be transferred to the game owner's account. This is not the primary source of income for multi gaming platform owners, but it keeps ticking the revenues upwards.
3. Game Publishers
Game publishers publish games of the gaming companies. A Game publishers and game owners discuss a business model where revenues are distributed via Pay-Per-Click, Pay-Per-Install, Pay-Per-View, etc.
Pay-Per-Click
Once a user clicks on the game app or the banner, he/she will be redirected to the game app website and the revenue will be generated. For every redirected user the game owner has to pay a certain amount of revenue to the publishers.
Pay-Per-Install
Once a user installs the game app on their device, revenue is generated. For every installation, through the publisher's site, the game owner must pay a certain amount to the publisher.
Pay-Per-View
Once a user clicks on the view button to see some screenshots of the gameplay, the revenue is generated, and the game owner must pay a certain amount or a small percentage of the payment to the publishers.
Wrapping Up!
Online mobile gaming is currently buzzing the gaming market. Game owners implement various revenue models for the mobile gaming business which is becoming a long-term investment. The above-mentioned points give clarity on mobile gaming trends and the current revenue models.
Artoon Solutions has been a leading game development company over the years and has developed 100+ games for top gaming clients like MPL, Flipkart, Winzo, Dangal Games, and Super, and that's just naming a few.
Let's connect for a quick discussion on Gaming trends and their development processes!