Mobile apps are getting more and more popular with each passing year, and every app generates revenue for the app owner. There are a set of different ways how an app owner can make money from mobile apps. But, in this blog, we are going to explore how to choose the right platform for mobile app development. 
The demand for mobile apps is growing and that being said, there are multiple numbers of development platforms available on the market. Selecting the best mobile application development platform is not an easy task. Let us help you to select the right platform for your mobile app development. 

So, what is a mobile application development platform?
A mobile application development platform is a suite of tools, services, and technologies. It allows anyone to assemble various features and elements. Also, allows for designing, developing, testing, deploying, and maintaining mobile applications across multiple platforms, devices, and networks. 
Developing a proper mobile app is an extremely difficult task. It comes with many things like compatibility with every device. However, by using a mobile application development platform, you will only have to maintain one code to ensure compatibility for every device. 
Read More: A Step-By-Step Guide To Mobile App Development
What are some of the best examples of mobile app development platforms, then?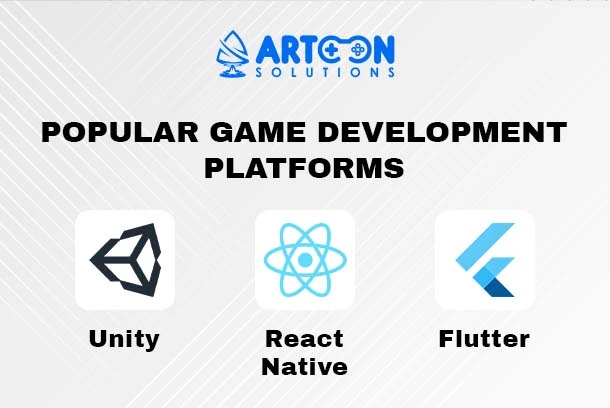 Unity
Unity is a cross-platform game engine with a built-in Integrated Development Environment (IDE) developed by unity technologies. Its platform develops video games, web plug-ins, desktop platforms, consoles, and mobile devices. So basically, unity is a game engine, an application, and a code editor where you create, control, and run your games. There are some huge benefits of unity platform games in game development. 
Some popular games developed with Unity are Rummy, Poker, Call Break, Solitaire, Ludo, Teen Patti, Andar Bahar, Carrom, etc. 
React Native
React Native may not differ much from the above mobile application development platforms, however, if you try to create a mobile app on this tool, you won't regret it. It is owned by Facebook, is an open-source cross-platform development platform, and also integrates with third-party libraries. It can also shorten app development time on a variety of platforms with features that they're easy to learn and design. 
Flutter
Stylish and out-of-the-box are only a few of the compliments that we can use when describing this Google open-source SDK. It is highly recognized for its versatility in user interface construction and characteristics such as generating unique, innovative seamless animations, among other things. This platform uses the Dart language to create the most powerful applications. Therefore, Flutter is great for building a 2D app game or clothing store for iOS or Android systems. 
Here are important criteria you need to consider while selecting a platform for your mobile application development. 
Read More: Top Reasons to Hire Mobile App Development Company in India
Check if it supports multiplatform development
For any business owner who plans to build a mobile app, this criterion needs to be checkmarked first. In a world full of new mobile technologies, each passing year, it is compulsory to have a development platform that supports multiplatform. 
When you invest in cross-platform app development there is always a more significant possibility that your app will skyrocket. A cross-platform help you with integrations, and modifications on every OS platform such as Android, iOS, and Web.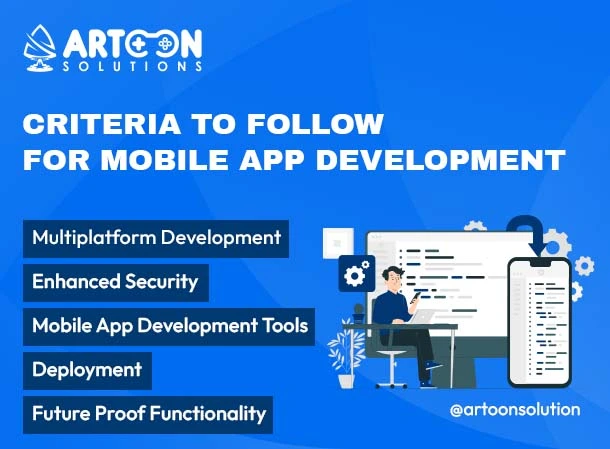 Enhanced Security
Currently, mobile apps must run hassle-free. Gone are the days when people used to face waiting time to run a certain function. Technology has evolved in such a way that even seconds of waiting time result in a negative. You need to choose a mobile app development platform that provides a seamless experience to users. 
Also, mobile apps must come with enhanced security metrics to secure user data and information. The more secure apps are, the more trustworthy and attractive they can be for users. The platform must also be capable of interacting with security services like payment gateways, etc for the future. 
Read More: Top 10 Mobile App Development Trends in 2023
Mobile App Development Tools
Tools for mobile app development are always handy. Tools provide a collaboration platform for developing, testing, debugging, deploying, hosting, and maintaining mobile apps more seamlessly. 
Many hosting service providers tend to go with a low code app development for their project with pre-designed templates and drag-and-drop app builders support. Select a platform that will be comfortable for the developer as the restrictions with CLI can be frustrating and may consume more time. 
Deployment
It is very easy to deploy and can be available as a cloud-based service with the use of a mobile app development platform. No premium costs or charges are required to start with cloud services. 
However, an on-premise subscription will give you higher levels of security at a lower cost if you are in the long run.
Make sure you choose the right way and invest in a mobile app development platform that can fulfill the requirements of your developers. 
Future Proof Functionality
Technology has advanced over the years significantly and due to this expectations become even more and higher. Plan to Integrate new features into the app after creating a minimal viable product (MVP), this way bugs can be fixed more easily and more premium features can be added. A mobile app development platform must offer this feature for a smooth mobile app development process. 
With MVP, you should opt for a platform that can evolve over the years by changing technological requirements.

The Bottom Line! 
So we had a long discussion on the mobile app development platform, right? With the points above, you can choose your mobile app development platform easily. However, if you are still confused there is nothing to worry about. Artoon Solutions Pvt. Ltd. is one of India's leading mobile app development companies. Our experts will always be at your service. 
Contact us Now! 
Read More: How Much Does it Cost to Build a Mobile Application in India?