Indian developers have long been a sought-after resource by clients and companies across the globe. This is because they are emotionally attached to their work, deeply dedicated, hard-working, and overall perfectionists at mobile app development services! 
Indian mobile app developers may not be the lowest pricing, however, compared to the rest of the world, their quality surpasses cost! 
Don't you want your mobile application to be developed with cost in mind or quality?   
Expertise
India has an abundant number of developers. Each one of these experts specializes in a specific technology. You can find dedicated PHP developers, Node.js developers, React.js developers, and WordPress developers. 
But, if you are looking for mobile developers, you'll find them based on the operating system. This means you can hire Android and iOS app developers. Also, each of these developers comes with different skill levels. It may be Kotlin, React Native, Swift, JAVA, or Objective-C that they specialize in.  
So, you may get freshers, medium, and expert-level mobile app developers. You can find mobile app developers of different skill levels depending on your requirements. Sometimes you need a mixture of developers, and this is also possible. 
Usually, a mobile app development company hires a team of developers. Each developer's experience can range from a few years to over a decade or two!  
Cost-Efficiency
There is an evident reason why India is the top location for hiring mobile app developers and the best mobile app development companies. You get high-quality and perfect work, all at a competitive cost. 
India may not be the cheapest destination for mobile app development, but we are renowned for the best quality. Besides, going too cheap will result in a cheap unappealing and poorly functional mobile app being delivered to you!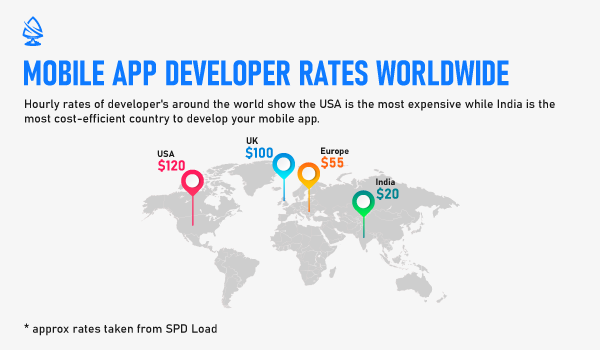 Technology Adoption
Being at the forefront of the IT and software development market, India is one of the first to adopt new technologies or find new ways to implement existing technologies. Hence, India is a desirable location to hire the latest technologies.
Hiring mobile application development services from India is your best choice if you want to invest in the latest technology. Also, developers here quickly grasp and excel at new approaches or technologies.   
The same can be said when new features first become public in Android and iOS app development. Apps developed in the country are being noticed worldwide for their impressive UI and UX while still being equally functional.
Resources 
Most development companies in countries like the USA or UK are small. Meanwhile, in India, these companies are large, employing experts from every department; development, designing, QA, and sales & marketing. 
This resource wealth is another reason India is the top contender to offer development services. The resources such companies bring forth are human resources, hardware, and reusable software components, also known as Component-Based Software Engineering. 
Hardware is also not as expensive in India as it is globally. This creates overall affordability in mobile application development. Hire a mobile app development company, and you will also get mobile app developers. You get all the resources of the company. 

Fewer Legalities
Hate the time-consuming nature of legal proceedings when dealing with a game development company? If so, you'll be happier to hear that dealing with a mobile app development company in India involves fewer legalities. 
There are some legal papers but just a few that you or your legal team can review. Other things about the agreement are pretty straightforward if you are dealing with a reliable company. 
Plus, if the agreement solely contains the issues covered verbally, there won't be much to go over in the agreement document. It is important to select one of the best mobile app development companies. 
Convenient Time Difference
Some people consider time differences as an inconvenience. But it doesn't always have to be a hindrance! Instead, focus on the positive points of a time difference.
For example, what may be nighttime in the USA will be morning in India. This means a client can easily take a meeting just before sleeping. When waking up, most of the work will be done, and something will be ready to show the client.  
Another plus of partnering with developers in India is that they usually work for longer hours than developers in other countries. 
Largest App Development Outsourcing Market
India has been the destination for development projects for decades now, and that's not about to change anytime soon! If reports are anything to go by. The number of mobile app developers is expanding rapidly. 

Also, this means that India's share as an outsourcing hotspot will also increase in the coming years. With an increasing number of technologies and skills being added to the saturated app development market in India, it clearly is the best place to hire developers.
Apart from development, you can effectively avail of other services such as mobile application testing and designing.
High-Quality Products
Foreign countries have long been hiring Indian developers and continue to do so today. This clearly shows that the work quality of such developers is high and a giveaway considering the prices charged elsewhere. 
Another factor that pushes clients in the direction of Indian developers is that they are afraid of paying high rates only to receive poor-quality products! This is usually the case when hiring mobile app development services from an expensive country. 

Conclusion
Looking for the best mobile app development agency to suit your requirements, budget, and time zone? India is the place to start looking. You will get solutions for iOS or Android app development where quality is mountains above the price! 
Not only does hiring an India-based mobile app development company work out more cost-efficient, but it also delivers high-quality solutions that are above the global standard. If you want a job done well the very first time, hire a mobile application development company in India.
Related Posts: