It holds a considerable edge over the second-best mobile platform. Automatically this provides importance to Android app development services. 
Android is the leading mobile platform in the world, with 71% of the global market, according to Statista. 
Businesses who are skeptical about owning an app may need to learn its worth and if there are any benefits at all. Well, hiring an Android app development company and owning an Android application does come with a lot of benefits that can very well put your business in green pastures!  

8 Benefits of Android App Development for Businesses 
Doing it alone is tough, and hiring a freelance developer may be a regretful decision. Hiring an Android app development company in India that, too, in Surat, can result in the best services your money can buy! In detail, look at these eight benefits of Android app development services. 
Scalable for the Future
Suppose you are a small business on a budget and want a mobile application. You will understandably want to start small! But what happens when your business doubles in size after a few years or even months? 
Scalability ensures that your business's Android app can adapt to expansion when the need arises for it. This will usually occur if your business is to experience a high amount of users and that too, concurrently. Excess data access can slow down your application so scalability is essential. 
Android applications are highly scalable and can be scaled when needed the most, and even that's in a few years! Because of the great scalability, Android app development yields flexible software solutions from which any business can benefit. 
Highly Customizable 
If there is one thing Android applications are known for, they are highly unique and never look the same. This feature is owed to the fact that Android applications are highly customizable!    
Thus, Android app development services can allow any company to design a mobile application that suits their exact requirements (design and functional.) So, you will have an app that directly resonates with your user base. 
A business can implement many changes, from simple to sophisticated. You will feel free to customize, as your chosen Android app development company can incorporate any specific detailing.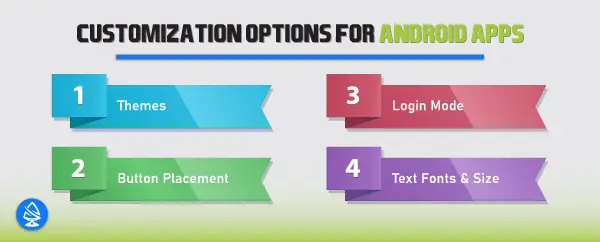 Large Community- Support and Documentation 
Android is a mobile platform that is well-documented. But, even if the documentation needs to be improved, you will find enough help from the expansive community that the platform has earned for itself. 
Every Android application development company has Android developers that are well-equipped to develop applications to suit your business regardless of the vertical. There are a lot of people who have experienced the same issues, which provides a stream of feedback. 
Another way the extensive documentation of Android helps your business is when you want to scale your business, and you may have a different development partner available. Any developer skilled in Android development would be able to take over operations. 
Read More: Important Features You Should Include During Android App Development
Open Sourced 
Some technologies require you to pay a certain amount to use. This could be a one-time payment or a yearly figure. But, with Android, this is eliminated as Android is open-source, so it is free for anyone to use. 
When we say Android is open-sourced, it means that the technologies used for Android application development are open-sourced. In this case, it is Kotlin and Java. Either one is available for free, and they both have their following of developers.   
Thus, you won't find either technology lacking as they both have made their case for being more than enough to develop an exceptional Android app development technology.  
High ROI Compared to Investments 
With stiff business competition, you must ensure you maximize profits and minimize costs. Thus, some business owners looking to invest in an app may seek reassurance that their app's investments will be returned with a profit!   
Android apps are the better option if you are focused on return on interest (ROI) because there are several ways to monetize an Android application. The most common ones are in-app purchases and advertisements. 
The ability to market your application over the Google Play Store would open up a world of opportunities. The greatest of which is the fact that you would have the ability to present your application to the world. So, choosing Android guarantees a stage to deliver your app to the world. 
Faster and Lower Cost to Publish 
While we are on the topic of the Google Play Store, we might as well speak about how convenient it will be to publish on this store. Plus, we'll mention how it helps your business.
Imagine developing an application only to have it constantly rejected by the Play Store, the leading platform for Android applications. But we can guarantee this will not happen! 
The cherry on top is that the Google Play Store is less strict than the iOS App Store when it comes to app publishing. Also, Android apps receive approval faster and usually have to make fewer changes. 

Read More: Top 8 Android App Development Trends
Big Future Plans 
Being owned by Google, Android is part of a company at the forefront of technology. Thus, the future of your Android application looks bright! New features can be brought in for testing before they are released to other platforms. 
This presence of Android at the forefront of technology means that it will be among the first to get the features. 
The most common examples of Android bringing something new to the table are; support for wearable devices and IoT, to name a few. So, any new developments in the tech field are likely to arrive on the Android platform before most other platforms.  
Compatibility With a Vast Array of Devices
When looking at the number of Android devices, you are looking at an enormous number of 133 million devices or more globally. But, this figure is composed of various device models, certainly much less than iOS. 
According to the stats, you'll find that your app could be available to 70% of all mobile device owners. This is quite impressive, seeing as the more devices your app supports, the more downloads, and revenue you are likely to generate.  
Remember the more devices your app can target, the higher the possibility of getting more customers, that too, through your app! Getting an Android application over an iOS app may have been the best decision for your business.  
Read More: Dynamic Android App Development Strategies For Emerging Markets
Why is Android app development important? 
Android app development is essential, seeing as so many Android devices use the platform. Failure to develop enough quality Android apps will result in a lack of variety and a possible niche in the market. 
How much does Android app development cost?  
As mentioned, Android apps vary in terms of features and customization. When detailing your exact requirements (including the number of features and design), we will pass it on to the technical team, who will then be able to provide a time estimate. Once this time estimate is provided, the company can provide a cost estimate. 
Read More: Important Factors that Determine the Cost of Developing an Android App

Conclusion 
Opting for an Android application can either rejuvenate your ailing business or help your business grow in a shorter amount of time. Either way, you look at it, the benefits outweigh the risks, and it would be foolish not to try it. 
If you have your requirements for your app ready, contact us to find out how much it costs to change your business with something as simple as an Android application. Artoon Solutions is an expert mobile app development company. We can develop iOS, Android, or both apps to help your business reach more prospective customers and make accessing your business easier.