Ever seen MPL's Solitaire game and appreciated the graphics and features? MPL's Solitaire game has been developed by Artoon Solutions. Over the years, the idea of developing a mobile game has become very prominent and popular. This idea has been the leading reason the Solitaire game development company has become more noticeable over the years. 
Besides trying to develop the game yourself or handing it over to a freelancer or inexperienced startup, you can hire a specialized Solitaire game development company. Doing this proves to be the best chance of getting what you expect. 
The first digital Solitaire game was Microsoft Solitaire, which was automatically installed on PCs from 1990 onwards. It was the Klondike variant of Solitaire. 
Integration of Solitaire Variations
There are so many different versions of Solitaire owing to the wild success of the Solitaire game on Windows PCs back in the day. The most popular variant of Solitaire is the Klondike version. 
However, the popular Solitaire variety could differ depending on what Solitaire software you aim to develop or the country you are launching in. Generally, the more variants of Solitaire, the more engagement you can expect. Who doesn't love Solitaire? 
By carrying out research, a Solitaire game development company will be able to convert the data and guide you toward the best option. They won't just look at the download and revenue aspects.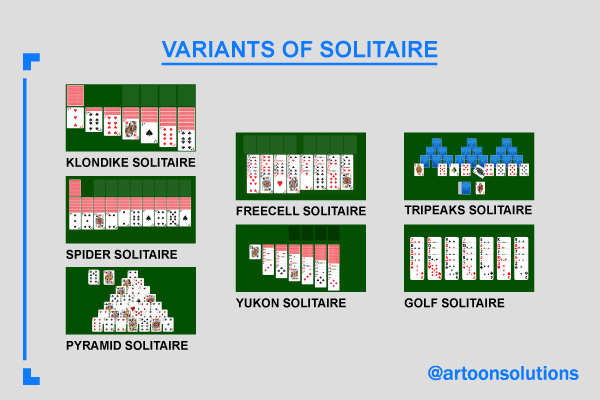 Correct Technology Selection
Using the right technologies matters, especially if you intend on making a platform-specific application or one that offers cross-platform support. Failure to choose the right technologies may lead to functionality issues or design flaws. 
Solitaire game development services are fully involved in making such software. That is why they also know what goes into making such games. Everything from the leading technologies to the assisting tools for designing and testing is what the company has vast experience in. 
Using these tools helps improve the speed and quality of Solitaire game development in every aspect. Avoiding their use is likely to result in the development of a poor game that is lacking the key elements of a mobile card game. 
Read More: Why is Solitaire Becoming a Gamer's First Choice in 2023?
Speed, Stability, and Space Management
While the client is responsible for the features of the Solitaire game, the game's speed, stability, and space management can only be managed by the game development company. Hence, getting an expert Solitaire game development company to partner with you is essential to the functioning of your game. 
Failure to get the right company could easily result in your mobile application lagging, crashing, and occupying excessive space. This is not what users want, and your Solitaire game won't be very successful. 
Space is another vital resource that mobile device users don't like to waste! So the least space your game consumes, the better. 
High-Level Graphics
Solitaire game design is the most notable feature of the game. The game's design includes UI and UX. Both work successively to provide smooth functionality and a good user experience that won't threaten users' loyalty to the app. 
Adopting the wrong design can result in users facing difficulty playing the game. Furthermore, over the years, there are specific designs that have become expected of Solitaire. 
Development and Testing of Code
A development process is essential to have as it ensures every aspect of development has its stage and is given maximum attention. Why is this important?
Coding, designing, testing, and other processes need individual emphasis. Because a short-cut approach in any of these will affect the whole Solitaire game. Development usually consists of 6 to 7 stages, all of which are essential and undertake their particular part of the game. 
Skipping one step completely or a poor attempt is not a valid plan when considering your game's functionality and design.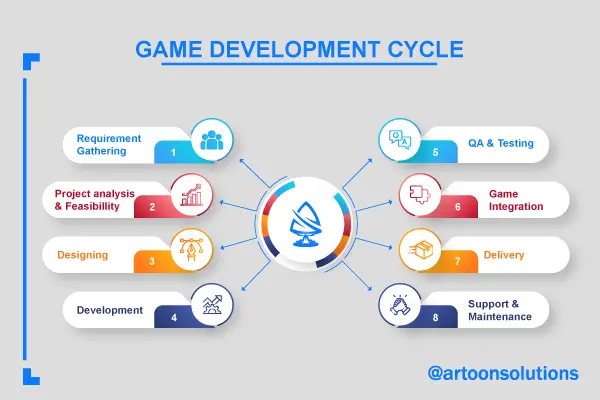 Facilitation of Future Scaling
Creating a small-scale Solitaire game does come with its perks and disadvantages. That said, it may result in reduced costs and shorter development time. But, if your app does become very popular, you will have to modify your game to handle the extra influx of users. 
The best part about dealing with a solitaire game development company is that they have already considered this fact. Therefore there is a significant advantage to hiring a game development company to make your Solitaire game. 
Read More: 6 Key Factors For Successful Solitaire Card Game Development
Support and Maintenance
Your job is not done when your Solitaire game launches! A new set of roles will present themselves! 
Post-launch roles include providing users with the ability to give feedback and send messages to support regarding game issues. It could be constant app crashing, lagging, or Solitaire game design flaws after integrating new features. 
Secondly, regular updates and maintenance will act to address user support messages, bugs, and general software support updates. Also, your app may lose its appeal in a market that sees 100,000 new apps in a month. For this reason, adding new features often is vital to retaining users. 
Project Confidentiality
Ever been passed over using your content? There are chances of your Solitaire game making it to the market without your knowledge or consent!
This calls for confidentiality and proper documentation to avoid such cases. When dealing with an established company, this is possible. However, when dealing with a freelancer, you'll never know who is gaining access to your project! 
Leaked details could include extra features, game modes, or even card Solitaire game design! You will want to keep these details under lock and key whomever you hire. But, a company generally has better ethics and avoids such situations. 
Read More: How to Choose the Best Solitaire Card Game Development Company?
Conclusion
Getting the right Solitaire game development company is crucial, as it may even change the fate of your Solitaire game app. Better code-free development and high-quality graphical design will be a few ways to win over users. Especially users who are using Solitaire games that are less appealing and functional than your game. 
Looking for a Solitaire game development service that offers the above characteristics and many more? Look into Artoon solutions, a game development company that is experienced in Solitaire game development and other card games.