Earning money by playing online mobile games is the new mantra for mobile gamers in 2022. The way gaming industries have evolved in recent years sends a strong message for game owners to develop multi gaming apps like Winzo where users can earn real money. So, what are the top 5 alternative money-earning apps like Winzo?
Let's explore some of those in detail.
Top 5 Apps like Winzo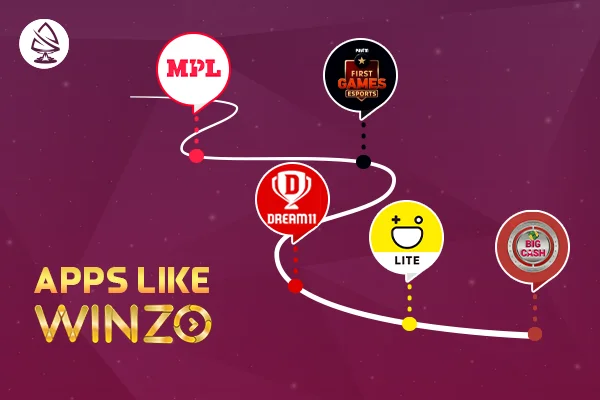 1. MPL
Mobile Premier League or MPL is known for its rich gameplay experience and real money earning facility. MPL comes on top of the mobile gaming apps where there are multiple options to play various games and earn money. Users stick to game apps that are well optimized, trustworthy, and have a seamless gaming experience. There is no doubt why MPL is one of the best money earning apps like Winzo.
MPL comes with a variety of options to play games. It covers all types of games like Card games, Puzzle games, Arcade games, Casual games, Brain games, and broadly fantasy sports games. Users can play games by paying entry fees for the tournaments or games, and winners can withdraw their winnings via UPI methods (Paytm, Amazon Pay, Google Pay, Phone Pe, etc.).
You can participate in various contests like Mega Bonus, Double Bonus, 8x Bonus, 4x Bonus, etc. Your returns will be calculated based on how much money you invest per the points you earn.

2. Dream 11
Dream 11 is another game app that is so popular for betting on the potential of other players rather than maintaining control over your money. Dream 11 is money earning apps like winzo where you can earn real money.
The concept of this app was introduced to allow players to participate in a few safe sports bets. The original idea was to support cricket games. However, the app has evolved to accommodate other sporting events such as Football, Kabaddi, and Baseball.
Unlike most online sports games, you don't need to choose the winning team. Instead, like MPL & Winzo, you can choose 11 players from either team, including a captain and vice-captain. If your picks are correct, you win points and cash after completing the game.
Also Read: Top 10 Alternative Apps like MPL to Earn Money By Playing Online
3. Paytm First Games
Looking for an alternative like Winzo?
Paytm First Games can be the best alternative to Winzo. It is powered by a leading brand Paytm(Which ranks top in UPI transactions), and it offers so many engaging games through which users can earn money. Here a user can earn money by playing tournaments organized by the game owner. After winning the match, users can transfer their winning amount to the bank account.
4. Big Cash
The Big Cash game app and Winzo have similar interfaces and game designs. The extensive Cash application is one of the most dedicated apps for earning real cash by playing online games. In this app, like many of the games mentioned above, tournaments are organized in which the user has to take part and win. If the user wins the tournament, they are rewarded with money that can later be transferred to the bank account.
Also Read: 10 Rummy App List to Earn Money Online | All Rummy App List
5. Hago
Hago is a great multigaming apps like Winzo. You can play with your friends, family, and even strangers (online players) anytime. Hago comes with many features, but one feature that makes it unique is Live voice chat with friends.
Opportunity for Entrepreneurs
Entrepreneurs can invest their money in apps like Winzo. Currently, multigaming apps are growing and becoming a gamer's favorite. The thrill, excitement, and a broad choice of playing different games in one single app make these game apps unique. Here users can earn money and play virtual money games where there is no money involved.

Looking at all of these, we can easily say, the Gaming world is growing with new technologies, and apps like Winzo are a perfect platform for young entrepreneurs to start their businesses.
In short!
The points mentioned above best describe some of the alternative apps like Winzo. If you are looking for a game app with different types available with both earning options and casual games, the games mentioned above are the best. But in a world full of mobile gamers, do you still want to play games where the competition is already of the highest level?
How about being an owner of a money earning app like Winzo?
Artoon Solutions Pvt. Ltd. is a leading Multigaming Platform App Development Company. With more than 14+ years of experience in game development, we have 250+ in-house proven and experienced dedicated teams of 2D/3D Designers, Frontend/Backend Developers, QA Team (Testers), Server management team, and Project managers that can cater to every challenge.