Mobile App Development – Businesses in this age need to access all methods of generating revenue and attracting new customers. Even after boarding a new client comes the tricky task of retaining them. You will be vying for users from your competitors, and one wrong step could be what sways them to the opposition! 
Mobile marketing is the new way to market products/services and spread brand, product, or service awareness. However, choosing the right mobile app development agency is crucial to achieving your ultimate goals. 

11 Reasons Why Your Business Needs a Mobile App!     
Imagine your business without a website! That same response applies to a company that lacks a mobile app. Websites are somewhat redundant and inadequate in serving today's younger consumers who are more tech-savvy and looking for convenience!
Read More: What Is an Ideal Mobile App Development Process?
1. Gather Insights Into Your Target Audience 
A mobile application is valuable for more reasons than one. Still, the most important is getting to know and understand more about your customers. Collecting and leveraging customer behavior is crucial to becoming or remaining a successful business.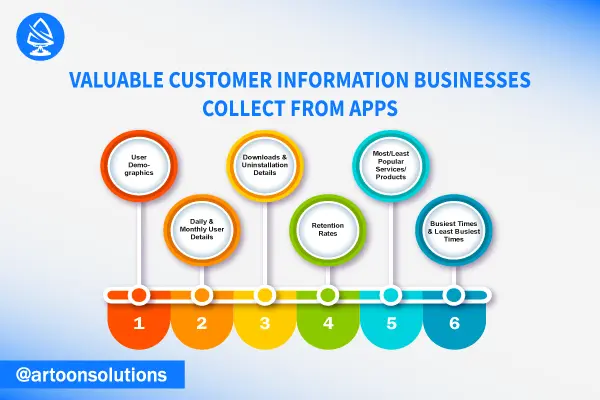 Given the multiple advantages of having a mobile application, it is advisable to do this if you want to get actionable insights into who your customers are and how better to serve according to their personal preferences.
2. Build Brand Image
Gone are when television, newspapers, or fliers were the best advertisement technique for your local business. These days, your advertising method has to meet users' preferences. If not, people will forget your company very fast!   
Mobile apps help in several ways to spread awareness while still attracting users by offering some irreplaceable value. Incentivizing your mobile app gives customers the urge to come back.
Also Read: Questions That Help Choose a Mobile App Development Company
3. Establish Brand Loyalty 
Want your customers to be loyal? If so, you have to give them a reason to come back! 
A mobile app development company can help you achieve this feat. The mobile application development company can add a feature to a section where customers are rewarded for returning and hiring your services or buying your product. Brand loyalty is essential for success. 
Make the loyalty program modest and genuine, and offer rewards immediately to entice customers! But, ensure that you keep providing satisfying opportunities to your loyal customers.
4. Create Easily Accessible Company Information 
Prospective customers hate having to scour the internet to get details about their business. Eliminate this bottleneck by providing all the information they will ever need in the form of a mobile application. 
Easily accessibility to company information grows brand trust since users have a reliable point by which they can obtain business information.
5. Forge a Direct Link to Customers 
Not being able to see customers, and if so after long time intervals, can strain business-client relationships. You must develop a direct channel with your customers to have the best relationship with them. 
A mobile application can create a lasting connection between the business and your client. So, if you haven't got a mobile application just yet, get onto it immediately if you want to weave a way to your customers!
6. Extra Platform to Sell Items 
If you are a brick-and-mortar business, relying on retail from your physical business address can be a slow and risky decision. Many businesses relying on retail from their physical business have closed down due to slow or lack of sales, courtesy of the pandemic and inflation.   
Business owners can substitute an eCommerce website for a mobile app. This will suit you as almost every website development company also offers mobile app development services. A mCommerce mobile application is best to sell your products online as it provides the highest level of customization.   
7. Opportunity to Attract New Customers 
Regardless of whether you are a newly started business or a globally known brand, there is always someone who doesn't know about your company yet. Plus, suppose they know about it; they may not be a customer yet! That chance to convert a user to a customer is always present. 
Although every business tries to retain customers, some will always leave for one reason or another. Thus, onboarding new customers will be continuous throughout a business's journey! Adding new customers regularly helps when a business struggles during more challenging times. 
Read More: How Much Does it Cost to Build a Mobile Application in India?
8. Chance to Receive Valuable Customer Feedback 
Feedback is the most valuable word a customer can provide to a company. If it's positive, it builds your business up, but if it's negative, it can break your business! Hence making sure you address customer grievances before they provide feedback.
Good feedback from customers is what every business wants. However, some do very little to follow up on clients' ill experiences. 
Ways to collect client feedback through mobile applications are Prompts and Surveys. You can have a dedicated feedback page. However, it doesn't get much traction.   
9. Provide More to Your Customers 
Customers love being part of an exclusive community. You can offer them the liberty of receiving privileges that non-mobile app users cannot access. Exclusivity encourages more people to sign up and utilize your mobile app. 
Furthermore, hiring the right mobile app development company can make your application completely personalized to align with your brand.
10. Increase User Engagement Levels 
Users tend to uninstall applications when they lose the urge to use them! So, if your mobile app has been downloaded on a customer's mobile, don't assume it will stay there! 
We live in a time when mobile users are fussy about what apps use their mobile space. Your business app has to earn its right to mobile device space! Maintaining a level of engagement is necessary to keep users entertained, but the mobile app should also serve its purpose. 
11. Customized Solutions and Services 
Through mobile applications, a business can choose to offer a specialized set of solutions and services. These can be availed only through the mobile application and are present in the form of features. 
If you don't have a website, a mobile application can serve the same purposes, except doing it better! 
Also Read: How Long Does It Take to Develop a Mobile App?
Types of Mobile App For Your Business 
Looking at the apps on your mobile, you will notice that no two apps are the same. No business is the same as the next, nor do they have identical business objectives.
1. Informative Apps 
It acts like a website and provides crucial and accurate information about your business. Informative apps include services/products, addresses, contact details, and costs.
2. Content Apps
Businesses that aim to inform and entertain customers can invest in content apps. These applications are used to post various types of content, including text, videos, and images.
3. Loyalty Apps 
If your business is a large chain of supermarkets, department stores, or clothing shops, you can drive sales at your business instead of others with a loyalty program. Loyalty programs can be launched solely through mobile applications.
4. Task Resolution Apps
Then if your business has a service or product that can be bought or hired through a website/app without in-person or detailed contact, an app is convenient and cost-efficient!
5. Customer Service Apps 
An application dedicated to customer support is essential when your business deals in a line where your customers constantly need customer service. Such an app is not a waste as it builds rapport with your customers. Customer service apps assure that your business professionally deals with all issues and concerns of customers.

Conclusion
Whether your business is looking to charter a direct path to its customers, spread brand awareness, or generate more sales, a mobile app accomplishes all goals. 
Hiring one of the best mobile app development companies in India will be enough to ensure that your business mobile application development will be the best possible outcome. To improve your final app partner with an expert mobile app development company like Artoon Solutions Pvt. Ltd. 
FAQs
I have a website, do I need a mobile app? 
When you compare costs and effectiveness, mobile phones are more common than desktops and laptops, and everyone has a mobile phone or tablet. These devices are ubiquitous, and catering to them now is better than later.
Related Posts: